The air we breathe is under attack from pollution and it's claiming lives – but whose responsibility is it, asks Loughborough's Dr Chris Crosby.
In the news this week, it was announced that China has issued its second ever 'red alert' for choking smog, with levels expected to exceed 500 micrograms per cubic metre in Beijing. The World Health Organisation's (WHO) recommended maximum exposure is 25.
And a Saharan dust storm is threatening to blanket the UK in smog, sparking health fears.
Still not convinced that this is an issue we should be concerned about? Read on…
1. Air pollution is a killer around the world
In the UK alone, more than 30,000 people die as a result of air pollution and this does not take into account deaths resulting from lethal nitrogen dioxide (from diesel engines and wood, oil and coal burning).
Global deaths from air pollution are on the rise to 7 million a year according to the WHO.
The UK is currently among a number of cities worldwide which are unable to comply with EU legislation, and are exceeding recommended safety limits.
It may come as no surprise that Marylebone Road in Westminster, London, is one of the most polluted roads in the UK, but did you know that in Beijing pollution is up to four times greater and in Delhi, India, it is up to five times greater? With a population so large in these countries, the health impact is astronomical.
Air pollution does not just affect asthma sufferers, it is also a major contributing factor to many illnesses and diseases including cancer, heart disease, diabetes and neurological disorders such as Autism
2. Air pollution affects children more than adults
This is due in part to the fact that children's lungs are under-developed, and also that children tend to spend more time outdoors than adults meaning their exposure to air pollution can be greater.
There is evidence to suggest that air pollution and polycyclic aromatic hydrocarbons (PAHs) –a toxic by-product of vehicle exhaust fumes – can impact upon unborn babies in the womb, with children five times more likely to develop an attention disorder and Autism
3. Air pollutants can speed up the ageing process
Polluted air can contain over 200 chemicals that can affect the skin and make you look 10 per cent older than you are, clogging pores and significantly accelerating the ageing of the skin
4. Energy-efficient housing could worsen your air quality
Did you know that indoor air can be just as toxic as outdoor air? In new homes in particular, a move towards increased energy efficiency, including better insulation, means homes, as well as offices, can have limited ventilation and air-exchange which allows air pollutants to accumulate. A nightmare for those with breathing problems.
5. Public apathy towards air pollution is not helping
Ignorance is not an excuse – the time to act is now, which is why I have been developing technology to give people early warning of poor air quality hot spots. This low-cost monitoring system could transform the lives of millions who suffer from asthma, allergies and breathing difficulties, and I'm determined to help lead the way, by providing intelligent information on the air we breathe at the touch of a button.
---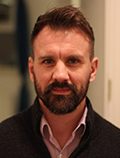 Chris Crosby is a Physical Geography graduate with an interest in earth and engineering sciences. Chris gained a PhD in Civil / Environmental Engineering and has been a Research Associate at Loughborough University working in geotechnics since 2011.
Follow Loughborough University on Twitter | Follow Loughborough University PR on Twitter| Subscribe to the Loughborough University YouTube channel