Did you know 91% of children aged 2-4 years are just not active enough to be healthy? Early years specialists share their top 5 tips to help give children the best start in life.
We know that being active is vital for our health, but this alarming statistic unveiled by the University's British Heart Foundation National Centre for Physical Activity and Health (BHFNC) is a sobering reminder that more can be done to support young children to be active.
The under-5s age group should be active for three hours per day, which at a glance may seem like a lot, but in actual fact can be accumulated easily through movements like pushing and pulling toys, chasing games or active nursery rhymes.
One key element to getting young children active is encouraging movement and play while at nurseries, playgroups or with their childminder.
We've pulled together 5 top tips for nursery staff to help get children moving: 
Build dens – use everyday objects and materials to make dens and hideouts with friends. We suggest using wooden blocks, blankets or pegs, but this is an opportunity for you to be imaginative. This is a great way to develop creativity, strength and improve children's social skills
Walk the line – help develop children's balance by walking along lines on the floor, pretending they're balance beams. You can use markings and planks of wood or get creative and make your own using chalk stones, leaves or twigs
Nursery rhymes – add movement and dance to popular nursery rhymes to develop spatial awareness and co-ordination skills
Helping with everyday tasks – encourage children to help with tasks around the nursery, for example, tidying toys or helping to prepare meals. This assists in the development of fine motor skills such as grasping, releasing and pincer movements
Running games – invite children to take part in chasing bubbles and running games, such as, chasing tails – this is great for strengthening the heart and lungs.
At the BHFNC, we're concerned that children are missing out on the many benefits of being active. That's why we've launched a new manifesto calling for policy makers to make sure that future policies encourage and support young children to be active. One of the manifesto asks is for policy changes that enable and support staff to help get children moving.
Encouraging physical activity from a young age is an effective way of ingraining positive behaviours to ensure our children live a healthy and fulfilling life.
---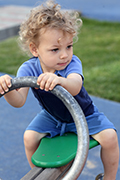 The British Heart Foundation National Centre for Physical Activity and Health (BHFNC) is part of the National Centre for Sport and Exercise Medicine – East Midlands, based in the School of Sport, Exercise and Health Sciences at Loughborough University.
The BHFNC is creating an active nation through providing practitioners with training, resources and support to help the people they work with become more active.
LIKE the Loughborough University Facebook page | Follow Loughborough University on Twitter | Follow Loughborough University PR on Twitter| Subscribe to the Loughborough University YouTube