Professor Liz Peel and colleagues are shining a light on experiences of children caring for parents with dementia…
Caring for a parent living with dementia can be a stressful thing to do. We know quite a lot about spouses or partners who are cast in a caring role because their loved one develops dementia, but we know much less about the experiences of adult children of parents with dementia.
Some recent Australian research found that over a quarter of their sample of family carers had contemplated suicide in the previous year. We also know that dementia care disproportionately impacts women.
In my book chapter called It's had quite a lot of reverberations through the family which is coming out next year, I consider parent care by examining the accounts of 11 people who'd cared for their mother or father.
These people participated in the focus groups in the Duties to Care project or the interviews in the Dementia Talking project. Some of the behaviour changes in their parent had a big impact on these participants.
For example, Derek* said: "It's terrible to think your own mother doesn't know you", and he found it very difficult to cope when his mother thought that he was his father. Another man, James, pretended to be his father in order to keep his mother calm and content. These two examples show how parent dementia care can change how relationships in families usually are – those normative 'rules' about roles in families – into something new and reconfigured by the illness.
Sibling conflict  
These participants also talked about how disagreement between themselves and their brothers or sisters also made parent care difficult. All but one emphasised conflicts with their sibling rather than a collaborative approach. The tensions they discussed included different views about the state of their parent's health, money, and how they communicated with their parent. As Jan said: "The worst thing was trying to communicate to my siblings how bad mum was". In some cases, like Jan's, relationships between siblings had 'totally broken down'. In other cases, families had divided roles between them as a way of managing potential disagreement as well as caring responsibilities – Sue said her sister has 'the cash card but I keep my eye on the bank account'. Only Victoria said about her sister, 'we keep each other sane'.
Caring for a parent with dementia can include managing behavioural and psychological symptoms, managing finances, dealing with health and welfare decisions, incontinence, and making difficult decisions towards the end of life.
Understanding the perspectives of those providing care to a parent with dementia – a relatively common, if not anticipated experience – may offer a lens on families and the business of caring more broadly. Damien Riggs and I have written a book about kinship that further examines these, and other, issues. Critical Kinship Studies comes out in August.
* All names are fictional.
---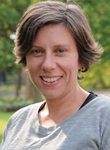 Liz Peel is Professor of Communication and Social Interaction in the Department of Social Sciences at Loughborough University. She is also a Fellow of the British Psychological Society.
She was awarded a British Academy Mid-Career Fellowship for the Dementia Talking: Care, conversation and communication project which includes interactional data from health care, care home and family contexts, as well as in-depth interviews with family carers.
LIKE the Loughborough University Facebook page | Follow Loughborough University on Twitter | Follow Loughborough University PR on Twitter | Subscribe to the Loughborough University YouTube