Have you heard? Today's the day (29 April) to make a stand for workplace health. Are you ready to take up the On Your Feet Britain challenge? Our sedentary behaviour expert Dr Stacy Clemes shares her top tips on how to sit less and move more.
Sit down, drive to work, sit down, check your emails, sit down, make some phone calls, sit down, have lunch at your desk…you know the drill. Does this sound like your typical day in the office?
Well it doesn't have to be this way and neither should it when you consider that sedentary behaviour is bad for your health. So what can be done to make moving around during working hours just that little bit easier?
Get outside: take a brisk walk during your lunch break
The current recommendations for physical activity for adults include accumulating 150 minutes a week of moderate intensity activity (such as brisk walking). This can be met by undertaking 30 minutes a day of moderate activity. By this we mean walking fast enough to raise your heart rate and make you breathe heavier.
For those a little braver, why not go for a short jog? It's great for releasing endorphins – and will give you a 'natural high' so to speak.
Weather bad? Increase your steps around the office
Do you really need to send that internal email to a colleague? Or could you walk to their desk and have a face-to-face chat with them instead?
Ideally, take regular breaks from your computer screen, have a stretch and a walk around the office or get a tea round in for you and your colleagues; the more cups there are, the heavier the tray will be, and so it'll give your arms a bit of a work out in the process.
How about trying out a standing desk?
Our research has found that introducing standing desks into the workplace could have a positive effect on your health, by reducing sitting time by 20% (after three months' use) – the equivalent to a 96 minute reduction in sitting time over a typical 8 hour work day. Not bad, eh?
We do, however, recognise the need for further research to examine the long-term use of sit-to-stand desks on combatting sedentary behaviour and improving overall health. In a new study – the largest of its kind in the UK – we are looking at the impact of standing desks on the health of NHS office workers at the Leicester Royal Infirmary, Leicester General Hospital and Glenfield Hospital. New height-adjustable desks or desk attachments are being made available to selected staff over a 12-month period.
Feeling competitive? Why not introduce a team sport?
Another sure fire pick-me-up to help fight the midday slump could be a team sports game during your lunch. This could be a good way of motivating yourself to commit to some extra exercise which you might have otherwise struggled to fit into the day.
Don't be a couch potato – challenge yourself to walk that bit further
Remember, the motto 'sit less, move more' applies even at the end of the working day, so why not park the car a little further away from your office so you can do some more walking? The same applies if you use public transport, just get off at an earlier point in your journey and walk the rest, it all helps!
On Your Feet Britain is organised by GetBritainStanding.org in association with Active Working. Found out more here.
---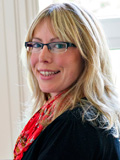 Dr Stacy Clemes is Senior Lecturer in Human Biology at Loughborough University and her research interests focus on the measurement of sedentary behaviour and physical activity in children and adults.
She has expertise in intervention research promoting reductions in sedentary behaviour and increases in physical activity in both the workplace and school environments.
LIKE the Loughborough University Facebook page | Follow Loughborough University on Twitter | Follow Loughborough University PR on Twitter | Subscribe to the Loughborough University YouTube