Creating filling and tasty meals from scratch is a worry for most students at University. Once you've sorted out your weekly budget and realised just how expensive cheese really is, it's easy to believe that you have to succumb to a life of bland instant noodles to survive.
But if you budget well and shop smart, eating healthy and well is actually easier than you might think. We asked our Student Bloggers to come up with their favourite home cooked recipes on a budget of just £5 to show you just how easy it can be to eat well without breaking the bank!
Disha's Winter Warming Soup
Mushroom Soup (Vegetarian)
After a long day at University and eating delightful pizzas (you will get some of the best pizzas at Loughborough) and chips, a cup of some hearty soup is what is needed!
Also, since I'm vegetarian who is quite fussy and couldn't cook until I moved, I opt to use this simple mushroom soup regularly. This recipe is inspired from a couple I saw online. To top it, it also fits well within my weekly student budget. The ingredients for this recipe are easily available in Loughborough – departmental stores and biweekly-held markets at the market place, which sells some fresh produce.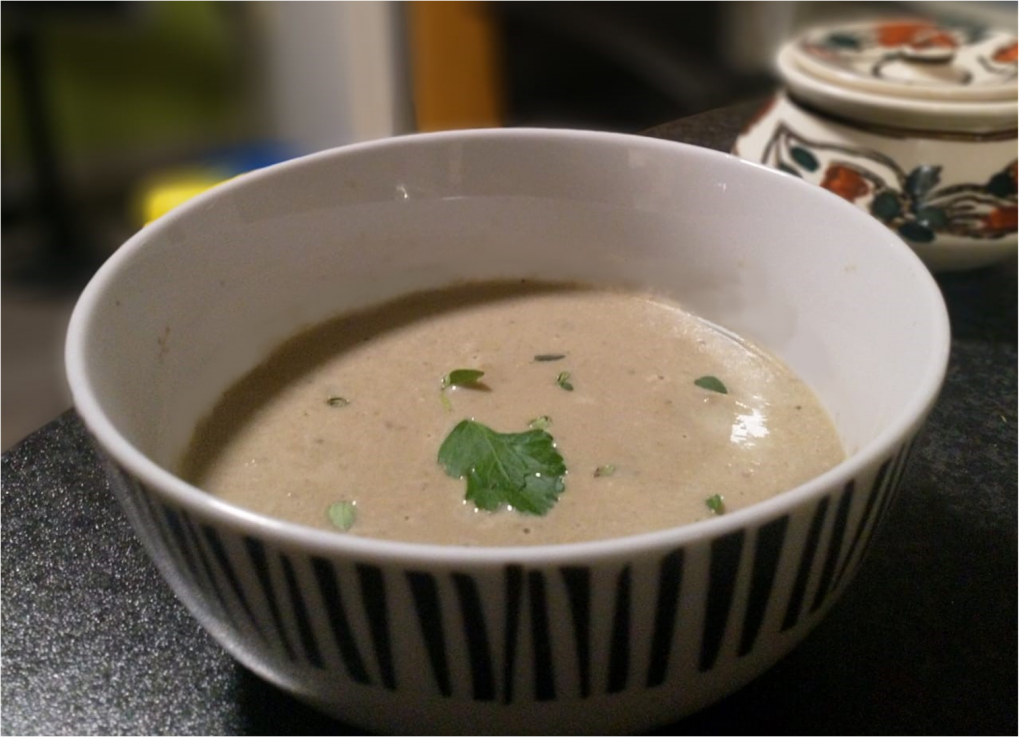 The unpredictable weather (especially the rain) of Loughborough demanded the need for some warm and homely soup. And, like Ego from 'Ratatouille', who ate the dish and reminisced about home-cooked food, a cup of mushroom soup fills me with comfort and nostalgia.
Hence, I am sharing this recipe with you and I hope you enjoy it as much!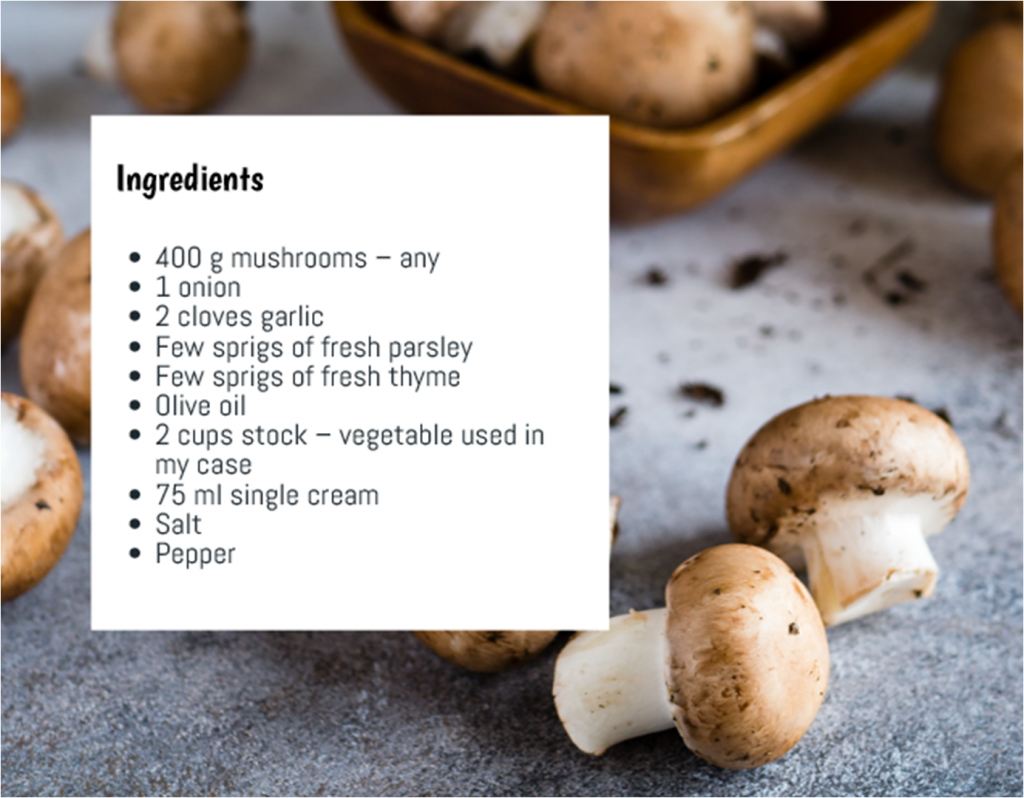 Method
Peel and finely dice the onion and garlic.
Pick the parsley and thyme leaves.
Heat a splash of olive oil in a large saucepan/pot over a medium heat and add the onion, garlic, parsley and thyme leaves.
Clean the mushrooms and finely slice them.
Add the mushrooms into the pan/pot and cook gently until softened.
Spoon out approximately 3 tablespoons of the mushroom-mix, and keep it for later.
Pour the stock into the vessel and bring it to the boil, turn the heat down to low and simmer for 15 minutes.
Add sea salt and black pepper as per your preference.
Blend the mix until smooth – a stick blender does just the magic.
Pour in the cream, bring just back to the boil, and then turn off the heat.
(Tip: if you want to avoid adding cream, you could add less water to the stock and/or let the mix simmer for additional 10 minutes, which will make soup creamy).
Top with most of the reserved mushrooms and garnish with chopped parsley. Spoon the soup into bowls/cups and enjoy this with ciabatta, breadsticks or toasties.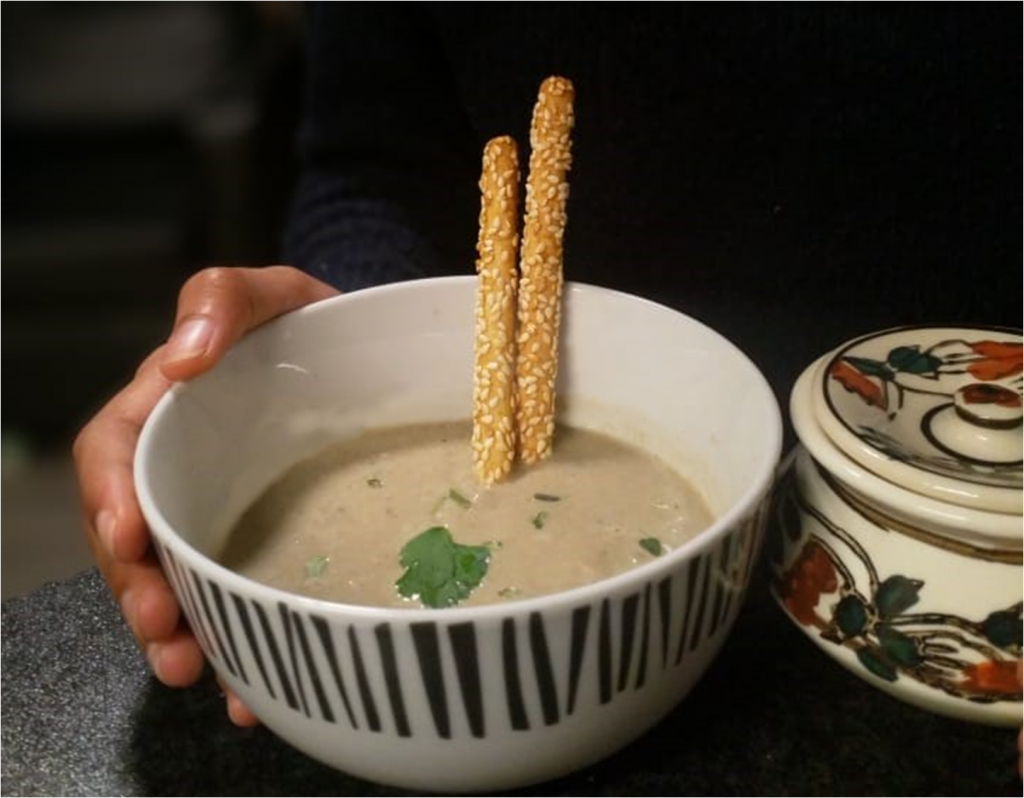 Kathryn: The Catered Cook
Paprika Chicken with Sweet Potato Fries
For many catered students like myself, being bad at cooking is a notorious stereotype but often very true. When cooking on a weekend, it is often easier and more cost efficient to cook with friends as it can make the little bit of cooking we have to do more fun.
As I only cook on weekends and struggle to cook, we often buy simple meals as a group and split the price as it's cheaper than cooking independently. That way we only have to cook for two days a week, so can reduce the amount of waste we create too. Here is a picture from the very first meal we cooked together (from a packet), it was really something to celebrate.
This is one of our favourite, easy to cook, staple meals, and one that I highly recommend for the student who can't cook, or is too lazy to! My favourite recipe as a student is…the very underwhelming but classic paprika chicken, vegetables and our attempt at homemade sweet potato fries!
Method
Chop sweet potato up, place in a pan with vegetables and boil for ten minutes
Stir fry the chicken in a pan with oil
Add in vegetables when the chicken is cooked (no longer pink on the inside)
Add paprika and spices
Leave in the pan until nice and crispy
This meal takes about 20 minutes to cook – half an hour when you count in arguments about when the chicken is correctly cooked!
There you have it, my simple yet effective guide to the laziest but staple meal of cooking when you can't cook!
Emma's Spicy Stir Fry
Chicken Stir Fry
I was VERY apprehensive about the cooking aspect of University…I have been mollycoddled most my life and let's just say my cookery skills were not up to scratch!
That said, I have quickly learnt that you can cook a tasty meal quite simply and quickly…it's not as scary as I thought! A standard meal for me would be a stir-fry, a great way to use up any leftover veg I have and also a quick healthy option!
Ingredients
2 medium chicken breasts
2 bell peppers
Broccoli / Cauliflower (as many florets as you like)
Chicken flavouring powder
Garlic powder
Basmati rice
Blue Dragon Sweet Chilli and Garlic stir fry sauce
I often add in baby-corn/carrots/ whatever veg I have in at the time. The beauty of this recipe is that most vegetables will work in it!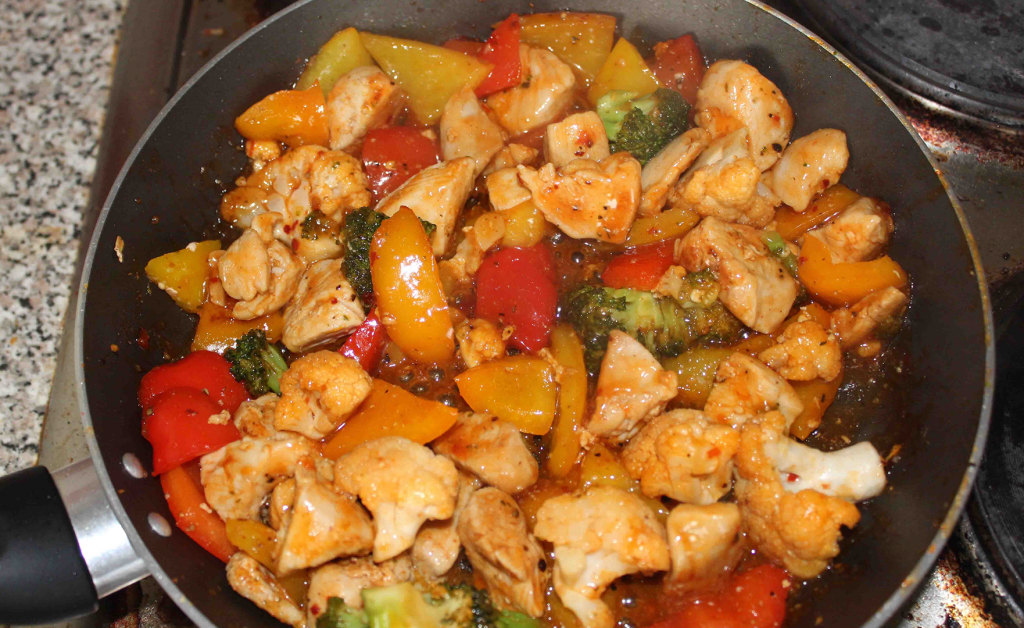 This recipe makes 2 servings and I always keep a portion in the fridge or freezer for the following day. I tend to buy most of my ingredients in bulk from places like Aldi, with a mixture of fresh ingredients and pre-prepared food. See below for the finished product – all for under £5!
Caroline's Home Comforts
Quorn Fillets, Spinach, Tomatoes and Sweet Potato Fries (Vegetarian)
This is a meal that I make as a Vegetarian that is flavoursome as well as providing much needed nutrition during the exam season!
It is one of my favourites because it reminds me of the meals my mum makes for me at home, including a lot of the sections of the food pyramid, which is particularly important for me in being a healthy vegetarian. The Quorn provides the protein, the spinach; the iron, the tomatoes; potassium and vitamin c and the sweet potatoes; the carbs and fibre.
Ingredients
2 Quorn Fillets
2 Medium Sweet Potatoes
1 Vine Tomato
Handful of Baby Spinach
Salt and Pepper to season
Chicken Seasoning
Extra Virgin Olive Oil
Method
Preheat the oven to 220 degrees Celsius, 200 Fan. Put a sheet of baking paper onto a tray a spray lightly with cooking oil.
Wash vegetables in the colander until clean.
Cut the tomatoes, peel the sweet potatoes and slice in half, creating two long halves as opposed to short thick halves, then cut sweet potatoes into chips, however long you would like them.
Add 2 tablespoons of extra virgin oil onto the chips ensuring even coverage. Then season with whatever you prefer, I used salt and pepper.
Put into the heated oven for 20 minutes on medium shelf.
Whilst the chips are cooking, prepare the Quorn fillets by dousing them in extra virgin olive oil, add as much seasoning as you prefer, I covered the fillets in Chicken seasoning and pepper.

TIP: Wash up as you go so that you don't feel stressed by how much there is to wash after you've finished your lovely meal. (The chopping board and knives will be able to be washed up at this point).


After 18 minutes on the timer, put fillets into frying pan on medium heat and cook, frequently turning over for 12 minutes. 2 minutes later [once your timer for the chips sets off], take the chips out and flip them so that the other side can cook. Put the chips back into the oven for 10 more minutes to cook.
Boil the kettle for the spinach. Season the tomato with sea salt, pepper and a little olive oil and fry in the pan along with the fillets until soft and brown.
Put spinach into the small pot and pour the boiled water into the pan, boil and leave for 5 minutes, depending on how wilted you prefer spinach. Drain spinach in colander as much as possible and add to plate.
Take the chips out with an oven mitt and put onto plate (Remember to turn the oven off!)
Put the fillets and tomato onto the plate. Add any sauces that you enjoy and season with any extras.
Bon Appetite!
So there you have it, four healthy, nutritious meals for under £5! With a little bit of planning and organisation, it is possible to eat well and still have money left over to treat yourself. So put down that pizza leaflet, have a look through your cupboards and get creative. Your bank balance will certainly thank you for it!
Student Life
Find out what makes 'The Loughborough Experience' by reading our student blogs.