10 memorable moments from my time at Loughborough
Hello! My name is Joe Dean and I am a recent Loughborough University alumnus about to graduate with a Merit in MSc International Financial and Political Relations, after also obtaining a first-class degree in BSc Geography with Economics at Loughborough too! (just couldn't leave the bubble…).
I started my Loughborough journey way back in 2017, slightly nervous about everything having never lived away from home, and being the first in my family to go to University; it was definitely a step into the unknown! A Level Results Day was very eventful; after applying to study Economics, I missed my grades by one mark and was given a change course offer in Geography with Economics. After taking a little while to settle into university life, the Loughborough experience represented some of the best years of my life which I will forever cherish and I would like to share with you 10 pictures representing my top memories.
1) Geography – Part 1!
While Geography with Economics was not my first choice of subject at university, this 'accidental' choice ended up being one of those lucky moments which really prove the 'everything happens for a reason' mantra. As a human geographer over a physical geographer, Geography with Economics was a flexible course that allowed me to specialise entirely in human geography from second year. It was fascinating learning about all the variety of concepts and theories underpinning the modules studied. Working at a fast pace, dealing with loads of information, and meeting deadlines in this course would help me in the future for my grad job.
2) Paris and 3) Singapore
What sets Geography apart is the fact you can put into practice what you have learnt in the classroom in the field on trips, domestically and internationally in my case! Whilst locations can vary from year to year, my overseas field courses to Paris and Singapore to learn more about post-industrial cities and global cities respectively, were unreal and key highlights of my Loughborough experience! The Eiffel Tower and Arc de Triomphe in Paris, alongside Marina Bay Sands, Sentosa island, and the Night Safari in Singapore, were just some of the tourist attractions visited…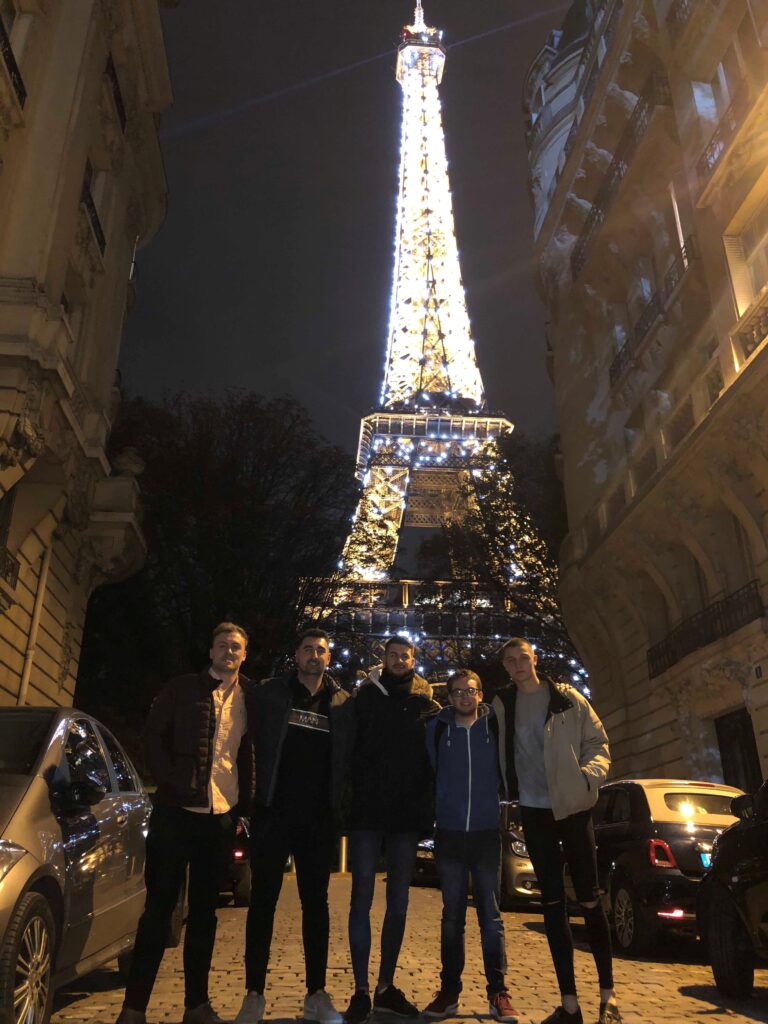 4) Dissertation and 5) Undergraduate Graduation
Covid may have hit two-thirds into my final year of my undergraduate degree but that was not going to stop me! After finishing my dissertation on the reasons for the Brexit vote in my hometown of Boston, I completed my degree at home and was delighted to get a First and was so grateful to be able to graduate a year afterward when so many did not get that opportunity at other universities.
6) Geography – Part 2!
But that was not the end of my academic story! I decided to stay for one more year and do a Masters in MSc International Financial and Political Relations, specialising even more in human geography. While Covid-affected again, it was still a useful experience exploring political, financial, and economic geography in more depth, alongside getting used to working from home, something becoming much more normal now. I was delighted to come away with a Merit mark here and look forward to another graduation!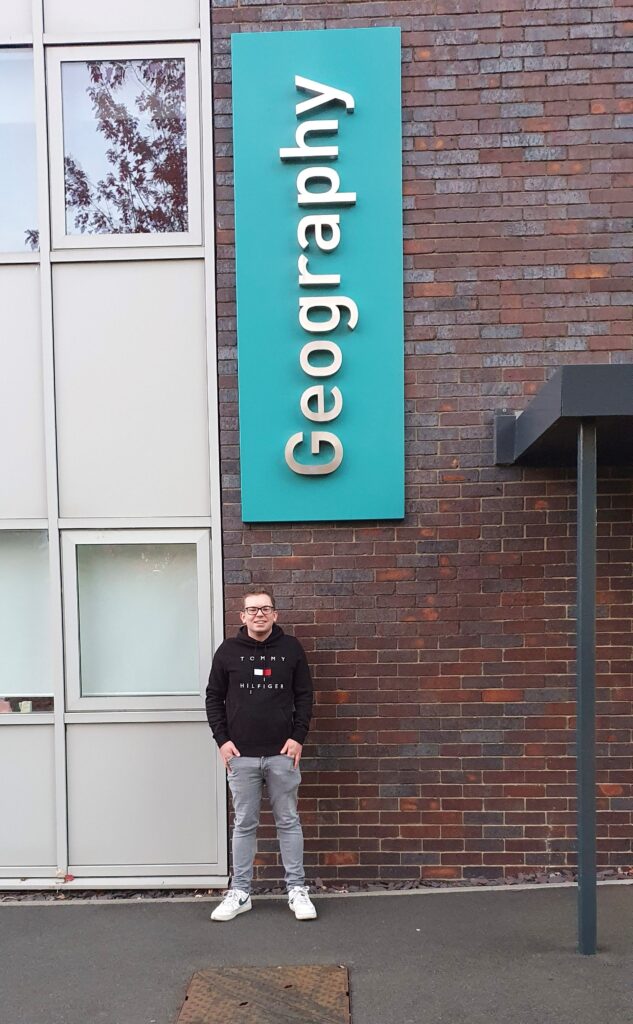 7) The Holt
I found my home at Loughborough at the Holt, where I spent two unbelievable years and was made to feel so welcome, becoming a fresher helper upon joining. There were so many opportunities to get involved with the Holt which is in my very biased view the best hall in Loughborough! I was the Societies Rep on Holt committee for a year which was hectic, fast-paced, and brilliant fun. Welcoming and integrating new freshers into Loughborough, alongside helping to plan, and run events, was a rewarding experience whilst in the process of making so many great and special friends.
8) The Holt (again!)
I loved the Holt so much I've put two Holt photos in this blog! Halls are such a brilliant way in getting involved in university life; I got involved in sport (handball, dodgeball, badminton, hockey and many more!), societies, fundraising (two poppy rag raids fund-raising for the Royal British Legion in London Euston station) and Action (community projects such as gardening and dog walking). These activities were memorable and shows just what you can do here at Loughborough. My piece of advice is to throw yourself into every opportunity that comes your way!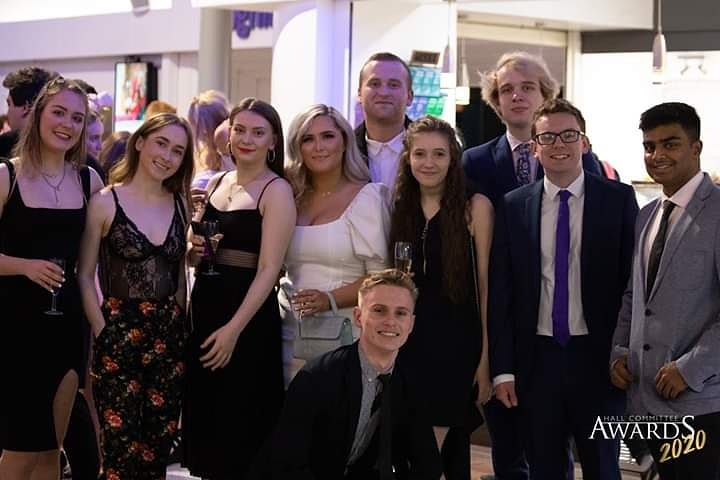 9) Student Ambassador
In my third year at Loughborough, I was successful in becoming a Student Ambassador, where I represented the University in helping to run major events such as our graduations, supporting the Clearing call centres, Open Days and Department visit days, and many many campus tours – my step count certainly increased with this job! During Covid, as many recruitment and outreach events were cancelled, the role meant I was delivering food to isolating students in halls, doing virtual outreach events, covering shifts in the library, and doing Instagram Q&As in my back garden! As someone who likes to keep busy, I was so grateful to have this job. I enhanced many skills in this role; communication, organisation, and working in a team. This was a job I absolutely loved and had so many great memories working with so many great people!
10) Everything else!
What I absolutely love the most about Loughborough are the great people I have met, including real friends for life. My advice for anyone starting University and nervous about meeting new people is to just get involved in everything you can! You should go to events where can meet people as everyone is in the same situation and will be feeling the same. The social nights out at the Students Union or the mighty Firefly in town (other good nights out are available!) are great ways to do this! I made excellent friends who would even go with me to watch my beloved Nottingham Forest…
10+1) So… what now?
Okay, I didn't do a Maths degree, so here's a bonus picture signifying 'what happened next!'. After completing my two degrees at Loughborough, I was delighted to secure a graduate job as a Civil Servant with the Ministry of Defence! I work for RAF Air Command in the Project Delivery field. I'm really enjoying my job and am very grateful to Loughborough for applying all that I have learned!
It makes me a tad emotional writing these words looking back on four truly unforgettable years. Thank you to everybody who has been involved in this journey, it has been an honour; a special thank you too to my parents for unfailingly being there for me every step of the way.
Loughborough is widely advertised as a top ten university, but in my view, it's in the top one! There are so many opportunities and it's been a massive stepping stone for me, helping me to grow my confidence and progress into my grad job with the Civil Service. Thank you, Loughborough, and continue to walk on water!
Student Life
Find out what makes 'The Loughborough Experience' by reading our student blogs.