4 books to inspire Loughborough winners
As it's World Book Day, I thought I'd share four of my favourite books that, in all seriousness, have most definitely shaped who I am as a person (that cliché, though).
Although it may be easier to watch that next episode of Stranger Things on Netflix (yes I see you there), there is nothing better than immersing yourself in another world or story through that old-fashioned book method, which could even help with that essay you have to write! So, I hope you find my list interesting, and that it inspires you to pick up a book this March and switch off from the Loughborough bubble.
The Opposite of Loneliness by Marina Keegan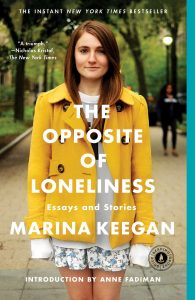 "Marina Keegan was set for literary stardom. She graduated from Yale in 2012 and had a job waiting for her at the New Yorker. Tragically, five days after graduation Marina died in a car crash. Her family, friends and classmates shared her writing, where it went on to be shared all over the world. This book is a collection of short stories which capture the hope, uncertainty and power of our generation."
I picked up this book in Waterstones and with a few minutes to kill sat down and started to read. Only a few pages in and I knew I had to buy it. Emotional and exciting this book ultimately shows the fragility of life and if it doesn't inspire you to live that bit more I will eat my arm (wait, don't hold me to that).
The Hundred-Year-Old Man Who Climbed Out Of The Window and Disappeared by Jonas Jonasson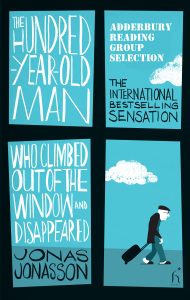 "Sitting in an old peoples home, Allan Karlsson is waiting for his one hundredth birthday party to begin. Everyone will be there. But as it turns out, Allan will not… Escaping in slippers through his bedroom window, Allan makes a getaway and so begins an adventure unlike many others, involving several murders, a suitcase full of cash and incompetent police."
This book most definitely lives up to its impressive title. I can honestly say I have never laughed so much at a book, Jonasson's writing is quirky and imaginative and it takes no time at all to fall in love with all the characters. This book proves adventure can be had by all, and spreads positivity like the plague!
Into The Wild by Jon Krakauer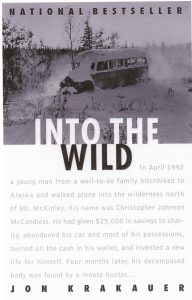 "Inspired by the true story of Chris McCandless, a young man, who in 1992 walked deep into the Alaskan wilderness, abandoned his family in search of adventure. Krakauer explores what leads some people to leave the modern world behind in search of enlightenment in nature."
So maybe don't be inspired to desert everything, change your name and live off the land… However, do enjoy the excellent story, and be inspired to take adventures when they arise and to share them with those closest to you. This book really shares an excellent story and when you're done there's an excellent film which has been made from it!
Make Your Own Luck by Kate Moross
"From art school student to designer for Nike, Topshop and Google, Kate Moross has lived the life a designer could only dream of. This informative memoir offers true insider tips and tricks to make it in the highly competitive field."
Okay so here's the one for the creatives out there; it would be rude not to. As a Graphic Design/Illustration student this was so up my street and I devoured it in no time! As a female designer Moross inspires that drive and determination to get you wherever you want to be.
So there are my picks, I hope I have persuaded you to give a book a try this March. Why not pop to the Library and give one a review!
Student Life
Find out what makes 'The Loughborough Experience' by reading our student blogs.