After a year of staying in Loughborough, I have managed to find a select few places in Loughborough that are perfect for meeting friends and taking your family to just get a break from the Loughborough Campus bubble. I am all for taking time to explore and find the best places in the area and these are my favourites (so far)!
Meet Burger
I came across Meet Burger when looking through my Fresher's Pack from my Halls of Accommodation, finding a money-off voucher (bingo). Describing itself as 'all about beers, burgers and the good times enjoyed in an edgy setting' it certainly provides something different and also, very delicious! The setting was warm and inviting and the staff friendly and relaxed and I enjoyed all the references to popular culture from the Jurassic Park mural to sauces served in blaster guns. I had the only vegetarian option which was the 'Beet It' burger with a very (I mean VERY) generous portion of sweet potato fries. Both were delicious and even more delicious was the 10% Student discount! Perfect for a relaxed outing with friends and temptingly there is an 'Ultimate Wing Wednesday' where for £8.99 you indulge in as many wings as you can manage!
Location- Clay Pipe Jitty, Loughborough LE11 5BL
Ohh Deer
Having been a fan of this shop for as long as I can remember you can't imagine my excitement when they opened their first physical shop in the heart of Loughborough! A collection of independent illustrators brought together to create a unique range of stationery and gifts, Ohh Deer definitely fills a gap in Loughborough town. Personally, I have always been drawn to their beautiful and large range of notebooks and they even have a selection of cacti for sale to bring your uni room to life!
Location- 3-6 The Rushes, Loughborough, LE11 5BE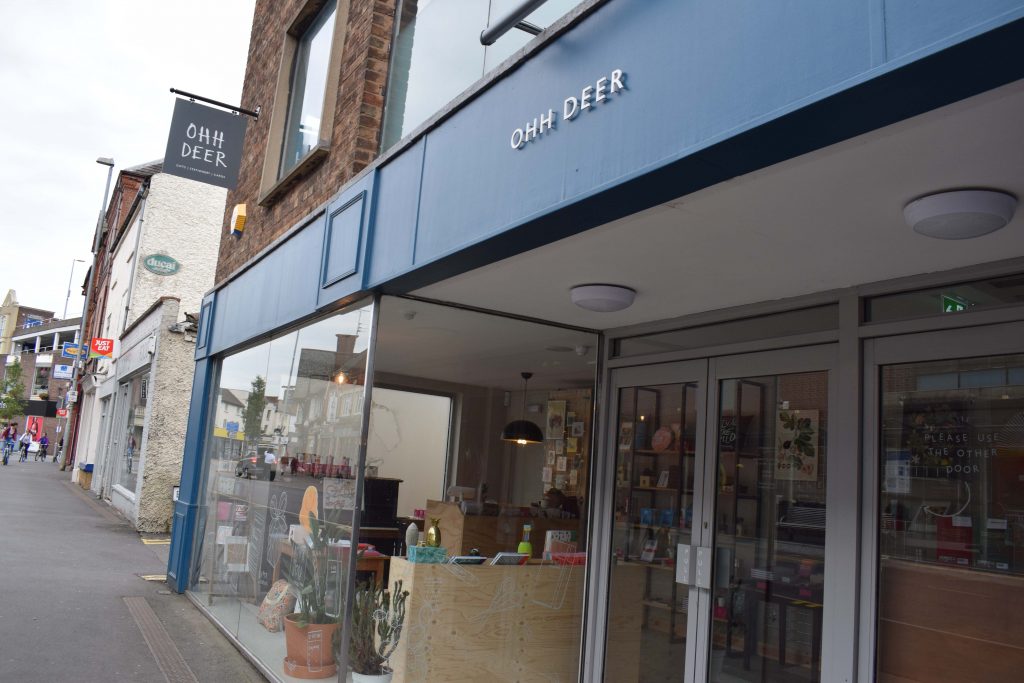 The White Hart
I only recently stumbled across this traditional British pub and I could definitely see it becoming my favourite! Classically furnished with candles on each table The White Hart has such a warm and welcoming feel. Filled with locals playing cards and the occasional visiting dog, the pub has an extensive list of local beers and a food menu which I am yet to try. Reasonably priced and with a quaint beer garden I will be definitely visiting again sometime soon!
Location- 27 Churchgate, Loughborough, LE11 1UD
Dolcino
A student favourite, and it's very easy to see why! Renowned for its gelato in funky flavours such as Pumpkin and Cinnamon, Ferrero Rocher and Lemon Cheesecake, if you have a sweet tooth, this is the place to go. Also serving up savoury crepes, waffles and smoothies, Dolcino is decorated like a diner from the 50s and is a perfect summer treat (you probably don't want to make a habit of eating sundaes that big!).

Location- 4, Cattle Market, Loughborough, LE11 3DL
Centro Lounge
Part of the new complex in Baxter Gate, Centro Lounge is a bright, lively and eclectic bar and restaurant- a perfect addition to the new redevelopment. An all round people pleaser, Centro Lounge caters to all tastes with vegan menus, British classics and plenty of offers such as Tapas Tuesdays! I can highly recommend the cocktails (tried and tested) and am a big fan of the burgers, as well as the toasted falafel and hummus wrap! Perfect for a date night or a meal with friends, it is my go-to spot in Loughborough.
Location- 2 Old Hospital, Baxter Gate, Loughborough, LE11 1FS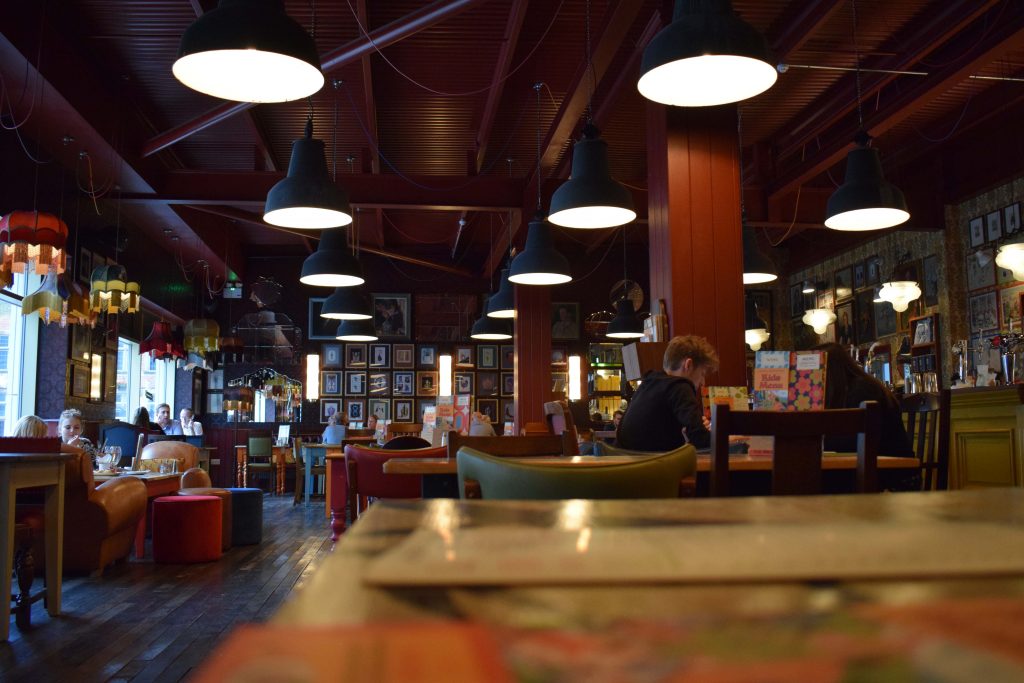 Honourable mention goes to Kura Kura, a new discovery for me and needs a further visit. However, it seems to be a tasty and local version of Wagamamas, bringing an Asian feel to Loughborough with a stylish interior and very affordable meals!
So, if ever you think there is nothing to offer in our small beloved Loughborough town, check out these local gems and break away from the campus bubble. Take your friends, family, pets (maybe not) or just go by yourself for a well-deserved treat!