Bit of an advance warning, this won't be the most exciting blog entry you've ever read. The last month or so has been exam and revision central for everyone at Loughborough. I've had 4 exams so far, with one left in a few days of writing this; struggling for motivation but looking forward to being finished! Instead of talking about all the exciting revision I've been doing I'm going to describe the exam process at Loughborough, and services the University offer to help you through it.
Firstly the number of exams you have will depend how the modules you are taking are assessed, so it is worth finding this out when you are choosing your optional modules. I'm weird and I don't really mind exams, much preferring them to coursework so I'll happily pick a module that's assessed 100% by examination, whereas other people will choose ones with an equal split or even more coursework weighted.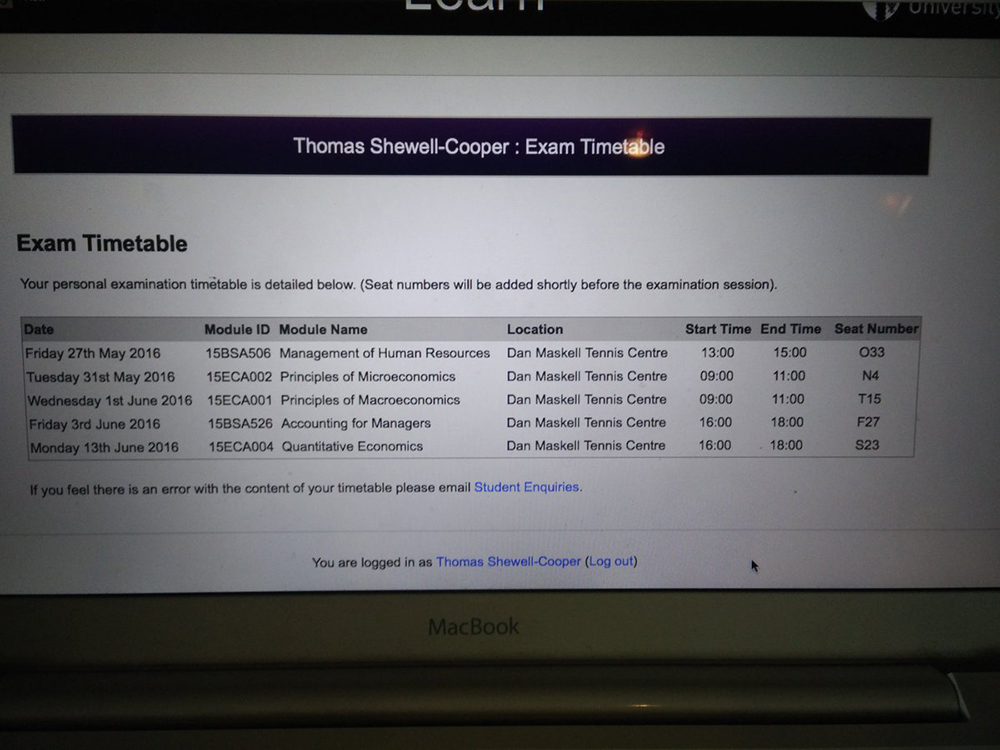 Lectures will finish a week or so before the exam period starts, giving everyone time to start revising. The library gets very busy during exam time as its most people's ideal revision spot. I prefer not to revise in my room, as I like to separate where I work and where I can chill out. If I revised in my room I would be spending all of my time in there and would probably end up going crazy.
The library has got a number of different facilities available to aid revision; such as bookable carrels. These are small rooms designed for just one person that you book online in slots for a few hours. I find these really useful to shut myself away for a few hours where I know I won't be disturbed and can crack on with some work. There are also hundreds of general study spaces throughout the library, as well as silent study areas if you're after some peace and quiet. They also open the library 24/7 during exam time, so if you want to do a late/early shift before an exam its open for you.
Exams at Loughborough take place in the tennis centre, which is down near towers (if you've been on an open day you'll know where I mean). Exam dates as well as seat numbers are sent out to you about a month before so you'll have plenty of time to prepare. Throughout the year the library run classes in exam skills such as essay writing so if you feel you need extra support in any area of study there's a high chance you can get some help.
One of the ways the guys in my flat have coped with exam stress is that we have played a ton of games of 'fifa'. Although sometimes this can add to the stress in high-pressure penalty shootouts. I also like to get down to the gym as a good revision break (healthy body healthy mind etc). I'm sure you all have your own ways of chilling out during exams; those are just my top two.
Very much looking forward to summer, got lots of plans such as holidays, work experience and a festival, which I'll keep you updated on during the summer. I hope everyone's exams have gone well.