The start of September can only mean one thing – UNI IS BACK! Not only is the excitement real for all of you new, budding freshlings, but also it means that my third and final year is officially here. With it being my last year (and mainly that I'm not ready to accept that I only have one more year left at Lboro) I thought I'd be a tad nostalgic and relive my first day as a Fresher. The nerves, the excitement, the guaranteed crying from my mum plus the worry that you didn't pack enough fancy dress outfits (although you are guaranteed to barely use any of them after Freshers' week).
Moving to university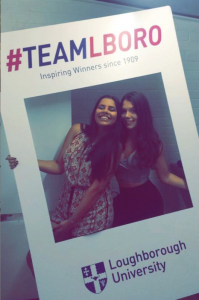 Packed to the brim, my mum and I scrambled into the car with my Nan and Granddad following closely behind with the rest of my things, and yes I needed two cars. If I'm honest, I really wasn't that nervous. I think my excitement to be attending my first choice university and the chance to meet new people and experience a new environment took over. Of course everyone is different and I know people who have nearly made themselves sick with worry but I promise you that once you get here; you will have the time of your life.
As soon as we pulled up outside of my halls, there were Fresher helpers ready and waiting to help get your things to your room. I remember that I was the second to get to my flat and as soon as the other people began turning up, off went my mum to chat to everyone and let me know who was who. I am sure my mum knew my entire flat before I did.
My first day
After some emotional goodbyes and plenty of hugs from my family, they headed back to Birmingham and I was officially on my own. However, even from the get go, I didn't feel like I was alone because my flatmates were brilliant as was everyone else we met on the first day. My hall was Hazlerigg-Rutland and once we were settled in, we went down to the 'common room' for a welcome talk and free pizza – you heard me right, free pizza. It really was just a lovely way to start my uni life because it was chilled and fun but still a great way to meet a lot of new people.
You will usually have your Fresher themes and activities released a couple of weeks before you arrive to give you time to prepare. Of course there are the brilliant themed nights out but every hall plans other days out such as bowling, laser-quest and a BBQ. Every hall takes part in the legendary Sing Off, which is a brilliant night so get those vocal cords ready to go as soon as you arrive. Pre-warning, everyone in the bubble takes the Sing Off very seriously so no letting the side down people, make your hall proud! The Loughborough Student's Union also organises the Freshers' Ball so lads get those tuxes on and girls, this is your chance to order five dresses from Asos without feeling guilty. If you head over to the LSU Twitter, you can also have a sneak peek at who this year's headline act is!
So my final advice to you for Freshers is simply have fun, make the most of it and try as hard as you can to avoid Freshers flu however I doubt that is even possible. And WELCOME TO LOUGHBOROUGH!
Student Life
Find out what makes 'The Loughborough Experience' by reading our student blogs.