Small business Saturday: Delhi Bites and Cocoa
Eating takeaway is something that I really enjoy doing. Sometimes you just need a break from your daily routines, errands, and studying which will relieve you from the burden of spending hours in the kitchen cooking and washing up. Who even likes washing up? Definitely not me. Going out to eat or grabbing a takeaway has always been a way in which my friends and I can relax, and catch up with each other in the midst of our busy university schedules. This is now my third year in Loughborough, so as you can imagine I have been able to truly experience the variety of shops and restaurants the town has to offer, and I do have my clear favourites.
Delhi Bites
Location: 29 Derby Square, Loughborough, LE11 SAL
Open times: 12:00pm – 22:30pm
Price: Very affordable
Since discovering Delhi Bites back in my first year of university, it has done extremely well to remain in my top options for places to eat out in Loughborough. Delhi Bites offers quality unique and popular Indian dishes at affordable prices, including chicken tikka jalfrezi and chicken korma which you can have with rice, chips and naan bread.
Personally, I am a fan of their grill house, which offers whole, half and quarter chicken, as well as wings which you can have with a range of sauces, such as BBQ, mild peri, peri peri and gazebo. My 'go-to' order consists of a grilled half chicken with BBQ sauce and spicy rice with a side of mini samosas. (They even throw in a side of salad for an extra touch!)
Delhi Bites is easy to get to, being located pretty much in the centre of town (basically opposite Wilko's); however they do only take cash payments in store. Do not stress though, as there are cash points nearby. They do rack up convenience points however, by being on the takeaway website Just Eat for those days where you really can't be bothered to leave the house.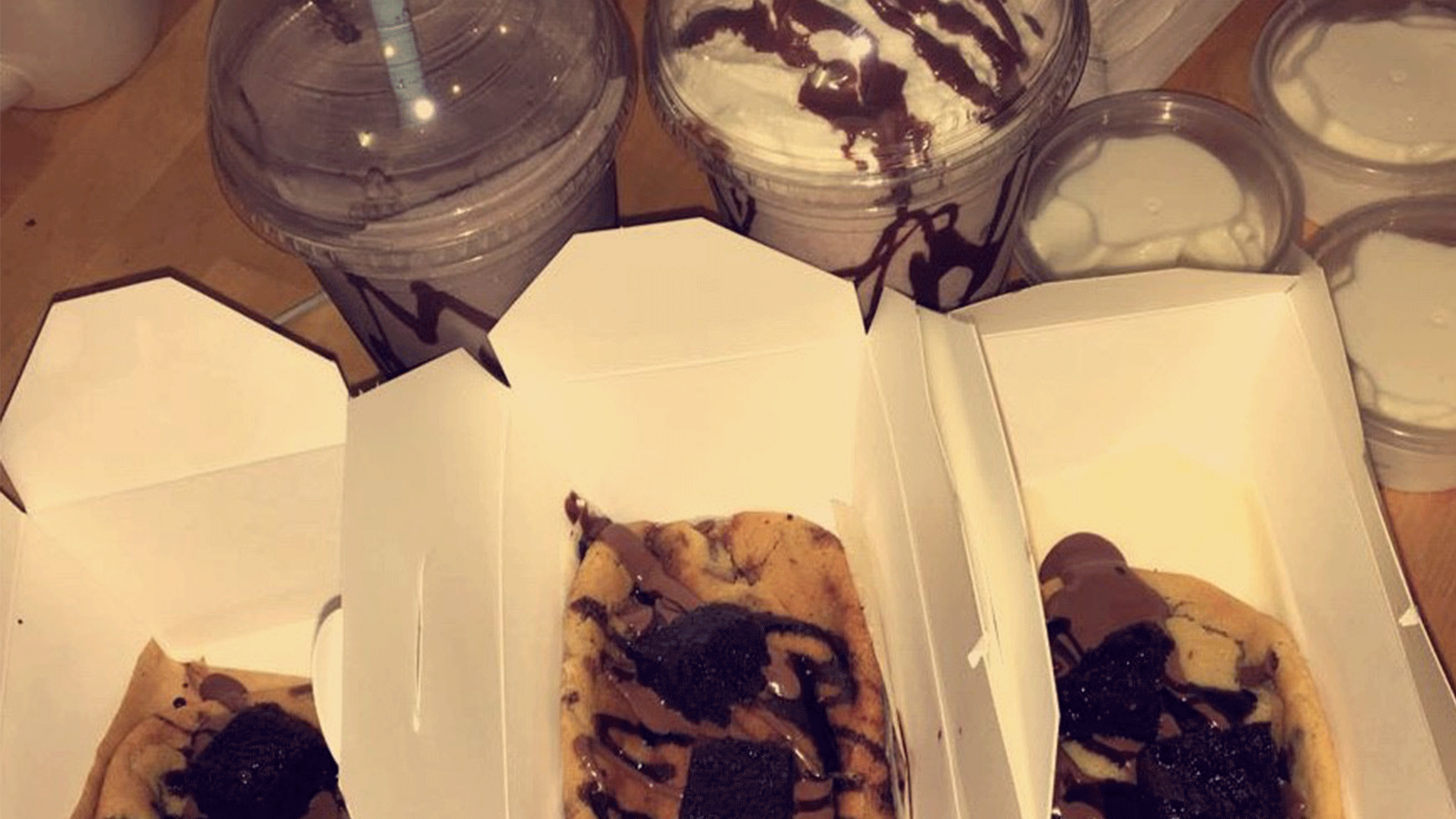 Cocoa Desserts
Location: 51 Ashby Road, Loughborough, LE11 3AA
Open times: 14:00 – 23:00
Price: Very affordable
What is sweet, tasty and comes right after dinner? Dessert, duh! So, after eating a great meal at Delhi bites, my friends and I like to wash it down with something from Cocoa. Being that Delhi Bites doesn't feel as bad as a McDonalds or KFC, we feel more justified in being able to go haha 😊. Cocoa offers a range of sweet and simple deserts that won't break the bank. From smoothies and milkshakes, to waffles and cookie dough they have all the essentials you could possibly ask for at a desert parlour.
I am a fan of the cookie dough, especially the one that comes with chocolate brownies. If you have a sweet tooth like mine then this is the place to go – you will not be disappointed. Make sure you take cash with you when you go as, once again, they don't take card payments. Cocoa is also available for home delivery via Just Eat on orders of £9 and over, and I mean what more could you ask for? Desert delivered right to your doorstep, especially during these cold winter nights.
Student Life
Find out what makes 'The Loughborough Experience' by reading our student blogs.