My Degree Show Experience
My three years as a Fine Art student were coming to an end. The Design and Creative Arts Degree Show 2021 was just around the corner, and I believe I selected the most challenging room for my exhibition space. The walls were uneven and bumpy, and I made it a goal to paint every inch of them vibrant shades of red, blue, purple, and green. The race to hand in my final submission had passed and mindlessly painting came as a welcomed change of pace. Everyone in the Fine Art building worked together to curate their exhibition because everyone had the same aim – to celebrate their work and what they had achieved during their years at Loughborough University.
True to our cohort's nature, the scramble to set up our degree show meant many were still painting in the final hour. Due to COVID-19, I had only seen a select few artists developing their practice. It was exciting to see everyone's work. From sculptures to immersive installations, the pieces displayed passion and resilience.
I created a home-cinema experience, with posters on the wall, merchandise, and a rotoscope animation playing on repeat. The animation had taken months to make and refine. I used myself as the model, recording, sketching over each frame, editing the audio, and then repeating the process from the beginning. I used my final year to refine my style. I discovered how much I enjoyed animating and digital illustration after years of painting portraits. Critical thinking surrounding which fonts to use, colour theory, cut scenes, sound editing and utilising stylistic choices to convey emotions motivated me further.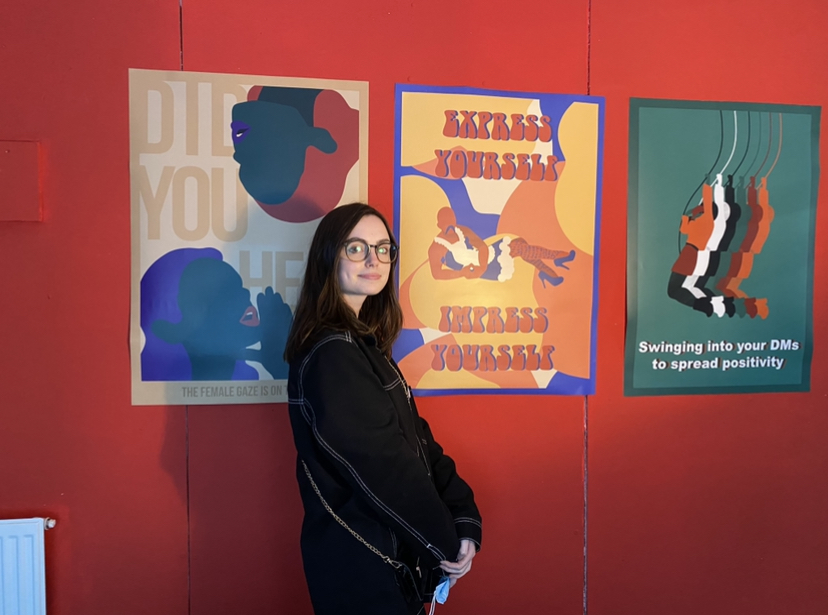 The art pieces worked together to create a campaign surrounding the gaze and its impact on young women online. COVID-19 meant that the ever-popular social media platforms were relied on more for 'human contact'. Wanting to feel close to others whilst being unable to see them meant that many turned to social media. Although this pseudo intimacy helped some, it also highlighted the way people view others online. Internet trolls and conflicting standards inflicted on young people can be damaging to their mental and physical wellbeing. My practice focused primarily on young women as I can identify and empathise with them. The campaign aimed to highlight how harmful the way we view others can be and what we could achieve without being constantly criticised online.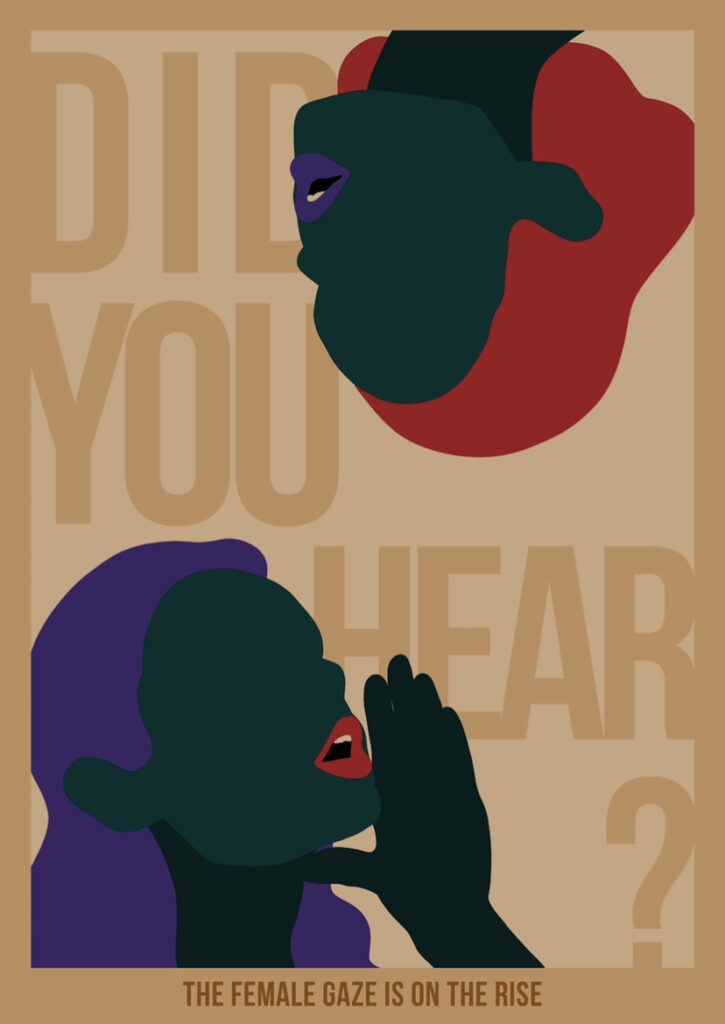 I invited my friends and family to the Design and Creative Arts Degree Show. I was proud of myself for creating something I had proactively learned and refined during COVID-19. The degree show was a chance to celebrate myself and those graduating in 2021.
What happened next?
A lot has changed since this time last year. My degree show came and went. I was ordering my graduation gown and feeling like there were 100 and 1 different paths I could take – but which one would I choose?
When the degree show ended, I had moved back home. It was time to think about what I wanted to do next. Do I pursue graphic design and animation, or do I continue to look towards campaigns and management? I had the privilege of time. I thought long and hard about what I wanted to do next. I now have a creative role in social media. I use my skills to produce engaging content shared with a diverse audience on multiple platforms.
A creative degree doesn't just give you the time to explore your art practice. It allows you to gain skills in multiple areas. One of my favourite phrases to say when someone asks, "what makes Fine Art 'fine'?" is that it is the research and intention behind it. When you study a creative degree, you research everything from socio-political issues to biology. The tutors here at Loughborough University support the topics you are interested in. They put you in contact with the right schools and lecturers that can help you enhance your learning in that area.
I am really looking forward to walking around the Design and Creative Arts Degree Show this year!
Student Life
Find out what makes 'The Loughborough Experience' by reading our student blogs.