Reflecting on my Placement Year
Dear readers, 
This will be the last blog that I write on the Loughborough Student Bloggers page. I have thoroughly enjoyed writing about my time at Loughborough University and hope it has been useful, particularly for those taking a placement year. I have now finished my placement year at Johnson and Johnson as a Junior Graphic Designer and wanted to give you guys insight into my final reflections on the experience.  
Living in Leeds alone in a studio flat was difficult but when you have a 9-5 job it is important to have a good 'work/life balance'. This means that outside of work you need to do what feels best for you, whether it is a trip to the gym, diving into a swimming pool or sitting watching your favourite television programme. It is just as important to rest your mind and get involved with something that you love. One of these things for me was having Musical Therapy. I have talked about mental health before and a poster in my Doctor's surgery pushed me to try this type of therapy out.  
Musical Therapy for me worked in that I would talk about my week and the obstacles I had overcome and then we would do vocal warm up exercises that help with relaxing both the vocal chords and the body. Then we went ahead and sang together. My favourite type of music to sing is Musical theatre and my teacher/therapist would accompany me. I would definitely say that if you like music and find it relaxing then I would give this type of therapy a go. It definitely helped me to relax and stay focussed. 
In terms of my placement with Johnson and Johnson, I took a phenomenal amount of knowledge and happiness away from the experience. A year in industry is by far the best decision I have ever made as my confidence has grown and I feel more secure and established in my career choice. Not only that but you get a great feel for the environment and the attitude you need to have in order to maintain a full-time job. As Johnson and Johnson is a corporate company, the office was open plan and for me this was more of a disadvantage. Different teams that had different business functions would all sit together in one big room and this made it difficult for me to concentrate and stay creative.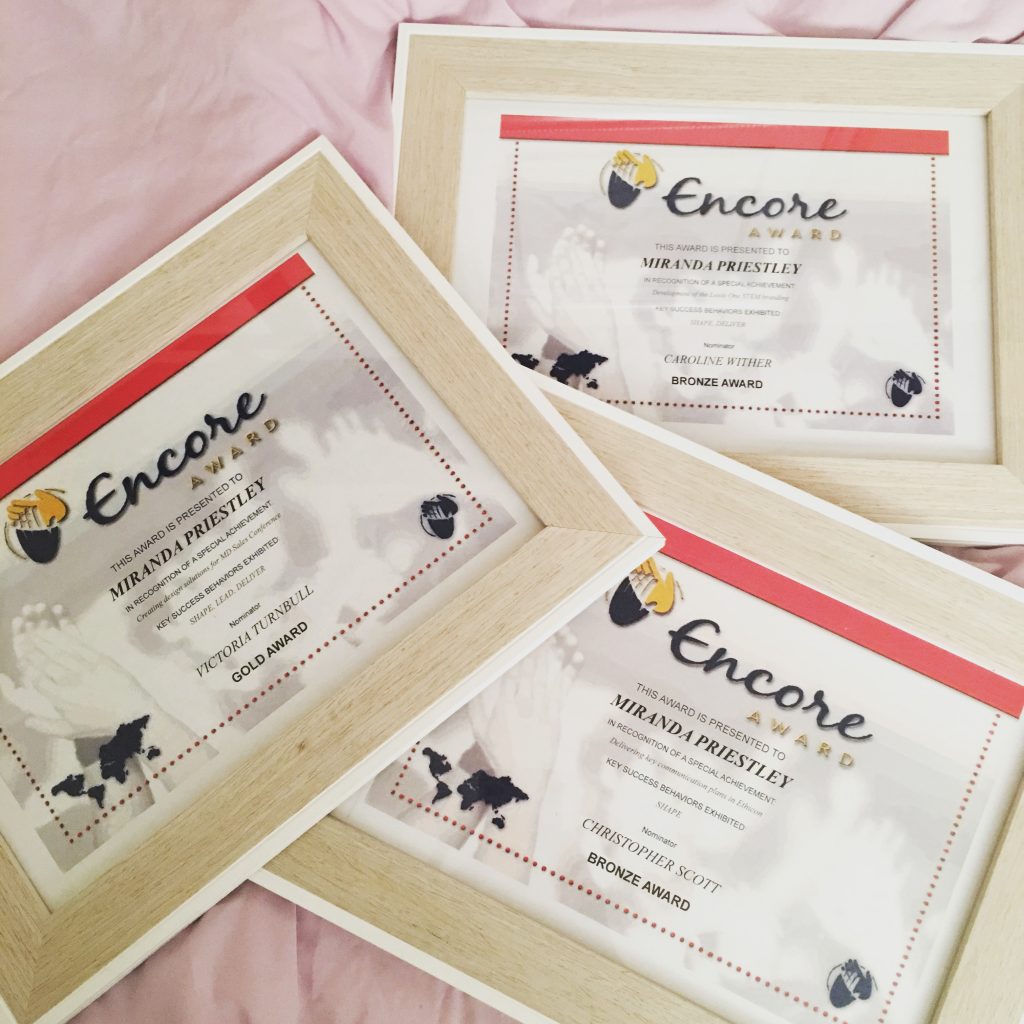 As someone who likes working in a creative team rather than individually, it was hard to bounce ideas off one another. In the corporate environment, each person works for their business function and it was suggested to me that I should try working in an agency or a studio-based work environment. This means that creative teams all work together and as someone who likes to put ideas forward but also hears others' input, this will be where I venture to next. I have learnt that the corporate environment isn't quite for me yet but something I could come back to in my future career.  
I am really excited to be going back to University in September to finish the final year of my degree. Placement has given me assurance in the type of work I want to be doing and my strengths and weaknesses. Whilst I was at Johnson and Johnson I was awarded three Encore Awards which really boosted my confidence and showed appreciation for the hard work that I was putting in. Branding, interactive design and video editing seemed to be my greatest strengths which are the areas that I will now be covering in my final year. Although a lot of my friends have now graduated, some have also done placement years or studied abroad so it will be nice to see my friends again and get back into university life.  
I would 100% encourage students to choose the 4 years full-time sandwich degree as placement has helped me in terms of knowing what a client requires, flexibility and confidence and these three key learning points will definitely help in my final year.  
I will be updating my website with some examples of design work that I produced whilst I was at Johnson and Johnson for you to have a look at, so please keep checking for updates! 
Thank you for reading and I wish you all the best in your future endeavours.  
Student Life
Find out what makes 'The Loughborough Experience' by reading our student blogs.