Ten years ago I started my undergraduate degree and in 2014 I experienced my first (and what I thought would be my only) Loughborough graduation ceremony. My most vivid memory from that day was VC Bob telling us to look to the audience to find our families. I remember looking behind me and seeing my parents and my grandad, wearing his purple shirt and tie, peering through and cheering me on whilst thinking this was a really special finale to what was the best university experience I could have asked for. 
Little did I know that I would be back on campus in 2016 studying my MSc in Work Psychology, part-time, alongside a full-time job. My postgraduate experience with Loughborough was entirely different, going from living in halls for three years to now living two hours away from the Loughborough bubble, going to work Monday to Wednesday and then attending block teaching on Thursdays and Fridays. Having the support of my programme leader and the flexible nature of the course allowed me to juggle my degree alongside my personal and professional life whilst being able to really enjoy the content at my own pace and utilise it in a practical way in my day-to-day work.
I envisaged my MSc would take me two years to complete, however I ended up choosing a few modules per year across a three-year period, plus I had a year break from learning when I was going through a period of growth in my career and some significant personal events. Covid then unfortunately postponed graduation last year, so here we are five years later finally looking forward to my MSc graduation and I feel so proud that I finally made it.
My biggest piece of advice when thinking about a master's is to consider why are you doing it and how are you going to do it.
For me, I had to have strong reason for undertaking such a big commitment, I saw it as an opportunity to support advancing my knowledge, my credibility and ultimately my career and I still felt like I wanted to learn more within the academic space, it felt like the right time for me.
I am also so pleased that I made the decision to do it whilst working, even though this is no mean feat, and I would stress to anyone to seriously consider the impact of trying to juggle both! The master's was directly relatable to my everyday work and being able to apply theory straight into practice or vice versa, bringing my experience to the classroom and the assessments, really helped bring the content to life and made everything I was learning much more purposeful and meaningful.
In summary, I would say choose your subject wisely and make sure the programme is able to deliver not only the content you want to learn to support your career or interests, but also make sure it is a course that can be delivered in a way which enables you to manage other commitments in life. Without Loughborough offering such a flexible learning model, I would not have been able to take part in the MSc.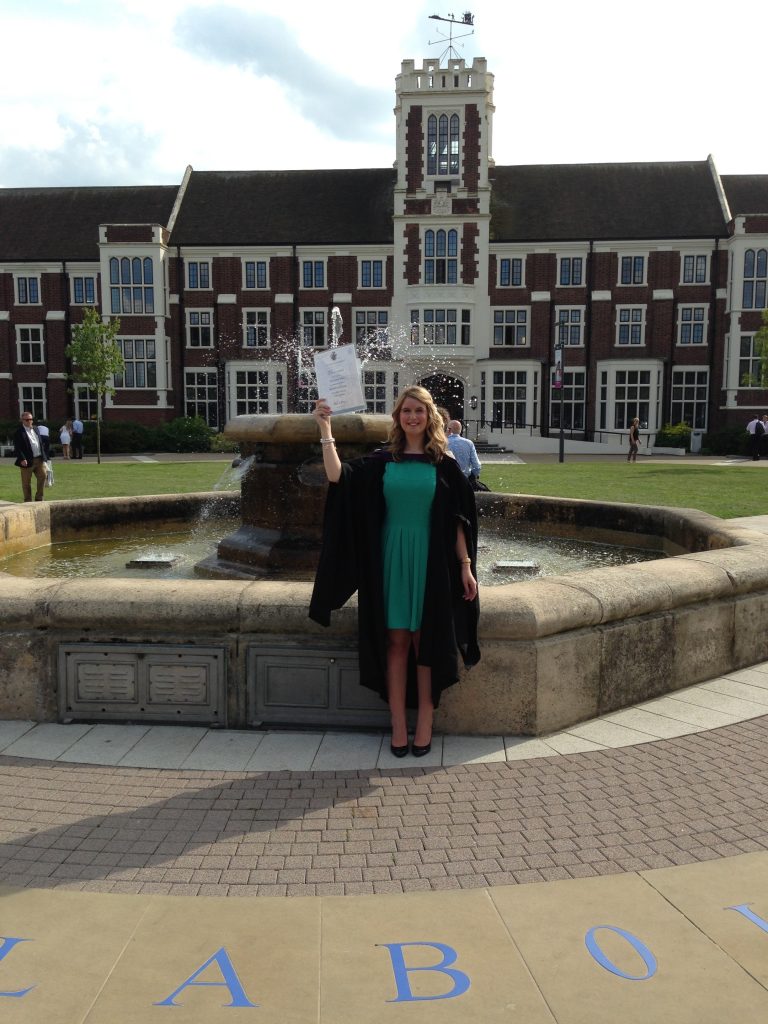 After what was a long, tough, but very rewarding five-year journey, it means a huge amount to me and my family that we are able to come together to celebrate on campus. We know of many universities who decided not to host class of 2020 ceremonies this year, so I feel very grateful to Loughborough to have this opportunity. I am personally looking forward to the set-up of the day. Being hosted in a marquee outside (it's due to be sunny!) and having a post-ceremony reception makes the day feel different and unique compared to my undergrad ceremony but it will still have the same Loughborough family feel and campus buzz to it – I can't wait to see some familiar faces and catch up with friends!
I feel very lucky that my parents are able to join me, especially with my dad normally living abroad, and I am really happy that they can both be back in Loughborough 10 years after my first day on campus. However, I am acutely aware that unfortunately some of my peers are still being significantly affected by covid and that they themselves or their family may not be able to travel. I hope that wherever you are in the world you are able to celebrate your achievements with your loved ones and I hope you are still able to make it a really special occasion. 
Congratulations to the Classes of 2020 and 2021 and welcome to the #LboroGrad Family!
Student Life
Find out what makes 'The Loughborough Experience' by reading our student blogs.