Happy Anniversary Fruit Routes: 10 years on
Guest blog from artist and Fruit Routes founder, Anne-Marie Culhane.
In May 2022, we celebrated 10 years of the Fruit Routes- with the first fruit trees having been planted early in Winter 2012. The day to mark the 10 year anniversary successfully coincided with the Transitions Festival, programmed by the Institute of Advanced studies. This felt like an ideal moment to mark and celebrate the Fruit Routes, as well as direct it from being led by myself alongside the sustainability and gardens team, into the hands of a steering group consisting of university and academic staff, students and the local community.
This mini-festival of the Fruit Routes was titled 'In Your Hands', and included many of the elements that have shaped the Fruit Routes' identity : walks, talks, performances, participation, foraged food and interdisciplinary, ecological and experimental events. Visitors ranged in age, with students and staff among school children and community elders. Both newcomers and those who have been visiting events for many years joined to celebrate the anniversary.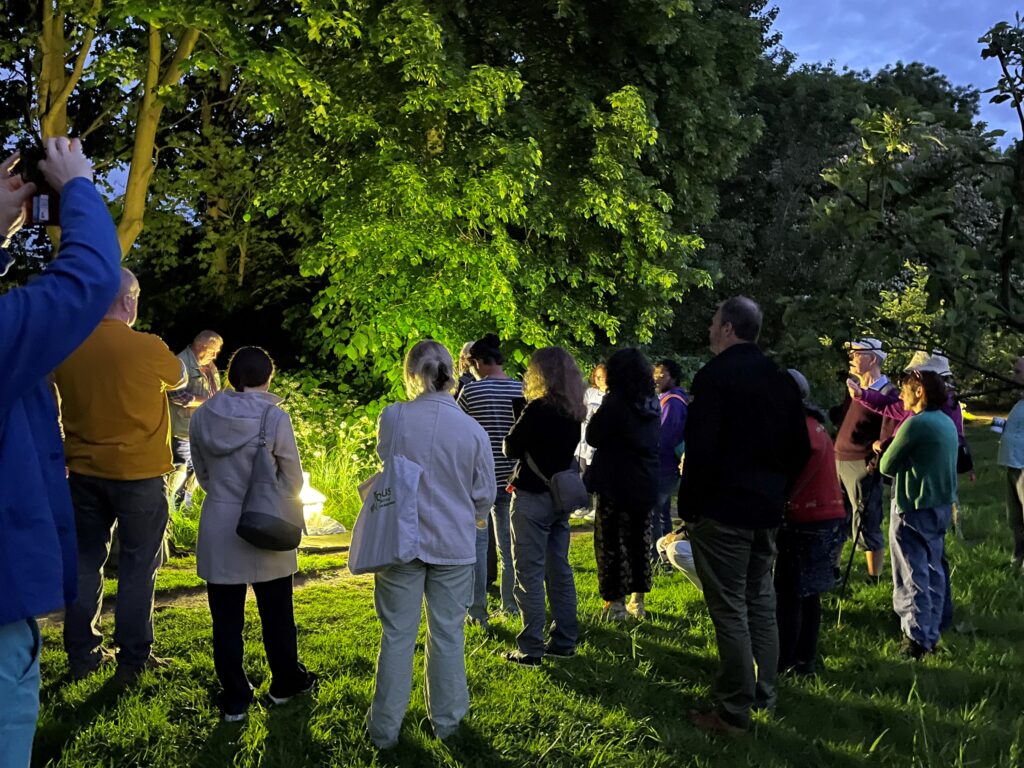 "For me, the most exciting part was the moth trapping with Graham and Anona Finch. On this cool May evening, the moth traps created a pocket of light that lit up the tree canopies and allowed us to have a glimpse at the active invertebrate life that calls this time their day. It's amazing how beautiful some of the species are considering they spend their lives flying around in the dark!"

Rich Fenn Griffin- Campus Arborist
Tuesday began by teaching the students an eco-activism module from a range of disciplines, with some interesting discussions. Tutor, Fred Dalmasso, led on the intersection of art and activism, covering the opportunities (or lack of them) for collaborative and interdisciplinary working on their courses. The students then walked across campus and took part in the afternoon's activities on Fruit Routes.
After lunch we hosted the Branching Out UK Treescapes project. This is a project which looks at the social and cultural value of city trees alongside biophysical data . Patrick Ryan, a storyteller, used this event to trial a tree story walk which he will use in different UK cities as part of the Branching Out project. After the walk, students stayed on with Elizabeth Lovely, from the University's Storytelling Academy, to listen and share their own stories of trees.
Martha Worshing from LAGS (Landscaping and Gardening Society) has been the steady force behind this remarkable and inspirational food growing and biodiversity project. We spent some time foraging and gathering: nettles, marigold, lavender, lemon balm, ox-eye daisies, clover, chives, garlic mustard, wild garlic, elder flower, rose petals, and jars of campus honey.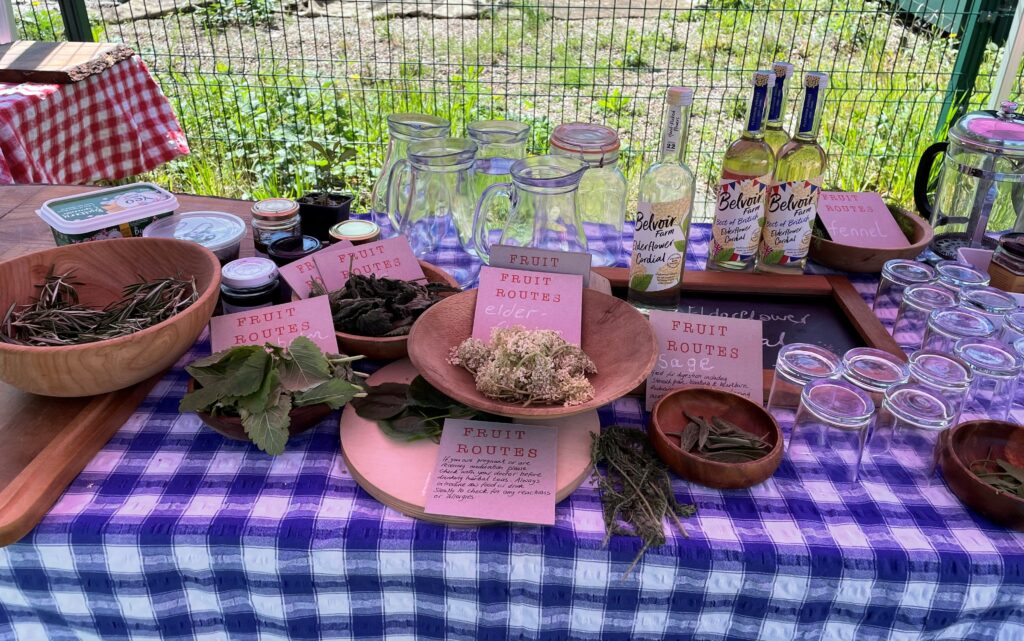 On Wednesday, the foraged goods were delivered to chef Rose Bunce, who made wild cheese from yoghurt, and used the different plants to coat the cheese balls so that people can get a better taste of their flavour! We cooked together with Jo Jennings, a member of the Fruit Routes Steering Group. 
"One of the highlights for me was prepping the afternoon tea treats with Rose and Anne-Marie, using nettles, marigold, wild garlic, and other foraged ingredients to coat cheese balls and decorate cakes."

Jo Jennings- Member of the Fruit Routes Steering Group
Thursday morning started with talks from Marsha Meskimmon (Director of the Institute of Advanced Studies), Chris Fremantle (Grays School of Art, Aberdeen) myself, David Bell (RADAR at Loughborough University), and Jo Shields (ex-Sustainability Manager), talking about the context of the Fruit Routes within the wider art world, feminist eco-art, the university, and Loughborough town. You can read more about Chris' talk and experience at the Fruit Routes here.
After this, a panel of Rich Fen-Griffin (campus arborist/tree expert), Paul Conneally (local resident and Fruit Routes poet), Gillian Whiteley (ex-professor of Fine Art), and Alena Pfoser (lecturer) took centre stage.
I talked about the interdisciplinary nature of Fruit Routes and the importance of levels of care and inclusivity in the project. I also talked about my surprise at how little progress has been made nationally to shift to more localised and sustainable food systems in ten years. When carbon footprint of food production is so key to reducing carbon emissions, its deeply disappointing that our food systems aren't being radically reconfigured – in terms of reducing wasted fruit (thousands of tonnes in the UK go unharvested) and maximising the diversity of what we can grow locally in shared spaces, commercial, and private space.
After this, we took a walk through the Fruit Routes whilst engaging in discussions about the planting, permaculture, project design, and the future of the project. We then arrived back at the Barefoot Orchard with tables set for our Wild Tea. Rose's food, elderflower cordial, and campus foraged tea (UniT) were laid out. There was a chance to imagine our futures in a cup of campus foraged tea using the art of reading tea leaves. The activity referencing this ancient art was curated by myself and Paul Conneally. People happily shared stories and chose songs to reflect their visions.
"We met some local schoolgirls who walked through the campus and came across the Fruit Routes outdoor tea event at the Barefoot Orchard. They stayed chatting and eating as we welcomed them and showed them the art of reading tea leaves!"

Jo Jennings- Member of the Fruit Routes Steering Group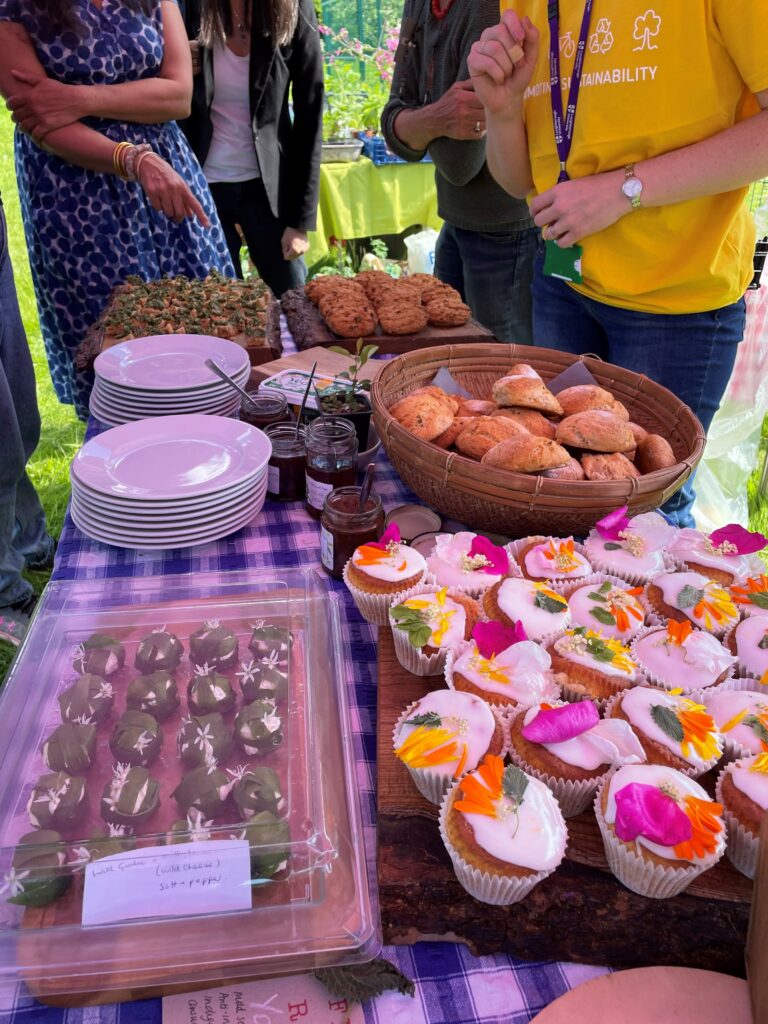 Later on, a yurt (a large circular tent originally from Central Asia) was prepared for Gillian Whiteley's performance, 'Spelling the green knowledge". An audience gathered for an intense improvisation of words, sound, image making and movement. This was followed by a procession out into the orchard, leading to a ceremonial handing over of the Fruit Routes project to Marsha and David as custodians. Gifts of tiny origami seeds made by artist, and Fruit Routes collaborator, Jo Daccombe were thrown like confetti and gifted to everyone.
The project itself is situated in part on the 'fertile edges' of the campus grounds, in close physical proximity to the local community. In ecology, 'edges' are the dynamic place where two different ecosystems meet, which brings greater diversity of species. These edges are also the ones that hold the least economic value for the University, but offer an easy to access meeting point for people. It is this sense of community and feeling of being 'at home' within the Fruit Routes that makes this project remain so incredibly special 10 years on.
Keep an eye out for future Fruit Routes events!
This project is in support of the UN Sustainable Development Goal 15: Life on Land. Read more here.
Sustainably Speaking
Loughborough University Sustainability Blog