From the Vice-Chancellor – July 2022
In my last newsletter of this academic year: the 2022 Commonwealth Games, the first of our Strategy's underpinning core plans, Royal Society Summer Exhibition, National Student Survey, Graduation and Open Days.
2022 Commonwealth Games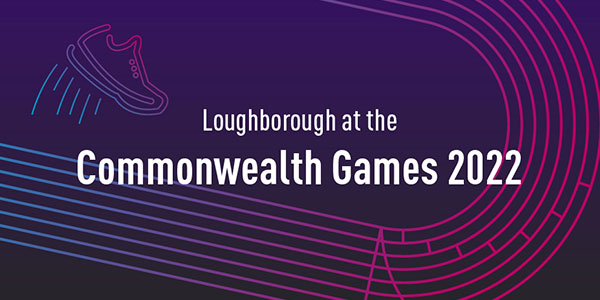 Throughout July we have been counting down the final days to the 2022 Commonwealth Games, which are taking place in Birmingham. Our celebrations in Loughborough began mid-month when we welcomed the Queen's Baton Relay to campus.
The Baton began its journey here with a private visit to Team England, who were based at the University for their immersion camp and 'kitting out' ahead of the Games. Its public tour of the town then started from the Hazlerigg Building, with Batonbearer Abbie Brown, the Loughborough Lightning and England Rugby Sevens star, running with it on its first leg to the Rugby Pitch. Next, the Baton was passed to Dr Sola Afolabi, a Senior Lecturer in Water and Environment Engineering based in the School of Architecture, Building and Civil Engineering, who carried it to Shirley Pearce Square.
On leaving the campus, University alumni, Paralympians Dan Greaves and James Hollis, who is also a current member of staff, and their fellow Paralympian Emma Wigg ran with the Baton through the town.
The atmosphere on campus that day was truly amazing. The University choir entertained hundreds of staff, students and members of the local community, who all enthusiastically waved flags of the Commonwealth countries to cheer the Baton on as it crossed the Hazlerigg-Rutland Lawn. At the Rugby pitch, Pauline Matturi, our HR and Organisational Development Advisor, acted as host for a range of events, some of which involved Perry, the Commonwealth Games mascot, and our very own Lightning mascot, Bolt.
Shirley Pearce Square was transformed into a summer festival, including food stalls, wheelchair basketball games and a caricaturist. The crowds there gave the Baton a rousing send-off as it left the campus through one of the striking sculptures by Ghanaian artist Atta Kwami that are currently on loan to us. Kwami and his wife, the printmaker Pamela Clarkson-Kwami, who was present on campus for the Baton Relay, divided their time between Kumasi in Ghana and Loughborough.
Now many of us will be glued to the Commonwealth Games, which began yesterday, to see how all the Loughborough-linked athletes fare. We have more than 120 athletes, coaches and practitioners involved in almost 20 sports, representing ten countries, which in itself is an amazing achievement. Our dedicated Commonwealth Games website will keep you all updated with the latest news and results as they come in – do keep checking it regularly for updates.
I'm sure you'll join me in wishing all our athletes, and the many coaches and staff who support them, the very best of luck for the next two weeks.
International Plan
Our Strategic Plan, Creating Better Futures. Together – which provides us with a high-level framework to guide the University's direction over the next decade – includes six strategic aims, covering specific areas of activity. The aims will be delivered though a set of institutional Core Plans, the first of which, theInternational Engagement and Impact Plan, has now been approved.
UK universities today face tougher competition than ever before to attract students from overseas. To ensure we are well placed to do this, we need to build a distinctive reputation internationally, as we have done in the UK. We need to intensify and extend the reach of our international engagement and impact. The Core Plan sets out how we will begin to do this.
We have many strengths that we can leverage to increase our international engagement and impact – our research and innovation, particularly across the three institutional themes of our Strategy; our pre-eminence in sport; the student experience we provide; and the strong affinity our current international students have for Loughborough.
There are also areas where we must develop. We have to increase our overseas partnerships, our research collaborations and the breadth of scholarships we award. We must attract more international staff to work here, broaden the range of countries from which we recruit students, and consider changes in our educational offering to make it as attractive as possible for international students. All this must be supported by targeted marketing campaigns that raise profile and awareness.
To achieve all this we will need to adopt a phased approach, and the Core Plan outlines the high-impact actions we will prioritise now. We will all have a role to play in delivering the International Engagement and Impact Plan and, if we are to succeed with our global ambitions, we must work together.
Royal Society Summer Science Festival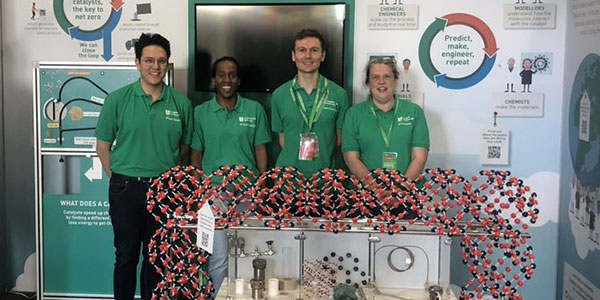 Each year the Royal Society stages a prestigious Summer Science Exhibition in London to showcase to the public the very best of the UK's science and technology. Only 16 exhibits are selected from the many submissions they receive, and Loughborough was fortunate enough to be one of the universities chosen for this year's exhibition.
Our exhibit, titled Replacing Oil, focused on how the world would look without fossil fuels. Fossil fuels are used to create the vital ingredients, known as platform chemicals, that go into a surprising range of products. The Loughborough team – led by Professor Sandie Dann from Chemistry and involving academics and Doctoral Researchers from Chemistry, Automotive Engineering, Chemical Engineering and Materials – is designing a new generation of catalysts that will be needed to convert biological waste into useful products such as plastics, paint and cosmetics in a post-petrochemical world.
One of the examples the team showcased at the Summer Science Exhibition was the use of algae to create eco-friendly, bio-sourced materials for shoes. Drying the algae, crushing it into a powder and mixing it with ethylene-vinyl acetate creates an algae foam that can be press-moulded into outer and inner soles. This would cut the synthetic materials used in shoes by up to 20% – while controlling algae populations, improving water health and reducing CO2 emissions.
The Royal Society Summer Exhibition attracted more than 5,700 visitors from the across the UK and beyond, including more than 700 students and teachers. We must ensure we maximise opportunities to take part in prestigious events such as the Royal Society Summer Science Exhibition whenever we can to ensure we raise the profile of our pioneering research to national and international audiences.
National Student Survey (NSS)
The results of the latest National Student Survey (NSS) were released this month. At Loughborough, 83.8% of our students who took part said they were satisfied overall with their course, compared to the national average of 76.3%.
At subject level, Loughborough was ranked top in the UK in five subject areas – Computer Science, Drama, Information Services, Natural Sciences and Physical Geographical Sciences. Eleven of the University's subject areas had overall student satisfaction rates of more than 90%.
The academic year has again been challenging and we should be pleased with the 'overall satisfaction' results we have achieved. However, the data shows there are areas in which we need to do better. The response to the Assessment and Feedback bank of questions was particularly disappointing and we are now significantly below the sector average. We must address this and have already launched an Assessment and Feedback project to consider how we might improve. If we are to strengthen our sector-leading position for education and student experience, as outlined in our Strategy, this must be a major focus for us all in the next academic year.
Summer graduation ceremonies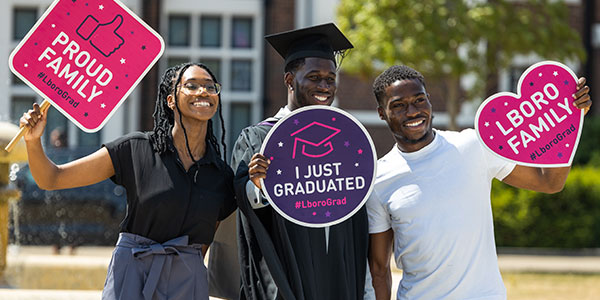 Last week we hosted our summer graduation ceremonies. It was wonderful to see so many graduands back on campus with their families and friends to celebrate their achievements.
At the ceremonies we awarded a number of honorary degrees. We recognised David Pond, a Loughborough alumnus and the former Chief Executive of Great Britain Wheelchair Rugby (GBWR), for his outstanding contribution to sport. Since stepping down from his GBWR role, David has been supporting the humanitarian effort in Ukraine. Rajiv Bajaj, Managing Director of the Bajaj Automotive Company, one of the largest motorcycle and three-wheeler manufacturing companies in India, was recognised for his services to automotive and manufacturing engineering.
Two former lay members of the University's Council – Alan Hughes and Ann Greenwood – were also recognised for their outstanding contribution to higher education and expertise provided when supporting the governance and development of local universities.
Alongside the honorary degrees, we presented two former members of staff with University medals, which recognise outstanding service to the organisation. Between them, Patrick Gallagher, a drainage technician with the Estates team, and Sue Bruce, an HR immigration adviser, have more than 80 years' dedicated service at Loughborough. An outstanding achievement.
My congratulations go to all the recipients of degrees, honorary degrees and University medals. Thank you too to the very many staff who worked so hard – and dealt admirably with the searing temperatures at the start of the week – to make our degree ceremonies such fantastic and thoroughly memorable occasions for the thousands who attend.
Open Days
This month also saw the return of our in-person Open Days, with almost 13,000 people coming to our campus. The pandemic forced us to change the way we did so many things and I was incredibly proud of the virtual Open Days we held to ensure that prospective students were still able to get a better understanding of the education and experience Loughborough could offer them. But nothing can better an in-person Open Day and it was wonderful to be able to talk to so many students, their families and friends and to showcase everything the University and our beautiful campus have to offer.
Events such as this are key points in our student recruitment cycle and so many people across the University work incredibly hard to make them so fantastic. Thank you for everything you do.
Vice-Chancellor's Communications
Opinions and comment from the Vice-Chancellor, Professor Nick Jennings