From the Vice-Chancellor – September 2022
In my first newsletter of the new academic year: Her Majesty Queen Elizabeth II, the Times Higher Awards, the inaugural Vice-Chancellor's Awards, new staff appointments, support for Ukraine, the British Science Festival, and the Commonwealth Games.
Her Majesty Queen Elizabeth II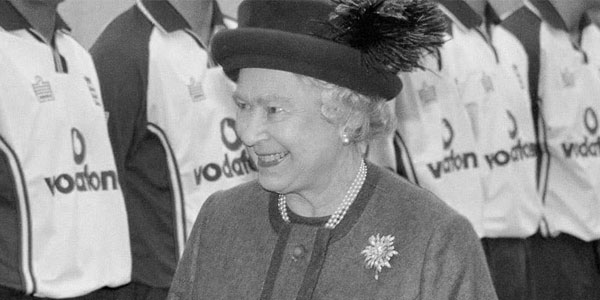 Earlier this month we received the very sad news of the passing of Her Majesty Queen Elizabeth II. I know many of you marked the event by signing our book of condolence, leaving floral tributes and sharing your own memories of The Queen's visits to Loughborough through our social media channels. During the period of national mourning, I was honoured to lay a wreath for The Queen, on behalf of the University, and to attend a reading of the proclamation of the accession of King Charles III at Queen's Park in the town.
Queen Elizabeth visited Loughborough University twice during her reign. We first welcomed her in 1989, when she visited the campus and the Students' Union. To mark the occasion she signed a photographic portrait that will now be displayed in the Hazlerigg Building. There is a delightful video of her 1989 visit available on our YouTube channel. Do take a look if you haven't already seen it.
The Queen's last visit to Loughborough was in 2003, to officially open the ECB (England and Wales Cricket Board) National Academy. After observing Academy players practising in the main hall, The Queen and The Duke of Edinburgh toured the facility, unveiled a commemorative plaque, and signed a portrait photograph and presentation cricket bat.
Loughborough was also honoured with seven Queen's Anniversary Prizes for Higher and Further Education throughout Queen Elizabeth's reign. The biennial awards were established in 1994 to recognise work of outstanding quality and innovation that delivers real benefit to the wider world and public.
Times Higher Education Awards
On 1 September it was revealed that Loughborough University has been shortlisted for the prestigious Times Higher Education (THE) University of the Year award and the Outstanding Estates Team award. Both nominations recognise our response to the Covid-19 crisis and are testament to the way in which the whole University community, both staff and students, pulled together during one of the most challenging times we have all ever faced.
The University of the Year nomination also recognises the role we played in influencing the national higher education sector response, and our leadership on asymptomatic testing, Covid risk assessments and student welfare. The Outstanding Estates Team submission references the huge operational role played by the Covid Logistics hub, providing support to around 1,500 isolating students.
The winners will be announced at an award ceremony in London on 17 November. I'm sure we will all have our fingers crossed that evening.
Inaugural Vice-Chancellor's Awards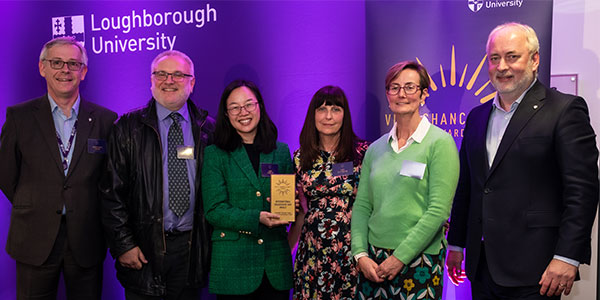 This week we announced the winners of the first-ever Vice-Chancellor's Awards, which have been established to recognise the ways individual staff and teams across the University have demonstrated our strategic aims and values.
You can see details of all the award recipients online. Each winner was presented with a bespoke Loughborough-made award, which was designed by Creative and Print Services in Marketing and Advancement. The award is made from laser-cut Perspex, which was skilfully created by the STEMLab staff, mounted on a base of wood reclaimed from former University buildings. There's a video showing the creation of the awards, which is well worth a watch.
Awards such as these allow us to raise the profile of the many excellent things we do at the University. As well as the Vice-Chancellor's Awards, we have the University Medal, which celebrates the best of the Loughborough community, and our Honorary Degrees, which recognise the work of individuals around the world. Although the latest round of nominations for these awards has now closed, I would encourage you to consider who you think should be put forward for future rounds.
Special Envoys for India and Associate Deans for Research and Innovation
The creation of the Pro Vice-Chancellor for Research and Innovation role brought together research and significant parts of the innovation agenda, enabling us to reshape the Associate Dean posts within our Schools that support these important areas of our activity.
I am delighted that we have now appointed to each of the new Associate Dean for Research and Innovation roles, with details available on our website. My congratulations to all of them on their appointment.
I am also pleased that we have now recruited Dr Kirti Ruikar and Professor Bala Vaidhyanathan as our first two Special Envoys for India. The Special Envoys will play a key role in delivering the International Engagement and Impact Core Plan, which forms a part of the University's strategy Creating Better Futures. Together.They will be responsible for leading the University's regional strategy for India and will work closely with me to develop relationships with partners in the region.
Dr Ruikar is Programme Leader for the BSc Architectural Engineering and Design Management degree in the School of Architecture, Building and Civil Engineering. Professor Vaidhyanathan is an expert in Advanced Materials and Processing and coordinates the Loughborough-Asia Materials Partnership (LAMP) programme promoting teaching and research links with India.
I look forward to working with Dr Ruikar, Professor Vaidhyanathan and all the new Associate Deans for Research and Innovation as we drive forward our global ambitions.
Support for Ukraine
With the war in Ukraine continuing, we have expanded our support for colleagues and students in the country by signing an agreement with the Ukrainian Global University (UGU) – an initiative that brings together educational institutions from around the world to provide education and research opportunities to Ukrainian students and scholars to enable the rebuilding of Ukraine.
This latest partnership builds on the memoranda of agreement we signed with two Ukrainian universities in July, and all are part of an initiative called Twin For Hope, run by Universities UK International.
Our partnerships are already starting to make a tangible difference. For example, we have welcomed our first Ukraine Academic Fellow to the School of Social Sciences and Humanities, three Doctoral Researchers will start their PhDs in October, having received one of Loughborough's Ukraine scholarships, and staff and students from the School of Architecture, Building and Civil Engineering have supported a summer school project for Ukrainian students and school-leavers to develop the skills and knowledge needed for the post-war reconstruction of their cities.
British Science Festival
Each year the British Science Festival – which aims to celebrate the people, stories and ideas at the heart of science, engineering, technology and social science – is held in a different town or city in the UK. This year's five-day Festival was based in Leicester, with academics from Loughborough University hosting four events.
Dr Roger Newport from Sport, Exercise and Health Sciences led two events: a talk exploring how well we understand the relationship between pain, and other sensations, and what's really happening to our bodies, and then a drop-in session looking at mind-bending body illusions.
Loughborough's SlowCat team – led by Professor Sandie Dann from Chemistry and involving academics and Doctoral Researchers from Chemistry, Automotive Engineering, Chemical Engineering and Materials – showed visitors how they are transforming biomass into fuel and many everyday items with the help of special new catalysts.
On the final day of the Festival, a team of our Physicists hosted a family engagement event titled 'Life Through a Lens', to show how the science of imaging can help us to live and work more sustainably, stay healthy and explore the secrets of the universe.
Events such as these enable us to take our research and innovation to a broad public audience and crucially help us to engage young students in science, engineering and technology. My congratulations to all those who were involved in organising, managing and hosting events at the Festival.
The 2022 Birmingham Commonwealth Games
While the summer may be over, I wanted to reflect on the fantastic performance of the Loughborough-linked athletes at the Commonwealth Games, who brought home a record total of 47 medals – 14 gold, 17 silver and 16 bronze. If Loughborough were a country, we would have finished sixth in the overall medal table, ahead of South Africa, Jamaica and Nigeria. A truly phenomenal result that is testament to the dedication, hard work and commitment not only of the athletes themselves, but also the coaches and many support staff who help them on their way.
There are so many highlights it is difficult to mention just a few. But who could forget alumnus James Wilby winning the men's 100m breaststroke gold, our eight Loughborough players and staff winning an historic England Women's hockey gold, current Loughborough student Daniel Wiffen winning Northern Ireland's second-ever medal in the pool, and Olivia Broome, another current Loughborough student, winning silver in Para Powerlifting.
Among those cheering on our athletes were the lucky staff who received free tickets to the Games as part of a ballot for Grades 1-5. Having seen some of your photos from the events, you seemed to have an absolutely wonderful time. I know that all of us who watched the Games, either in Birmingham or at home, were incredibly proud of all our athletes, coaches and support staff.
Vice-Chancellor's Communications
Opinions and comment from the Vice-Chancellor, Professor Nick Jennings