By Chen Chen
My name is Chen Chen and I was studying Fashion design at University of the Arts London. I have a passion for fashion design and I have an ambition to be an independent designer as my future career. Then I decided to study digital marketing at Loughborough University London last year. I started to set up my brand in 2017, hence when I study at Loughborough, it has been a great opportunity to study academic theory and have a place to practice.
During studying at Loughborough University London, I organised a designer pop up store to collaborate independent designers together to improve brands awareness. It was a big success to attract so many audiences and it was also a great opportunity to practice what digital marketing strategy is. Since I organised many designer pop up stores, I know a lot of independent designers in London. My final year dissertation will be an exploration of the impact of digital marketing on independent fashion brands in the UK. I have my participants directly, and also my dissertation will advise them to do better digital marketing. It's just like the saying, "killing two birds with one stone".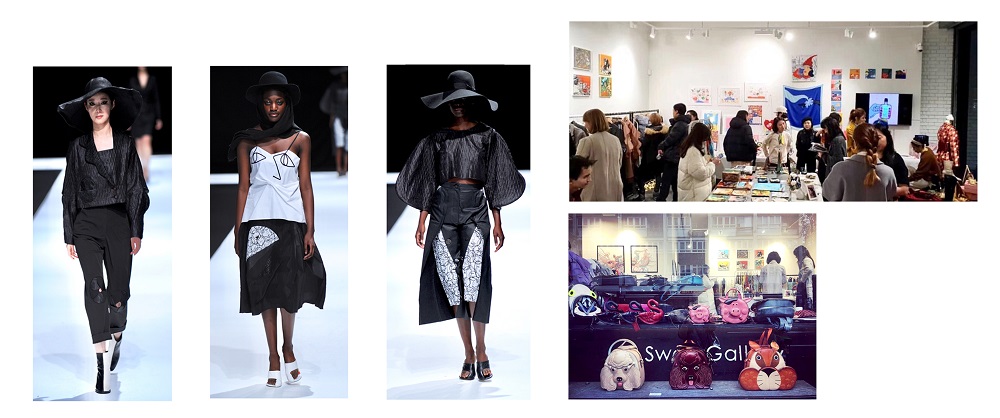 In June 2018, my design was selected into a buyer shop call MK2UK in Shoreditch. Because of the small amount of production and all produced by myself, the cost is higher than other designers in the shop. It seems a disadvantage comparing with my competitors, but I think I will keep it even when I can be a full-time independent designer.
During studying at Loughborough University, our idea of group work has been selected to Collaborative Project Show. On the Collaborative Project Show I met a lady who operates a fashion designer public relationship company called Fantasy Inn. Firstly, she comes to us to know our group work idea and she notices the garments I wear which were designed and made by me. Then she said she would like to support my design work to feature on their official website. It is really important to self-promote with confidence. It is a really surprise for me to have a collaborative opportunity for my design work with an unrelated uni project.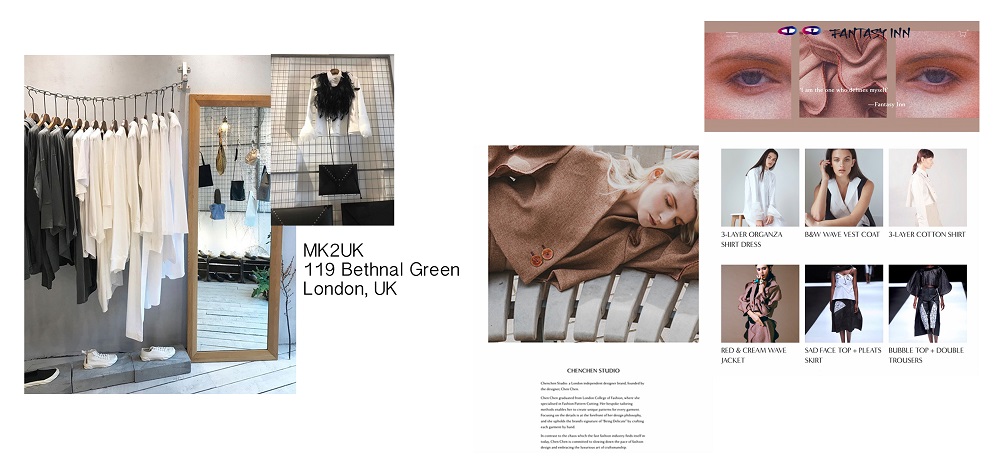 The wave collection was inspired by the riverside sunset through my window. For the inspiration calico toile, I cut the shape of building on calico edge and made sunset sight by wool felt to represent the sunset sight. This inspiration toile was selected in the opening exhibition at Trinity Gallery in 2018. For the final garments, I used the shape of wave to make five-piece sleeves to represent the wave shape of river. The final garment was also published by Picton fashion magazine on Feb 2020.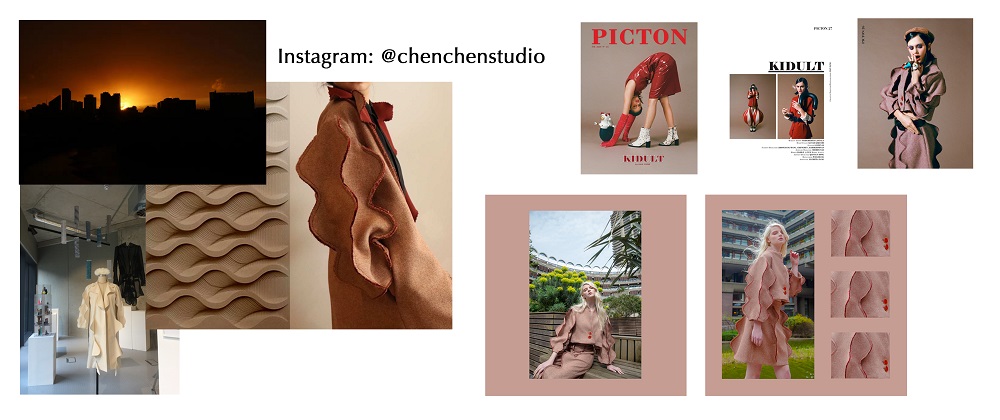 In 2019, I started to be not only inspired by visual arts or sight, but also inspired by thinking and meaning. I started to think what do garments mean to individuals? After writing an essay about fashion and personality for uni, I came to the conclusion that garments are people's second skin. People choose garments based on their identity, personality and position. On the other hand, designer's identity is related to their design works too. I think it is a big success if an audience can tell which garment was designed by you from a bunch of designs. That means you should have a specific style for your design, not following any existing brands. I don't have any specific word to describe my design, but I am devoted to creating special and unusual patterns for garments and with changeable details sometimes. Garment is not just a piece of fabric to cover your body, you can represent your identity and have fun with it.
For the new collection, it is about the idea that everyone has two identities. One identity is what they would like to show, the other identity is what they want to hide. The same idea for the collection, through the movement of body or the different way to wear garment to show different styles. For the jacket, the shape of elbow on sleeve will change when arm is bent. For the trousers, the details of  knee will "open" like a flower or fan when legs are bent. I do enjoy the process when I tell an audience the inspiration story and show them changeable details. I am quite happy with the result, I feel like I have added soul into my design.

In order to reduce the serious environmental harm that fast fashion has generated and encourage more people to get engaged in the action of embracing sustainable fashion, my future design will aim to produce clothing in a sustainable way by adopting recycled materials and hand-cut fabrics, also with creative design idea and high quality which will provide the consumer with longevity. I was invited to a TV show called TV Culture Shock episode 3 to talk about suitable fashion and use garbage from a beach to make a garment in 15 mins. The show also showed how much garbage people leave at the beach, and how it is harmful for the environment. It is important to produce sustainable products as a designer, it is also important to conduct and educate audiences think sustainability when they purchase.
Life is an adventure, I am so lucky to do what I like for my future career with responsibility to produce sustainable garments and "educated" customer sustainability.
---
You can check out Chen Chen's work on instagram: @chenchenstudio.
The Limit
The Limit showcases the creativity that exists within the student population, creating a sense of community.