Booking for the Doctoral Wellbeing Fortnight are now open!
Following the success and feedback of Loughborough University's first Doctoral Wellbeing Week last year, an online event from 1-12 March 2021 has been organised to coincide with University Mental Health Day on Thursday 4th March 2021.
Aimed at Doctoral Researchers and those on the frontline of their support (such as supervisors), Loughborough's Doctoral Wellbeing Fortnight will contain a diverse range of developmental workshops and activities to provide practical ways of enhancing doctoral wellbeing.
The event will feature over 40 sessions, covering numerous topics that are aligned to the University's wellbeing resources and relate to Doctoral Researcher feedback as well as evidence from a growing body of literature.
Event organiser Dr Katryna Kalawsky, said: "At Loughborough, we recognise and value the vast contributions that Doctoral Researchers make. To enable them to achieve their full potential, we need to take a proactive and responsive approach to support and enhance their wellbeing, especially since many challenges faced are different to the taught student populations.
"Whilst wellbeing is important 24/7, 365 days a week, we hope the fortnight will increase awareness of the various support services available, and that it equips our Doctoral Researchers with an extensive array of practical skills that they can apply throughout their doctorate and beyond."
For more information, including a full timetable and booking details, visit the dedicated event website. To follow the conversation on Twitter, use the #LboroDRWellbeing hashtag.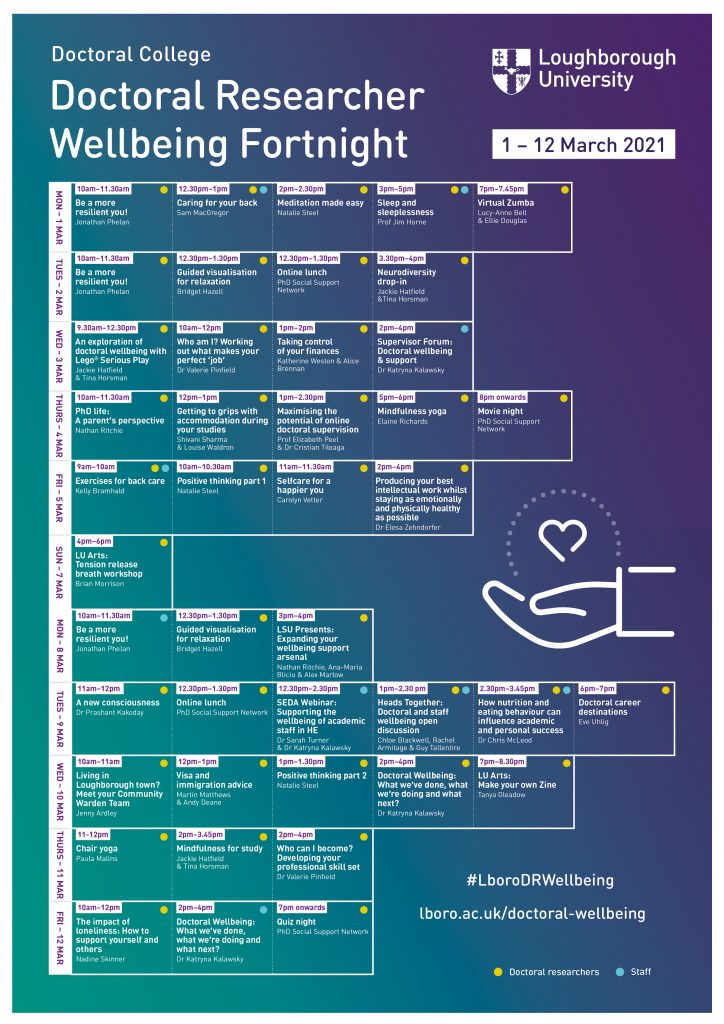 ---
Please note that all sessions will take place online and most sessions will be recorded for the benefit of those unable to attend in 'real-time'.
Loughborough University London
Blogging everything that's happening at Loughborough University London