Meet the panel from the 'Women in Everything' series
This 'Women in Everything' series was created by the Women in Sport Group in celebration of International Women's Day and featured a number of amazing female panellists who are paving the way for females in industry. In this blog, we will introduce you to these panellists from a range of different industries and delve deeper into these event.
Women in Sport (8 March)
For the 'Women in Sport' event, we were joined by:
Kathryn Ratnapala: Former England Netball player and current Technical Coach for England Netball and Head Coach of the Saracens Mavericks.
Cameron Myler: Four time US Olympian, sport lawyer and lecturer focusing on legal & governance issues in sport.
Hussa Al-Khalifa: Developer of women's football and now PhD student that focuses on sport for development and peace programmes for women I the Gulf Cooperation Council region.
This insightful event saw the discussion of topics such as entering the sports industry as a female, achievements, male allies, female coaches and the  importance of role models amongst others.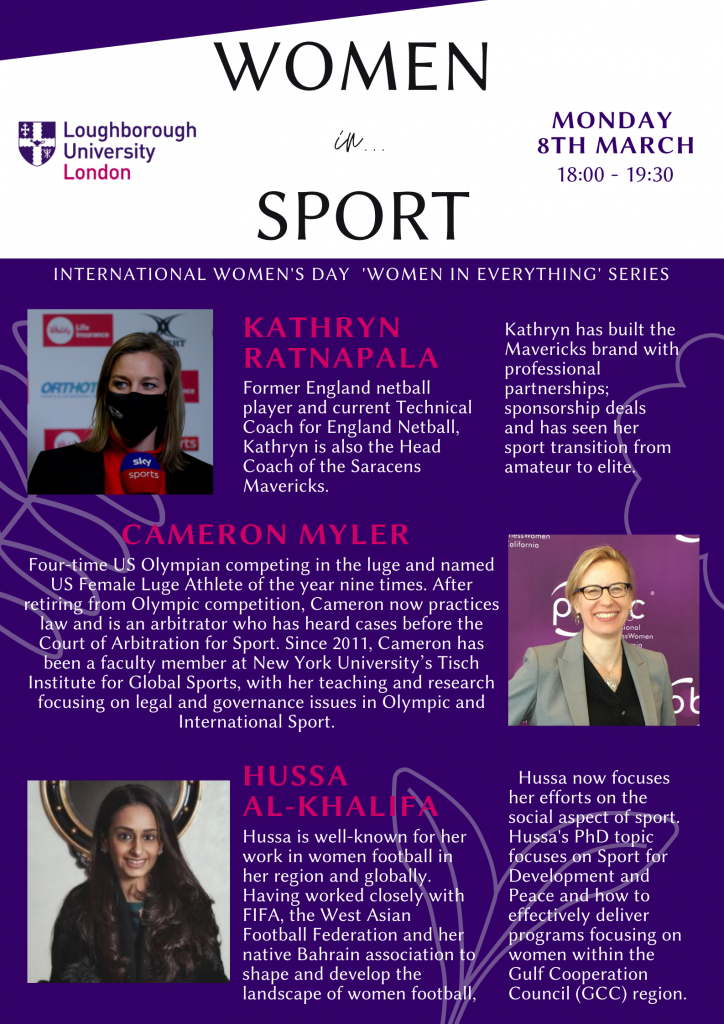 Women in Entrepreneurship (17 March)
For the 'Women in Entrepreneurship' event, our panel was made up of:
Meredith Unger-Cass: Founder & CEO of Nix Biosensers, a business based in Boston focused on developing wearable hydration sensors for athletes.
Kate Bosomworth: Former M&C Saatchi CMO, Kate co-founded Platform in 2020, a transformational brand platform based in London.
Gabriella Pimentel: Recently awarded an OBE for her work during COVID in starting a Youtube Channel for keeping the elderly and vulnerable active.
In this event, discussions were centred around coming up with business ideas, having a good team and shared vision, securing funding and building businesses that promote equality and representation.
Women in Leadership (25 March)
In the final event of this series, our panellists were:
Preeti Shetty: CEO of Upshot, a social enterprise that helps non profits manage, monitor and evidence the work they deliver.
Angela La-Chica: President & CEO of LaChica Sports & Entertainment Group which focuses on social justice advocacy and social justice media campaigns.
Olivia Eastwood-Gray: Programme Director of Badu Sport +, a new programme between Loughborough University London and Badu Sports with an aim of making the sports industry accessible to young people in East London and developing them to be part of the sporting world. (You can read more about this partnership here)
This event delved deeper into leadership styles, managing gender disparities in the workplace, knowing our worth and not being afraid to step into opportunities and importance of role models amongst others.
We would like to say a huge thank you to all of our wonderful panellists for taking part in this event and for providing such thought-provoking dicussions across the event series.
We would also like to thank the Women in Sport group who creating this insightful event series. The Women in Sport group allows students and academics from our Institute for Sport Business to engage, network and discuss how we can decrease the gender disparities that lie in the sport industry.
---
To find out more about the 'Women in Everything' series, take a look at this article.
If you would like to find out more about our Institute for Sport Business, please visit our website.
Loughborough University London
Blogging everything that's happening at Loughborough University London