Freshers Survival: by freshers, for freshers
Ask anyone, Freshers is a highlight in most people's university experience, but it can also be very draining and looking after your wellbeing and mental health is so important during this time.
Building friendships, meeting new people, trying new activities and moving out are all huge changes, and making sure you stay happy and healthy becomes increasingly important during this time. Taking breaks when necessary, allowing time for myself and talking to people about feeling home sick were a few of the ways that I made sure I looked after myself during freshers. It's easy to get carried away with the intensity of freshers but it's important to look after yourself too.
Freshers can be one of the most intense but very fun fortnights, and everyone deals with it differently – so here are a few tips from last year's freshers to incoming freshers this year.
Sleep, Hydrate, Exercise and Eat Well
"Self-care is really important, especially during freshers! Keeping on top of sleep, staying hydrated and eating well, whilst getting swept up in the freshers chaos is definitely easier said than done."

Elsie Barker – BA Industrial Design
Staying in a catered hall definitely meant that I worried less about eating well, but to save money on weekends I cooked for myself by doing a monthly shop and cooking in batches – plastic containers are essential. Cooking balanced meals on weekends meant that I could stay healthy but was also really social and a way to get to know more people in my flat and in halls over the weekends.
Joining Loughborough Lifesaving club and IMS hockey during freshers was a great way for me to stay active and train alongside my team; joining a sport or society is extremely beneficial if you're worried about meeting new friends during freshers as you already have common interests. It meant that I could keep active and a social life during my first year and meet people I wouldn't have otherwise met.
Listen to yourself and take a break
Do not push yourself, and take a break when necessary, don't feel any pressure to go out – movie nights with friends and sober nights can be just as fun as getting to know each other any other way.

Sean Baerfuss – BSc Product Design
Meeting a lot of new people, moving to another country in my case and starting a new course can all seem like a lot as you hit the ground running when you get to university. During freshers you have so much fun and so many new opportunities open to you; but going out is not the only way to make friends and build new friendships, and you shouldn't feel pressured for your freshers week to be any type of way. It's important to take a break when you need to; the party scene is fun and so is meeting new people in societies and clubs, but don't sign up for too much too quickly. If you need a day off, take it and replenish your energy.
Watching a movie, going out for dinner, and even cooking something special in your own kitchen is a great way to get to know your new friends better. There are a lot of activities in and around Loughborough which are awesome, such as escape rooms and laser games, or even a shopping trip in either Nottingham or Leicester. Do freshers your way.
Get to know Loughborough and get home safe!
It's always a good idea to learn the ways to and from places when you first get here during the day and getting to know your options for getting home at night; Loughborough is easy to navigate if you know how.

Talya Atkins – BSc Sports Science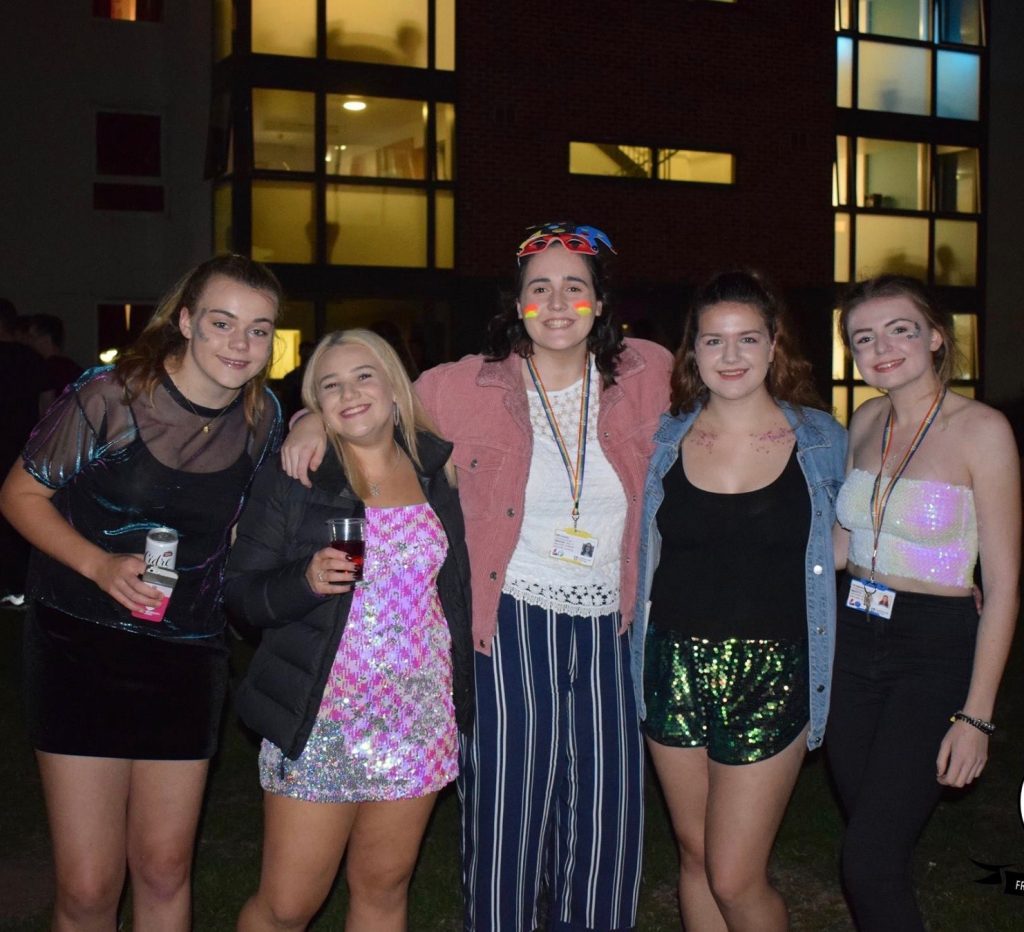 Getting home safe at night is really important, and walking home alone after a night out is not a great idea, even if Loughborough is a safe place. During freshers, there are loads of fresher helpers in designated tops to help you get home safe. The security and staff at the union and clubs are also really friendly and will do their best to help you – you just have to ask! Walking home with others is also a great way to get to know people and a good excuse for a chat.
If you do lose your friends when you're out and about, don't panic, there are loads of people around to help you get home safe! There is also the nightline night bus that runs on Wednesday and Friday nights which will take you back to your hall after a night out. If you aren't sure where to go or don't feel comfortable walking at night, definitely make the most of this service!
Make sure you look after yourself by getting help when you need it
As soon as you arrive at university, I would seriously recommend registering with the medical centre on campus. This can save you so much hassle when it comes to getting different prescriptions and emergency appointments, so you don't have to wait or go all the way home. I was able to register before I arrived at university by emailing a form, or you can register when you arrive at your halls on move-in day. This is especially important for that inevitable Freshers flu which never seems to go way!
Having paracetamol and cold medicine is also a great way to make sure you stay prepared for any illnesses that come about.
Talk
Talk to your flat mates, family, friends – everyone on campus is here to help and make sure you have the best possible time; don't bottle things up.

Kathryn Clark (me!) – BSc International Business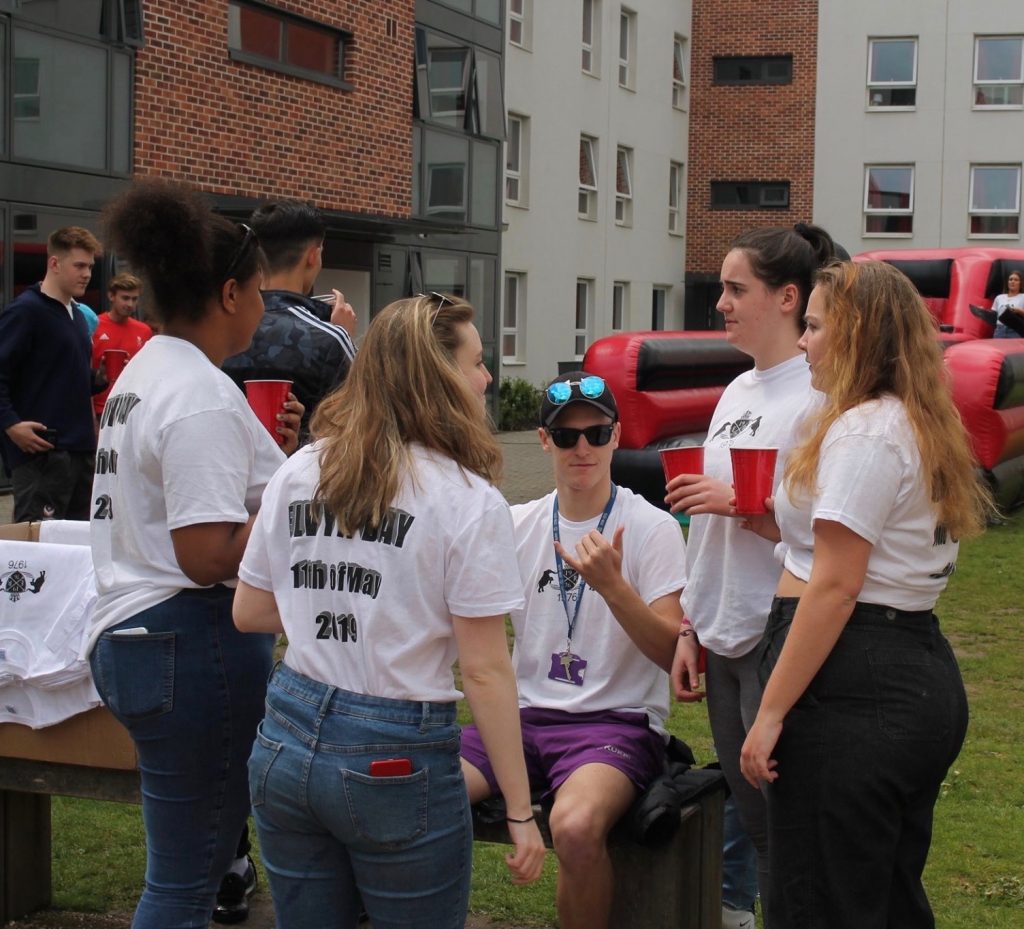 Freshers can be tough, and it can also be a lonely time moving away from home for the first time and not knowing many people before you arrive. Talking to your flatmates, friends and family is a great way to take care of your mental health and also put things in perspective, as often they feel the same way that you do. Your hall welfare representative, GP and even counsellors on campus will all be able to give any other advice that you might need.
If something doesn't feel right or you're missing home, talk it out – it's the only way you can feel better or get help.
As a group, our main advice is to enjoy freshers how you choose. There's no particular way to do freshers so dance to your own tune; if you don't want to go out, there is absolutely no pressure, and if you do then enjoy it. Freshers is yours and you can mold it however you want to, just make sure you put your wellbeing first.
Student Life
Find out what makes 'The Loughborough Experience' by reading our student blogs.