Eat healthy, stay wealthy
Eating in university is difficult. Okay, fine, cooking is difficult. Okay, maybe the part where you're an average broke student, who doesn't want to cook nor know how to is difficult. Or maybe you simply don't have time to go to Tesco where you can afford vegetables and end up spiralling down the dark path of baked beans on toast.
Sounds familiar? Multiple yearly reports highlight this issue, with the Student Living Index by Natwest reporting an average spending of £78.10 on supermarket groceries per month. That's a rather substantial amount… (the engineer inside me screams for optimization!).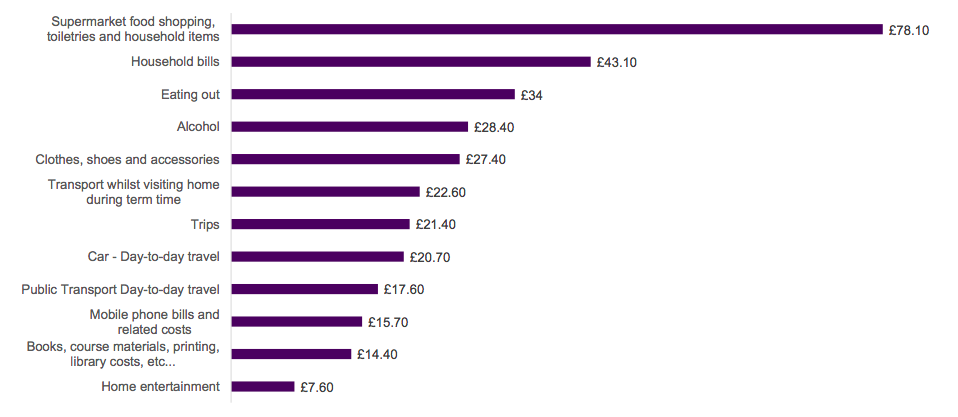 In addition, Save The Student report that 65% students surveyed say that their diet suffers. I am critical of the method of these studies, but undoubtedly many of us relate well to the issues outlined.
Thankfully, Loughborough is a relatively cheap place to live and has many opportunities to cut down your spending and eat healthier!
1. Farmer's markets every Thursday and Saturday
Loughborough markets are a SAVIOR. Not only is shopping there 12830581034x cheaper (I'm looking at you, 6 avocados for 1, thank you), but it's also largely fresher, tastier and healthier food than that in the supermarket.
True story: I fed some market strawberries to a friend in a depressive revision mood and they, as by magic, were brought back to reality… and proceeded to jump up and down with happiness, proclaiming the eaten strawberry to be the best strawberry they had ever eaten in their life! The cherry tomatoes had the same effect on myself. Ahhh, so good.
2. Fruit & veg stall on campus every Monday
Of course, it's can be a trek to town, especially in the rain, and so Kerry's Fruit & Veg stall on campus is here to help! Hidden away just behind The Hub in Village Park, the stall is present every Monday from 10am to about 6pm, although the specific times vary throughout the year. I was incredibly impressed when the lovely saleswoman was persevering through the freezing February weather.
Pleasantly, you can pay by card with no minimum charge, and collect points with every purchase that can help save money in the long run. Kerry's is not as cheap as the market in town due to limited competition, but the groceries are still much tastier and healthier than your aforementioned toast.
3. Cheaper supermarkets
Yes, Loughborough actually boasts its own Aldi not too far from the student triangle and a Morrisons in the residential area north of University.
These may be easier to get to by car or bike if you don't live in the area, but definitely stock significantly cheaper groceries and other household items. There is also an ASDA in Shepshed (~15min drive), but I barely dare mention it in fear of provoking a fight over one's favourite supermarket.
4. Oriental and international shops
There are multiple oriental, eastern-European and generally 'international' stores around Loughborough, where you can often find selected cheaper foods (such as my recent buy of sausages for a BBQ) or bulk quantities. I also recommend the "World Foods" aisles in the mainstream supermarkets, where you can acquire 5kg bags of rice or lentils for mere pennies in comparison to "own brand" purchases.
5. Other tips on staying healthy on the cheap:
Cook more yourself! Limit the amount of food waste, cook in bulk or for your housemates. We recently made delicious and relatively healthy homemade pizza, which set us back only £3.25 each*. Imagine how much cheaper a recipe like a veggie pasta bake is.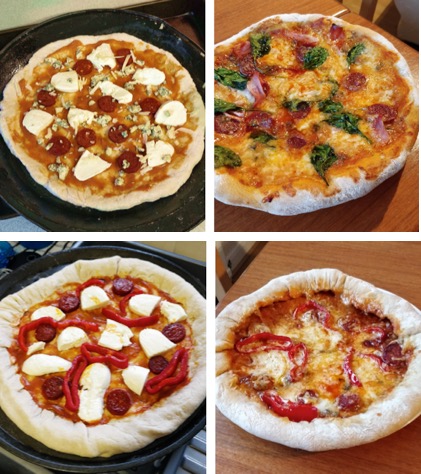 Dash for the discounted items shelf in the supermarket or find out when your shop puts discount stickers on items and purposefully shop at those times. Scout out Iceland and other discount stores for items that are indeed cheaper to buy there.
If you're desperately craving that Two for Tuesday Domino's, go for a cheaper and healthier version by popping down to Derwent Drive behind the university library for the latest cool co-op between Bom Bom Patisserie and Peter's Pizza. They are serving discounted (about £5) sourdough pizzas fresh out of the oven in the back of their truck. Every Tuesday until end of term, 5 – 8pm.
Finally, look out for more ways to save money by signing up to discount notifications, sticking to a shopping list, using a cashback bank account, investigating if cash helps one pay attention to your spending or even growing your own herbs on a windowsill!
*Cost breakdown for homemade pizza:
Flour – 45p
Yeast – 85p
Tomato sauce – 90p
Olive oil – 0p, borrowed from housemate
Mozzarella – £1.90
Peppers – 90p
Salami – £1.00
Basil – 50p
How can the University help?
 If you're experiencing money issues, please do not hesitate to talk to your tutor, your departmental wellbeing advisor, or walk into the Bridgeman Building to talk to Student Advice and Support.
Loughborough has a Hardship Fund for students with unexpected financial issues, but you will need to make a full application and are not guaranteed this award. More information here.
There is also advice on how to budget, and look for financial support on the university website.
Student Life
Find out what makes 'The Loughborough Experience' by reading our student blogs.