One of the perks of undertaking higher education is the opportunity to participate for FREE in extracurricular activities that are only available through a university. I recently participated in the first ever Challenge X, a unique 18-hour event that paired students with SMEs (small-to-medium enterprises) to develop solutions to real business problems. The event was hosted by the Loughborough Enterprise Network (LEN) and sponsored by Santander.
Loughborough University has a very strong relationship with business, demonstrated by its investment in one of the largest science and enterprise parks in the UK and its commitment to providing opportunities for students to become entrepreneurs. The Studio on campus provides access to resources for graduates wishing to start their own business. Since 2011, the Studio has supported 50 new businesses that have gone on to create 82 permanent jobs along with numerous internships and volunteers. At Challenge X, the five companies that were involved had started with the support of the Studio.
Day 1 – Selection
The first day of Challenge X was short, though the afternoon coffee/tea and hors-d'oeuvres were a lovely surprise. The main activity involved the participants (about 25 of us in total) listening to presentations given by the founder of each company describing what they did and the challenge they had for us. Another PhD student and I plan to participate in a workshop of a similar nature to Challenge X and so requested to be on the same team; we selected which company we would most like to work with and went home excited for morning to arrive.
Day 2 – Ideation
While it's not like we had to sign non-disclosure agreements, I want to refrain from writing too much about the exact nature of the challenge and solutions my team developed, and will reflect more on the process.
In recognition of our effort to help provide solutions for the participating companies, the event organizers provided free coffee/tea, pastries for breakfast, and a fabulous lunch each day with lots of fruit and cake. After fueling up in the morning on the provided tea and a raspberry pastry, plus a little networking, I was happy to discover my friend and I were on the same team for our first choice: The Crop Club. In short, and in the words of Rose (the founder), The Crop Club's primary mission is to "reconnect communities through the joy of growing food". Shown below are some of her products to help spread the joy of growing: giveaways that may be used for anything from corporate events to weddings.
Megan, the "boss" of the Studio who was gracious enough to take the selfie with me that is shown below, provided an introduction to three methods for developing ideas to the problem posed by our chosen company. The first method involved using post-it notes and writing any and all ideas out with typically one idea per post-it note. Our group spent the most time doing this exercise, though I did have to be nudged to stop using my laptop to take notes on what was being said. We spent about 30 minutes speaking with Rose about her company and her challenges. She then left us to work among our team of three.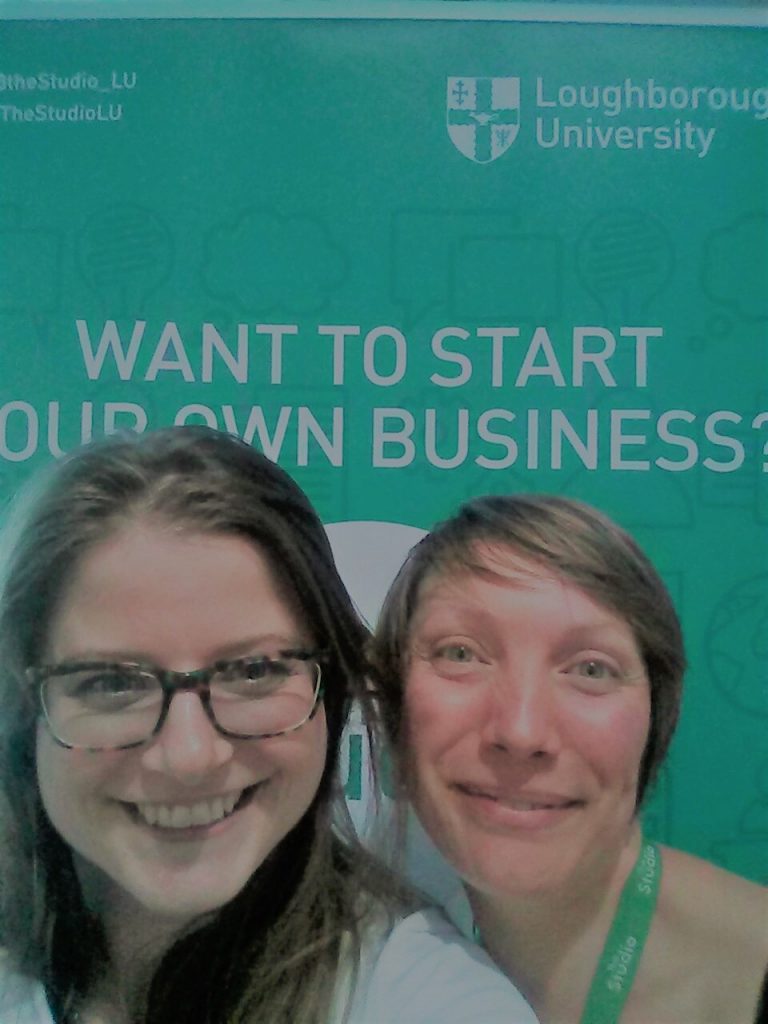 Our team spent less time with the second and third idea-generation methods that Megan had presented. The second method involved using plastic straws and connectors to create an abstract structure that could represent our solution, an idea or other thought construct. We all had trouble with this method, though it was fun to play with the materials!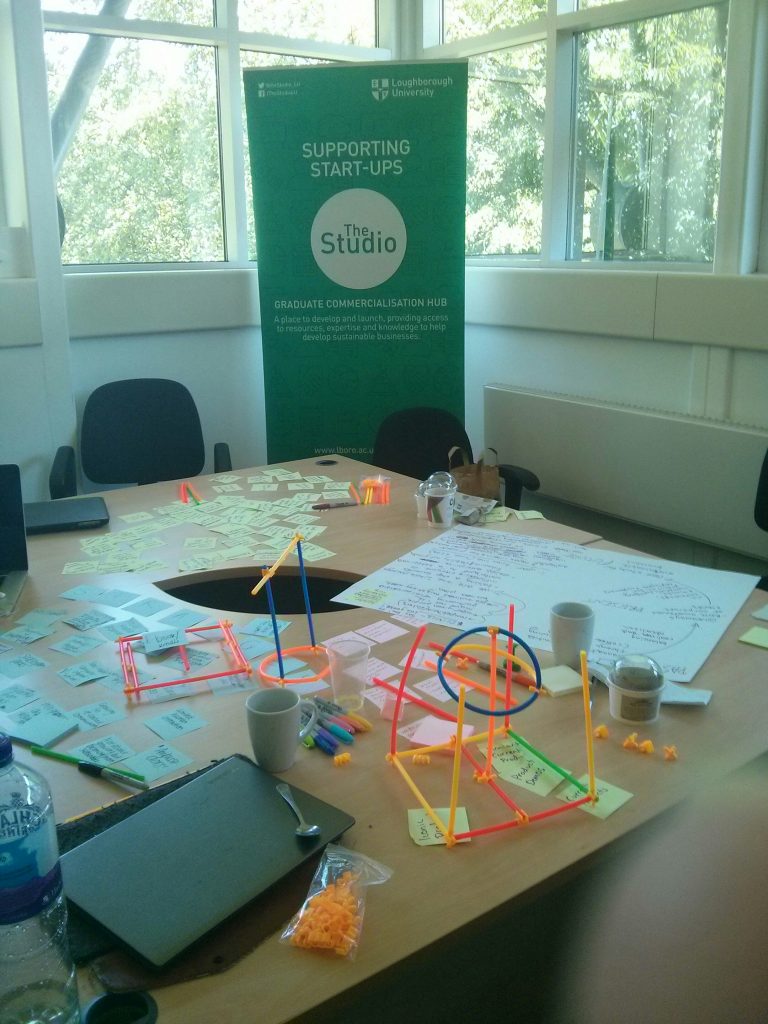 The final method involved "The Art of Work" cards that had abstract words and images intended to spark idea creation. For example, one card said "Say boo! to the geese" which at first is baffling, but one of my teammates had a brilliant interpretation that the geese were like critics who destroy ideas (since geese steal your food) and so we should think of ways to address any potential criticisms of our solutions.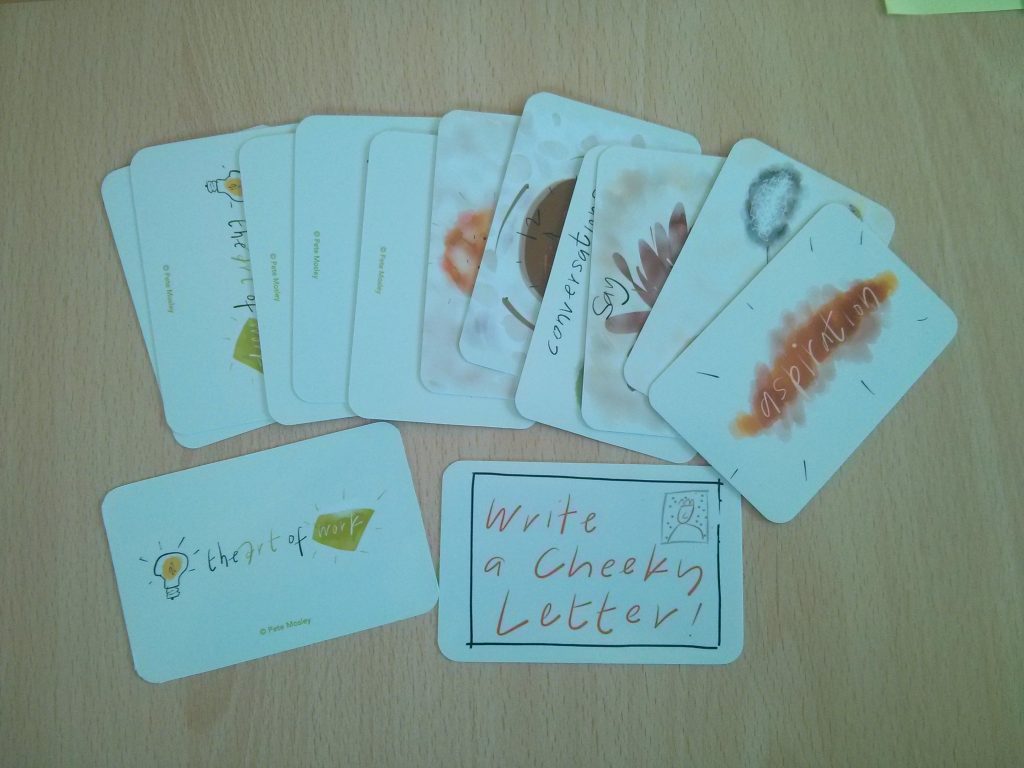 After a tasty lunch, we did a short brainstorming session where we tried to think "outside of the box" and develop some ideas that were a little wild and crazy. Then, we began the arduous process of filtering and sorting our ideas, particularly the ones on post-it notes. While there was a brief moment of tension as my friend and I had different thoughts on how to approach this process, we were able to find a compromise that was also satisfactory to the third team member. As we were all very out-spoken, this was an unexpected and delightful discovery of Challenge X: how much fun it is to debate and creatively cooperate!
Day 3: Pitching
The last day went very quickly and we spent most the morning selecting and evaluating a few of our many ideas to pitch to Rose. One of our team members suggested using canva.com for our presentation, which I hadn't heard of before. It all turned out brilliantly though and during our 15 minute presentation, we were able to provide some insights into the company's challenge that will help it moving forward to expand and brand.
Join us!
The Studio plans for Challenge X to be an annual event so if you weren't able to participate this year, keep an eye out for it next year. My experience was very positive and if I am able to, I plan to participate again next year as the opportunity to gain experience while also helping find solutions for a real problem was invaluable. Not only that, but I met many fantastic people who I hope to meet again. In fact, the companies and organizers were so inspirational, they got me thinking about what kind of business I could start! Last, but certainly not least, I want to thank the other members of our team: Louisa, Christina, Rose and Kola. You all will rock the world!
Student Life
Find out what makes 'The Loughborough Experience' by reading our student blogs.