One of the most common questions I get after people hear that my accent is from the United States is: "What is different in the UK from the US?" Without fail, I am caught by surprise and stumble my way through an answer about driving on different sides of the road or spelling words slightly differently. With this blog entry, I hope to provide a more satisfying answer.
For anyone who has not had the pleasure yet of traveling to the US, I have no special insights for you into my culture as the size and diversity of the US means that it very much depends on where you go and what you do. In some places, the weather is exactly the same as the UK!
For any Americans traveling to study in the UK, I would offer the following dubious gems of wisdom I have gained:
The public transportation is awesome and don't let any native convince you otherwise. You can take the train or bus almost anywhere. Please note that while you may reserve seats, if the train is very busy, do not expect that people will move out of your seats. If the train is not busy, try to find unreserved seats before attempting to ask someone to move.
Everywhere is so close compared to the US! Even if you are in a more rural area, you are probably not further than an hour away from a city. By train, Loughborough is 1.5 hours to London, 15 minutes to Leicester, 20 minutes to Nottingham, and 1 hour to Birmingham. With a less-than 3 hour drive you can be any number of other lovely places!
As a student, your US license can be used to rent a car and drive in the UK for one year. After that, you MUST apply for a UK license. Hopefully, you already know how to drive a manual as automatics are scarce. The driving test is insane in the UK and requires over an hour driving around with an instructor evaluating your driving skills (plus you have to identify engine parts!) and things like parallel parking, reversing and a 3-point turn. If you get one major fault it's an automatic fail, but you are allowed some minor mistakes. It is so much more intense than the US version I took!
Do not say "pants" … oops, I just did. The proper terms for leg coverings are "trousers", "chinos" or "jeans". Pants means underwear. I still trip up on that one.
Pubs are everywhere. They serve pretty good food, though please do not expect to be waited on like in a Restaurant Bar in the US. Order food and pay at the bar itself and give them your table number. Tips are sometimes added automatically to the bill, but generally, no one freely tips extra in restaurants or for anything in the UK (unless maybe you were really, super impressed by the service).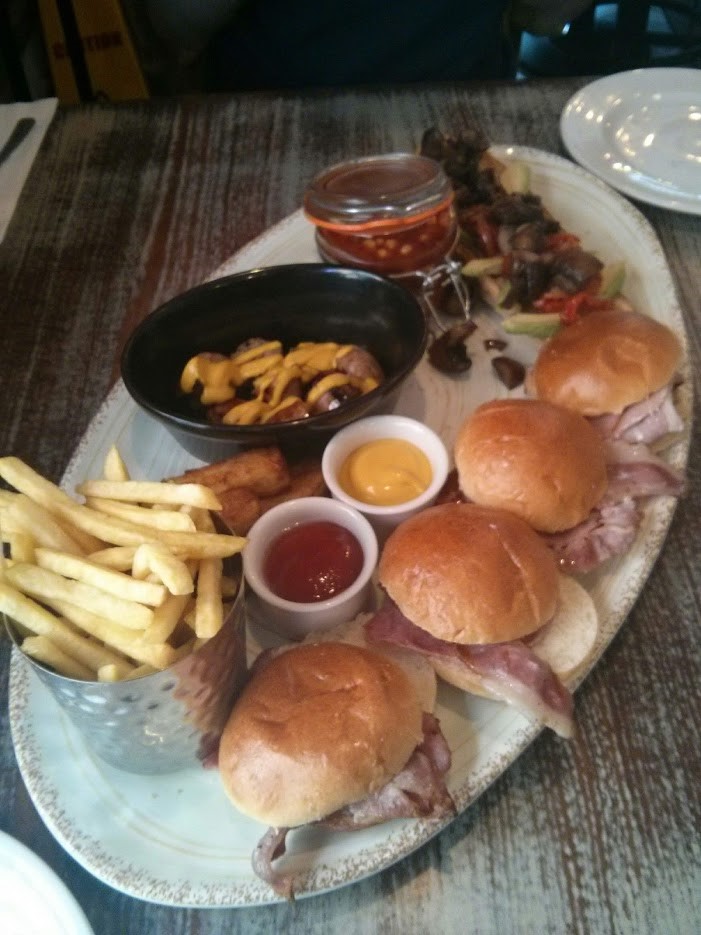 Do not be surprised if university functions have alcohol, since the legal drinking age is 18 here. Also, public drinking is more acceptable here so you might see someone with an open container on the street and that's totally legal. One of the best events I went to was the Birmingham Christmas Market, where in the town center they set up dozens of outdoor stalls selling beer, cider and mulled wine and people drink outside all day together. Very liberating!
If you are coming for undergrad be prepared for a totally different grading system and do some reading up on it! No As, Bs or Cs here. What we consider a C in the US percentage-wise (70%+) is considered the top of the class in the UK. It does not mean it is easier to come out on top though as the marking (i.e., grading) is a bit more hardcore. For postgraduate, while Masters courses have prescribed classes and take one year, a PhD is usually purely research-based, has no mandatory classes and usually takes 3 years. They are more strict about time to completion and will not allow a PhD to take longer than 4 years unless it is part-time or you have a very good reason.
While there are a few more small differences, in traveling to other countries I have discovered that people are more or less the same no matter where you go. Some cultural differences aside, e.g., self-depreciation is a fine art in the UK, you may run into a few "bad apples", but most folks in the UK are as friendly and helpful as you find in the US… or anywhere for that matter. Wherever your travels and studies take you, may they be eye-opening, fun and safe!
Student Life
Find out what makes 'The Loughborough Experience' by reading our student blogs.