Create Copies of your Work!
A brief segue on the importance of backing up your work using multiple methods. This is actually not my original blog post which was lost over the weekend due to an issue with my Cloud storage. Not to mention the research work from last week that I have to re-create now. I do regularly back up my work. I perhaps was not zealous enough about using multiple methods to create copies.
So, I wanted to emphasize to all my fellow students that if something will be difficult to recreate or took a lot of time and effort, make sure you save it to the Cloud, a USB drive and e-mail it to yourself! Do this regularly (perhaps even every day or, depending on the work, every hour). You will be grateful one day for the little bit of extra time spent using multiple methods to create copies of your hard work when inevitably one of your back up methods fails.
London Play Time
Now that I have gotten the experience-based work advice out of the way, on to the play! With the weather warming up and the trees all blooming, it's the perfect time to start going out. In a previous blog post I mentioned I like to visit museums, and while I have yet to make it to the one in Leicester, I did take advantage of Loughborough only being 1.5 hours from London by train and visited the Victoria and Albert Museum (VAM).
If most of you are like me, you have not heard of this museum. Originally, I was actually hoping to go to the Natural History Museum which is across the street.  However, the lines were too long given there was a perfectly good museum with no lines nearby. Founded in 1852, the VAM is the world's largest museum dedicated to art and design with a collection of over two million objects from around the world spanning over 5,000 years of history.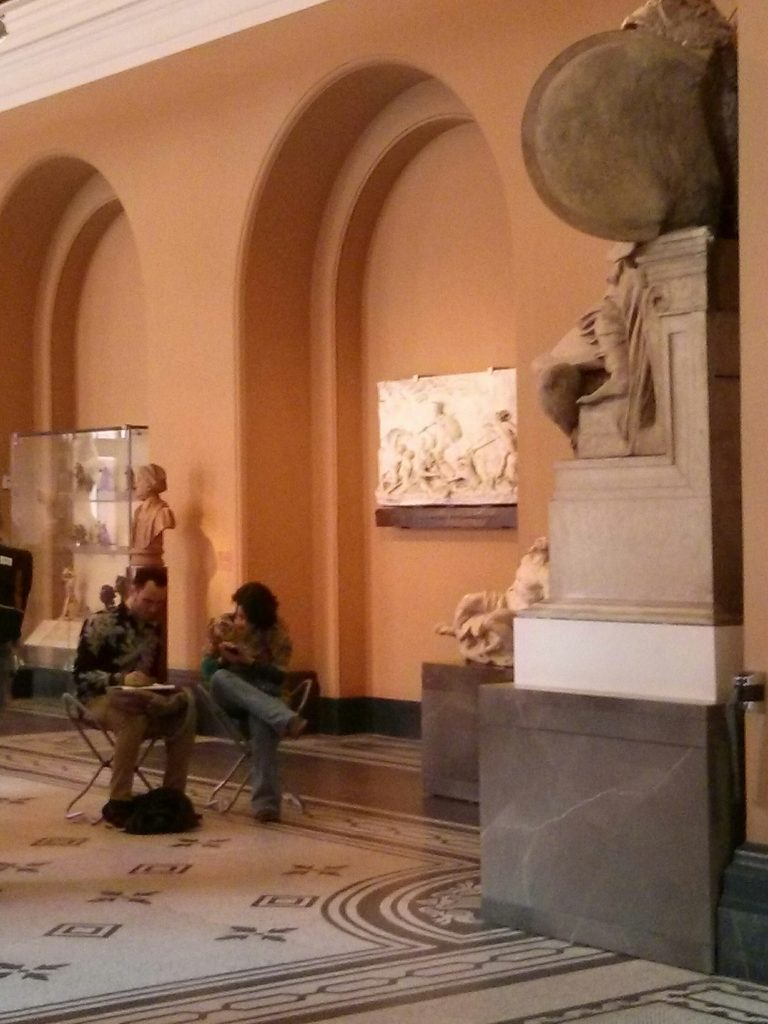 After all, I did not visit every exhibit as that would take more than one afternoon. The museum is well-known for its collection of post-classical sculpture, which is a regular stop for local artists seeking to capture the essence of what makes some of the sculptures masterpieces.
My favourite exhibit was a toss-up though between the history of fashion exhibit where the clothing styles shown change periodically (currently it is Fashioned from Nature, "the first UK exhibition to explore the complex relationship between fashion and nature") and the Buddhist exhibit (no longer on display). The former because it is fascinating to see past fashion trends and imagine yourself having to wear them. The latter because ever since I took a class in undergrad on Mahayana Buddhism, this particular spiritual philosophy holds a special place in my heart.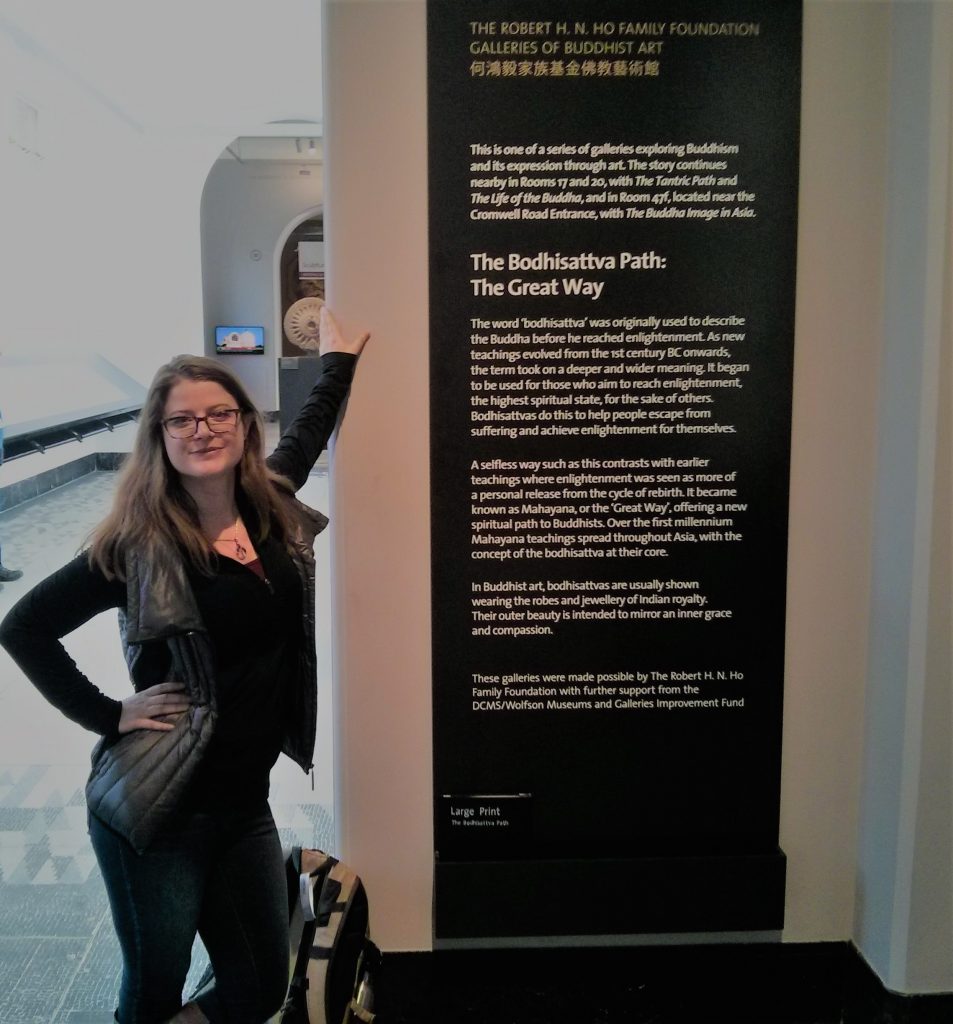 Buddhism
Like many other spiritual traditions with different schools of thought, Buddhism has many doctrines. It has two main branches generally recognized that diverge from each other based on their interpretations of the teachings of "the Buddha". Buddha is a spiritually enlightened individual thought to have lived between the 4th and 6th century BCE and named Siddhārtha Gautama.
The first major branch is called Theravada and is the type of Buddhism most westerners are familiar with. It commonly states the goal of existence is for the individual to attain a state called "Nirvana". The second major branch (and my favorite) is called Mahayana. This focuses on the individual following a "bodhisattva path" to help others. It is obviously an oversimplification of the many schools of thought within Buddhism. All of which speak of a "middle way" between extreme and opposing views. So, I apologize if I have in any way misrepresented the tradition.
I was walking around the VAM for a while before it was time to eat dinner. I also managed to soak up the sun, sitting by the fountain in the center courtyard. Meanwhile, I was viewing some of Britain's history from the 16th and 17th century. My partner's friend is a Londoner, so he knew of an authentic Greek restaurant. Something only a local would be able to find. I chowed down on one of my favorite dishes: moussaka.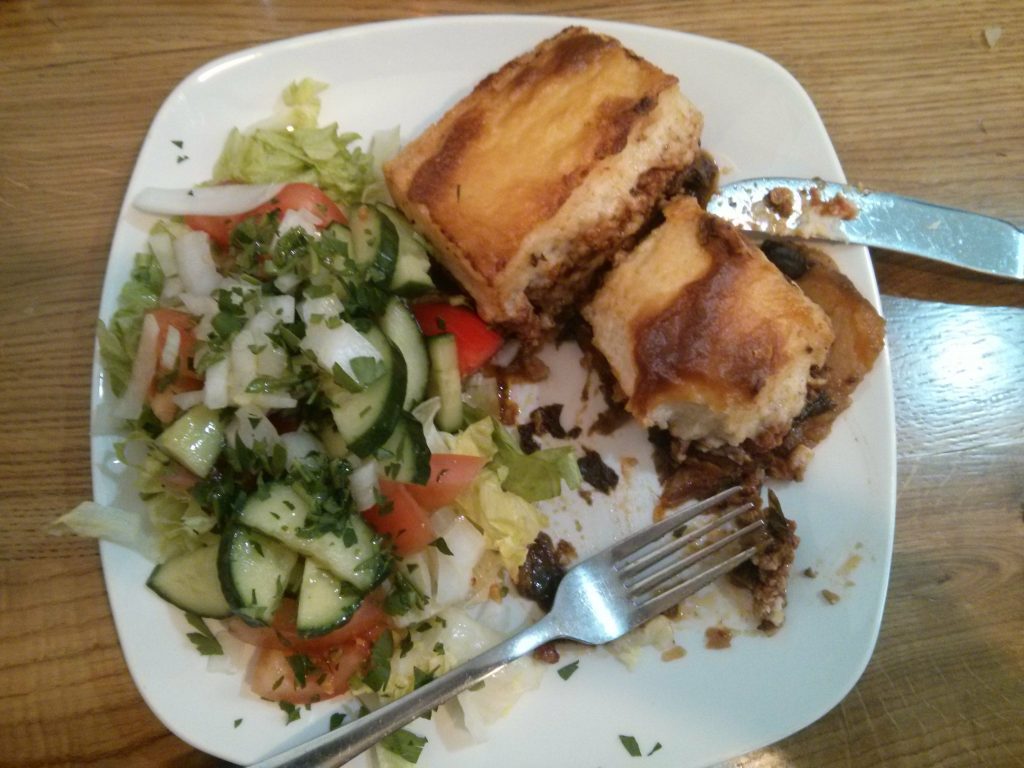 A perfect meal for a perfect day!
Nottingham Play Time
April was a busy month for me in terms of going out on the weekends.  While London is not far from Loughborough, Nottingham is even closer as it is only a 20-minute train ride. Nottingham is not only a popular tourist destination for its lively entertainment and strong sports and literary connections but is also well-known for its role in the legend of Robin Hood (admittedly my favorite movie version is Robin Hood: Men in Tights).
I was there to attend a concert at Rock City. My partner is a fan of the band CKY which was the opening act for another band. The venue was everything you'd want and expect from a smaller concert hall. It was peppered with several bars of rustic brick and wood highlighted by colorful mood lighting.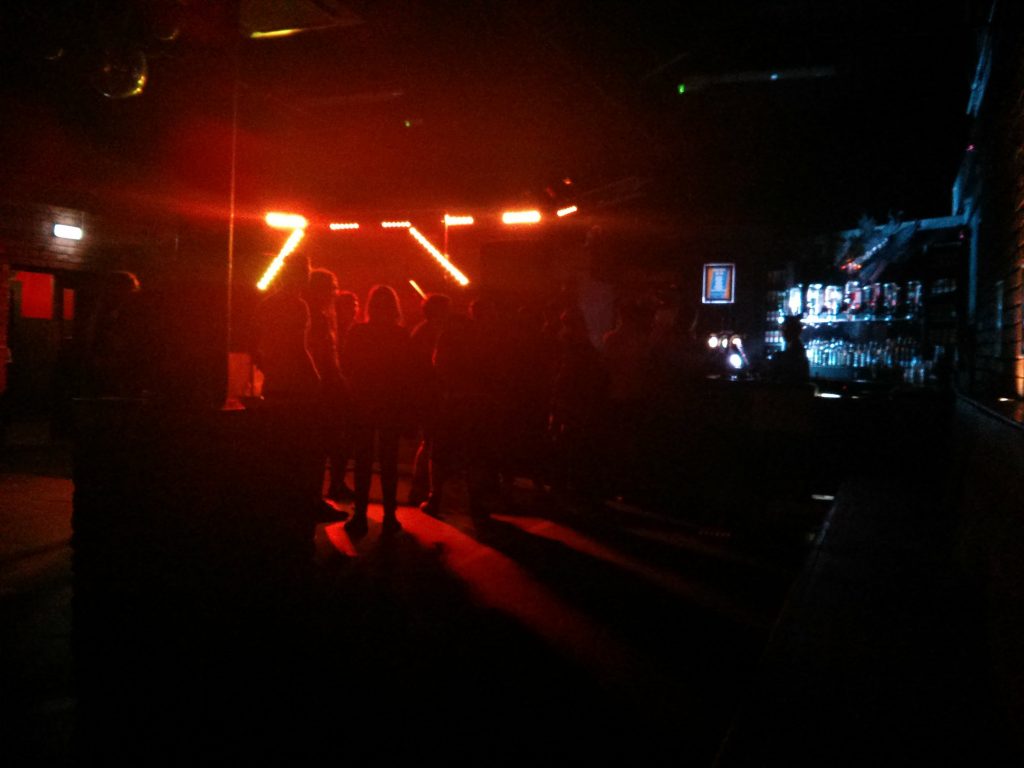 Both before and after the concert, it was evident that Nottingham was having a good time with all the pubs overflowing and everyone enjoying the clear skies. I hope to go back soon and maybe one day I will also visit Sherwood Forest!
Student Life
Find out what makes 'The Loughborough Experience' by reading our student blogs.