My Loughborough Journey in 11 Memories
My name is Lety, I'm a Brazilian-Italian Loughborough Alumni about to graduate with a First-Class Honours in Sport Science with Management, and this is my Loughborough journey in 11 memories. 
Memory 1 – Arrival
Like most nervous freshers, I remember being both simultaneously excited and anxious during the first few days. As my parents dropped my off at Royce (my home for the next two years), they managed to snap a quick, yet obligatory picture of me by the iconic Loughborough sign before leaving me to start my journey. Little did I realise that the next four years would fly by faster than Usain Bolt.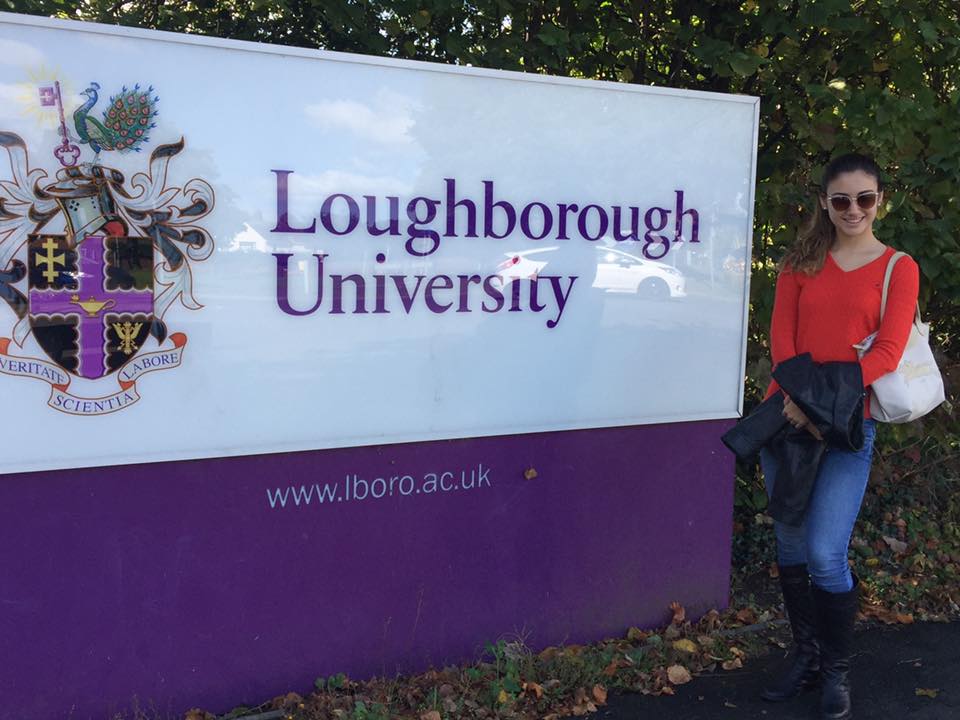 Memory 2 – My Degree
When I chose to do Sport Science with Management, I had a relatively good idea what I was getting myself into, yet I didn't expect for my degree to have a substantial amount of practical work. Despite coming as a surprise, the hours I spent in the lab doing hands-on projects were probably the most enriching and valuable learning experiences that I was very lucky to be a part of. As a very visual and kinaesthetic learner, being able to carry out theories and examples in real-life, helped not only reinforce what I already knew, but also allowed me to gain new knowledge that would prove useful in the following years.  
Memory 3 – AU Football 
One of my primary goals when coming to university was representing Loughborough through Football – my passion sport. I dedicated hours during the summer months and even arrived a few days early to join pre-season training to try and increase my chances of making it through trials. Rewardingly, my hard work paid off and I made the 4th AU team!  
Being a part of AU was when I truly felt integrated as part of the Loughborough family. Putting on an African violet uniform and learning the "Loughborough Walks on Water" chant made me proud to say I came from Loughborough and was an overall incredible experience. It taught me the meaning of dedication, perseverance, and definitely time management! Although I hung up my boots at the end of the season, it's safe to say I cherished every game and every minute I was on the pitch.! 
Memory 4 – Tape on Tape
There are so many ways to enrich your skill set at Loughborough and I felt very privileged to be able to take part in several courses that have enhanced my knowledge and CV. Through my school (SSEHS), I was able to obtain skills such a First Aid and Kinesiology taping, among other abilities. These are skills that will stay with me for life and that I have been able to use outside of my degree, which is invaluable.  
Memory 5 – LSU Classical
Like sport, music has been an important part of my life. I've been playing the violin for 18 years now and, luckily, I continued my musical hobby through one of Loughborough's many societies – LSU Classical. One of my favourite memories was a concert we held during my second year "A Journey Through Time". It included all my favourite film music and we had the largest orchestra in Loughborough's history with over 50 musicians. I can also proudly say that I worked with the Media Rep to design our campaign strategy, which helped us sell out for the first time! 
Memory 6 and 7 – Sport Sec – Royce Hall Committee
Hall life is so special at Loughborough and it's hard to even describe it to those who have yet to experience it. Like many things at Loughborough, halls and committees are led by students, for students and that creates a unique atmosphere where students' wishes are a priority.  
As part of my 2 years at Royce, I spent a year as part of the Royce committee, as one of the four sport secs, as well as Royce's female football captain. Despite being a substantial amount of extracurricular work, it taught me teamwork, leadership and events management, which are skills for life. It was a rewarding experience, especially as we managed to bump Royce up from 8th place to 5th place in overall IMS ranking, as well as I managed to bump up the female football team from 13th to 4th place. We also won first place for Rugby 13s, Rugby 7s, Table Tennis, Swimming, and Women's Most Improved Hall. Shout out to my rocks Juan, Jas, and Zander! 
Memory 8 – Placement with Hilton
After being rejected 23 times and a whole lot of perseverance, I joined the EMEA Hilton team as a Customer Engagement, Loyalty, and Partnerships Intern for my placement year. What's amazing about a year in industry is that you learn what the real world of work is really like and it's truly an eye-opener!  
You can put theory into practice and learn the tricks and tips of the trade! I never thought I would end up in Hospitality, Travel and Leisure, as my degree is in the area of Sport, but after spending a year with Hilton, I fell in love with the industry.! Despite being furloughed for the final three months of my journey, I still thank my team for their patience, teachings, and mentorship. 
Memory 9 – The Return to AU: Handball 
After ending my AU Football journey at the end of first year, I didn't think I'd come back to represent Loughborough at the AU sport level, yet I took a chance and tried out for the AU Handball team. Stepping out of my comfort bumble and trying a new sport was probably both the most challenging and rewarding decision I took for my final year! Despite getting injured at UniChamps I can still stay I had an unbelievable AU Handball season, made amazing friends and became a part of an incredible club that gave me the opportunity to put on that African violet uniform again and represent Loughborough with pride.  
Memory 10 – International Students' Network (ISN)
Loughborough has a beautifully diverse student body, and being a part of the international community has been very special. When home is so far away, the international community takes you in and creates a home away from home. Being a part of this wonderful community encouraged me to take on the Marketing Officer role at the International Students' Network (ISN).  
Together with this hard-working committee, I hopefully managed to give back to the international community that has been my family for the past four years. Although with its challenges due to the Covid-19 pandemic, I personally believe ISN put together an array of interesting and welcoming events and campaigns to keep fostering the spirit of the community in the darkest of times.  
Memory 11 – Graduation: What next?
Like many students, I was not ready to leave the Loughborough bubble and I'm still not ready. Luckily, Loughborough offered the Master's degree I was looking for, so I'm happy to say that I will be pursuing a MSc in International Business here next year.! I look forward to the new challenges, modules, and knowledge I hope to gain from studying a completely new subject from my undergraduate degree. Bring it on!  
Student Life
Find out what makes 'The Loughborough Experience' by reading our student blogs.