Your monthly health check: How to fuel your brain and make healthy, nutritious choices
Loughborough University has signed up to SuperWellness which provides nutrition-focused wellbeing services to organisations. Each month, as part of the programme, we will focus on a different aspect of wellbeing which will be featured on this blog.
This month's theme is healthy eating. Alongside the range of food outlets on campus offering delicious healthy options, we also have academics whose research focuses on the subject.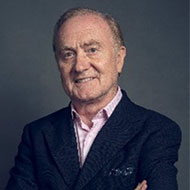 James Goodwin is a Visiting Professor in the Environmental and Ergonomic Research Centre, based in the School of Design and Creative Arts. He is Director of Science and Research Impact at the Brain Health Network in London and his recently published book, 'Supercharge Your Brain' is available from Penguin Books and Amazon.
Below, Professor Goodwin has provided some tips on what to eat to fuel your brain through busy days:
Our brains have evolved over 1.5 million years and its nutritional requirements are embedded in its structure and its function. We can't change that, but we can embed a diet into our lifestyles that will satisfy these evolutionary needs and optimise the brain's performance.
1. Diversify
Try to include a wide range of food types into your meals to help ensure your brain gets all the nutrients it needs, as about 75% of all processed food comes from only five animal and 12 plant species.
2. Stay in your rhythm
Regularise mealtimes. It's not just what you eat, it's when. Irregular eating and snacking at all hours of the day and night disturbs the body's biological rhythms, especially the gut and the brain.
3. Hydrate
Drink 3-4 litres of pure water every day and do not rely on thirst as a guide. Drinks containing caffeine can be dehydrating – do not rely on tea and coffee for your liquid intake. The brain is about 80% water and research shows that dehydration really impairs its performance.
4. The Big Five
Five nutrients which are essential to brain health, but which are low in our modern diets are: Vitamin B12, Vitamin D, Magnesium, Zinc and Omega 3 fatty acids. Foods rich in these nutrients include fish, eggs, chia seeds, flax seeds, fortified cereals, leafy greens and nuts, so try to implement some of these into your everyday meals.
5. Look after your gut
Eat both natural pre- and probiotics, such as whole foods (eg apple skin and core) which both feed and add bacteria to your gut. Research has shown that gut bacteria not only influences your mood, but also our behaviour and even our thinking.
6. Socialise when you eat
Wherever possible, eat together with others. Research has shown that digestion and absorption improve but further, persistent isolation and regular loneliness are inflammatory, depress brain regeneration and are risk factors for Alzheimer's Disease.
7. Watch what you drink
Moderate, low-level consumption of alcohol confers health benefits on the brain (1-2 drinks of wine or beer per day). However, it's a U-shaped curve. Binge drinking over the long term is detrimental to brain health especially memory and is dehydrating – a double whammy.
8. Chew gum
Research has shown that chewing sugar-free gum in moderation (eg after meals) is associated with better memory, an increase in the brain's grey matter and a lower risk of Alzheimer's Disease. But look after our beautiful campus and don't spit it on the pavement!
Further health and wellbeing support is available via The Employee Assistance Programme (EAP) provided by the My Healthy Advantage app.
The EAP is available to contact 24/7, 365 days a year. You can phone them on 0800 028 0199 or use the live chat function in the app. It's also available for immediate family members aged 16 and above, who live in the same household.
If you download the app before 31 August 2021 you will also be entered into a competition to win a Fitbit Charge 4.
Go to Google Play or the App Store and search 'My Healthy Advantage'. Once downloaded, open the app to complete the sign-up details. You will be asked to input a code, which is MHA119084.
For more information about the Employee Assistance Programme, visit the dedicated webpage.
Health and Wellbeing
Wellbeing means being in a positive physical, social and mental state. Wellbeing is important to us as happy, healthy people who achieve harmony in their work / life mix are more creative, productive and help to create a great place to work.