Being kind to yourself and others during exam season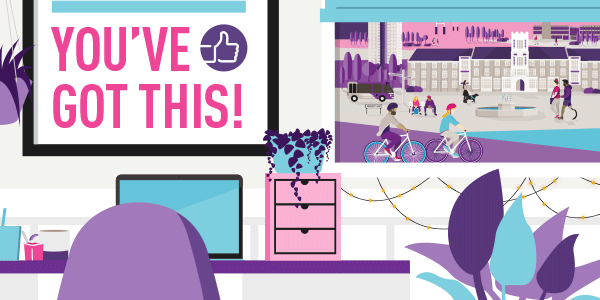 Claire Tidmarsh-Brown, University Wellbeing Adviser, writes about how to incorporate wellbeing practices into your life and how to support your friends during the exam period.
Exam season is approaching and whilst it is important to have a revision plan, it is also important to ensure you are thinking about how to look after your mental wellbeing during this time.
Including good practices in your revision routine can help you reduce stress and anxiety, and avoid burn out. Many of your friends will be going through similar feelings too, so try to support each other and encourage one another to incorporate the following tips into your routine:
Try to break your day down into manageable tasks
Thinking about every exam, and everything you have to remember is overwhelming.
Break your revision down into realistic chunks and specific tasks. You might also find it helpful rather than saying you will complete a topic within a specific time frame, to just instead allow yourself an allotted time to look through a topic before moving onto a different one.
You can also try the Pomodoro Technique. This is a great way to positively incorporate breaks into your workday. Set yourself a timer to work in 25-minute chunks throughout the day, and then give yourself a 5-minute break after each chunk. This method has been shown to increase focus and productivity, but if you feel that 25 minutes isn't enough time to get into something meaty, you can always change the times to something more suitable to you.
Remember to take breaks
It helps to refresh your mind, and you might find the solution to the problem you've been racking your brain over during your time away from the desk.
Some feel that having a break is a luxury and often feel guilty for not working, but it is a critical part of your learning where your brain has time to digest the information it has absorbed.
Reward yourself for the hard work you have completed
We spend so much time looking to the future we forget to see how far we've come.
It doesn't matter how small your achievement is, it could be anything from completing a chapter of your dissertation to the fact you opened up your textbook before 10pm. Congratulate yourself for pushing forwards and for making it this far!
Get a good night's sleep
Allow your brain to rest, stick to a sleep routine where possible and make sure you separate your workspace from your zen place. Yes, it can be tempting to stay in bed to revise, but it can then confuse your body when it's time to rest and prevent you from getting that all-important sleep recovery.
Check on your friends
It's easy to hide away if you are struggling with your mental health during this time. Have any of your friends gone silent on you? Maybe drop them a message or see if they fancy a chat. At that moment they might not be ready to talk, but it will help them to know there is someone they can go to if and when needed.
Set up a buddy system or exam group chat to help motivate yourself and others
 You can share revision tips and maybe set up a schedule so that you're all revising at the same time. This won't work for everyone, as individually you will have your best times and ways of revising, but if you collectively think this could help, give it a go!
Don't judge others for the amount of work they are doing or compare yourself to them
We all retain information differently, some of us will find coursework easier than exams, others will prefer sitting down and answering structured questions in a timed environment.
Some will only need to spend a few minutes revising a topic before it sticks in their brain, others will need a few days. Each approach is fine if it works for you but judging someone for the amount of time they put in will just distract you from your work.
Do what is best for you
Look out for others, but don't feel the pressure to solve everyone's problems. You need to ensure your wellbeing is protected too. There are plenty of resources for both yourself and your friends:
Good luck with your work and exams, you can do this! And remember to stay kind.
The Student Wellbeing and Inclusivity team will be running groups to support you in coping with exam stress, both online and in-person. To find out more and to see what other groups are on offer, please visit the Workshops and Events page.
Health and Wellbeing
Wellbeing means being in a positive physical, social and mental state. Wellbeing is important to us as happy, healthy people who achieve harmony in their work / life mix are more creative, productive and help to create a great place to work.