Giving back as a Community First Responder
In the maelstrom of working life, it can often feel like we become stuck in a routine, with half an eye always on the weekend. Three and a half years ago, whilst still a student at Loughborough, I signed up to become a volunteer Community First Responder (CFR) and it opened my eyes to an entirely different side of life.  
The concept of CFRs is simple – we are all volunteers, trained by East Midlands Ambulance Service (EMAS) and dispatched to 999 calls by their control centre to attend local medical emergencies, usually quicker than an ambulance, to provide initial, sometimes life-saving treatment. We attend patients from day-old babies to centurions, from cardiac arrests to allergic reactions – very little is off limits!
One of the joys of volunteering is that you can give back as little or as much as you like. It's great that one University policy in particular supports staff volunteering: Loughborough's Employer Supported Volunteering (ESV) Policy. It aims to "enable and support members of staff to be proactive in voluntary activities that mutually benefit the individual, the University and the community". All substantively employed members of staff are eligible for up to one day's paid absence each year.
Living in Loughborough, I joined the local CFR scheme: Shepshed Lions Community First Responders. We cover a radius of six miles from our tracked response car, meaning we frequently attend 999 calls in Loughborough, Shepshed, Quorn, Mountsorrel, Barrow upon Soar, and other surrounding villages. This includes medical emergencies that take place within the University community. It's not uncommon for me to find myself in a Halls of Residence or the Students' Union in the early hours of a Saturday morning (I thought I had left my clubbing days far behind me!).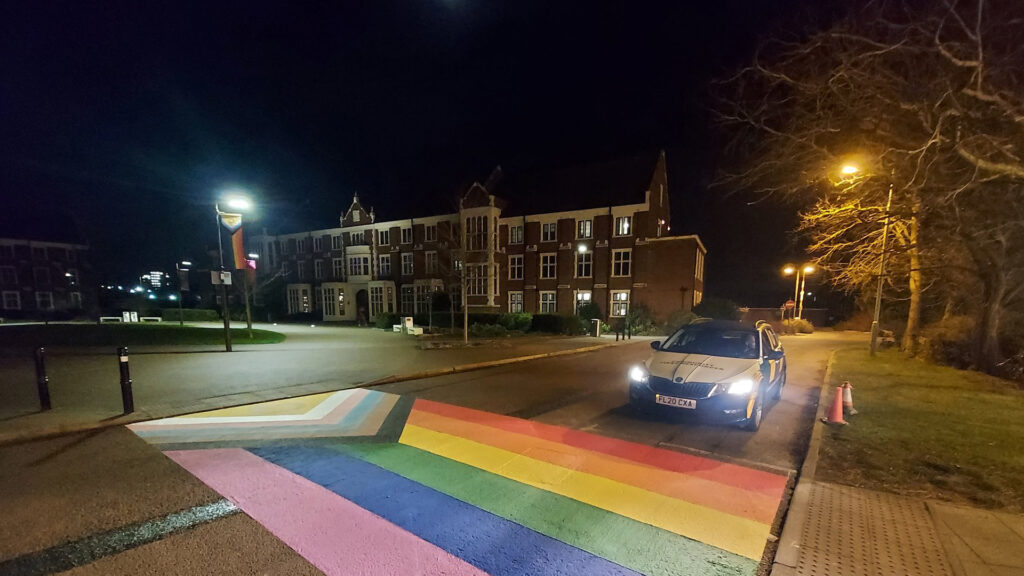 Whilst the prospect of voluntarily attending 999 calls is understandably not for everyone, I find it incredibly rewarding. I feel privileged to be that person walking into a room when someone has called in a moment of need. Of course, there are challenging moments and incidents that will stay with me forever, but they are in a minority when I reflect on the 99% of calls I have attended where I have been fortunate to have spent such precious time with a patient.
I'm not the first member of University staff to have volunteered as a CFR. Andy Stephens (former Director of Finance) volunteers for a Nottingham-based scheme, and Liam Ross (former Digital Engagement Officer, Marketing & Advancement) now runs my local scheme. Whilst they may be former colleagues, our friendship has endured beyond the day job thanks to 'CFR-ing', and I'm fortunate to call them fellow CFRs.
"Volunteering as a CFR is like no other role. Every shift is totally different and you're never sure where you'll end up or what you'll see. You meet wonderful people and work as part of a fantastic team alongside ambulance crew colleagues." – Andy Stephens
"Becoming a CFR is one of the best things I've ever done. It's exciting, fulfilling and you take away both basic life-saving practical skills and transferable skills you'll use in your day job. I would recommend it to anyone who isn't squeamish!" – Liam Ross
Now that life is starting to return to normal, recruitment has reopened for new CFRs, so if you'd like to do something totally different to the day job, support the NHS and give back to the local community, why not drop us a line and find out more about us.
You can look on EMAS' dedicated webpage. Alternatively, if you live locally, feel free to get in contact with Liam or myself for an informal chat. We're also on Facebook.
Irrespective of whether first responding is for you or not, do take a moment to look at local volunteering opportunities that you could take advantage of using the University's ESV Policy. It is a great way to engage with the local community, take some time out (guilt-free!) from the day job, and meet some truly amazing people at the same time. 
Matt Youngs
Graduate Management Trainee (Organisational Development)
Health and Wellbeing
Wellbeing means being in a positive physical, social and mental state. Wellbeing is important to us as happy, healthy people who achieve harmony in their work / life mix are more creative, productive and help to create a great place to work.