I cannot think of anywhere else I would rather be but Loughborough! These past few months have been amazing! People say University is a place where you grow as an individual and explore new opportunities, and I can honestly say this could not be more true. I have been here five months now, I've met loads of new friends and I'm really enjoying my Drama course. I've worked on devising, stage management, practitioner practice, historical studies, and performance and text analysis. I've learnt so much in such a short space of time, and achieved an overall 1st for my first semester. So who knows how much I will have learnt and experienced by the end of my degree!
As for extra- curricular, the main ice-breaker here at Loughborough, will always be 'What sports do you play?' Well, I'm that student who, let's just say doesn't really 'play' sports… I attempt. However despite this, I have taken up tennis. I have gone from (tragically) thinking I could use a badminton racket for tennis (embarrassing), to actually being able to play a decent game. My point being not everyone at Loughborough excels in sports, but the opportunity is there.  I love the fact they cater for both the inexperienced and the elite!
Other than tennis, I have begun co-directing the Shakespeare play 'As You Like It'! I am also performing in the production of 'The Witches of Eastwick'! I have just started both these projects, and it is safe to say I am really excited to see what they become. They're both great opportunities to present my practical and creativity skills, and help other students to bring out their abilities.
I volunteer at the nursery on campus, where I look after young children and take them to events, such as the Christmas fair.  I love looking after the children and seeing how excited they get over such simple things. I am involved in a project called Right2Read. This is where volunteers at Loughborough visit different primary schools and read to children, helping them overcome their reading difficulties. All these opportunities make my experience at Loughborough even more enjoyable, I love taking part in new things and doing things for others.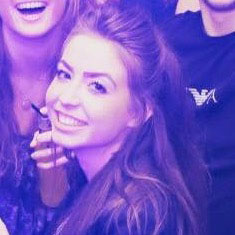 Oh and I guess you'll want to hear about the nights out! Don't worry I do have a social life aside the geeky stuff. Its Brooklyn bar Monday, cheap drinks on 'Stupid Tuesday', 'Hey Ewe' Wednesday, Thursday Revs and Friday 'FND'. But let's be honest, I can't manage all them nights out, I'd be zombified walking in to my 9am's. I live in Faraday halls, so personally I'm a big fan of Tuesday, Wednesday and Friday events, purely because they all take place on campus.  I love it! No taxi fares, no waiting for the taxi in the freezing cold and you're home in five to ten minutes rather than thirty.  If you want to wear your Sunday night lounge wear in Fusion (campus club)…  You can (nobody actually cares)! The only dress code is wear clothes…
Ok so as you may have gathered I'm loving first year! But I'm really excited about second year too. I have applied to study abroad in Virginia for semester one and it actually seems surreal!  I am going to Virginia Tech University. There I will be getting involved in many different aspects of the performing arts, such as directing and performance practices. Wow I cannot explain how excited I am!
It's crazy thinking back to my first day. I have come so far! I remember the journey here so well…  Sitting in the car on the way here, you're in two minds. One part of you is excited for what's to come. The other half, well… you feel like heading home and not getting out of the car, because although you won't admit it you're really going to miss your mum looking after you!  Well I can tell you now, there's genuinely nothing to worry about. Yes you're chucked into the deep end, left to become an "independent" student. What? How? That was my question!  But it's possible, I've proved that myself. You honestly learn to fend for yourself. Well, after a few cheeky phone calls to your mum; asking 'How many washing tablets should I use?', 'How do you iron silk?' or simply just 'How you don't burn the place down?'…  But honestly everyone's in the same boat, we all have the same worries and everyone is more than up for making friends. So don't worry!
I'm still amazed that I've achieved all this! A message I would like to send to all Freshers, is don't stress, and take every possible opportunity! Because with the support you receive from the university and the new friends you will meet, anything is possible here at Loughborough!