Cooking for myself – Life in a self-catered hall
I did mention in my 'Introductory Blog' that one of my hobbies is cooking; I enjoy cooking a lot. In fact – I know this may sound funny, as some of my friends giggle when I say it, but – I find cooking to be therapeutic! I have realised that one of the ways I get over a bad mood, or stress, is by cooking, and listening to good music – my favourite genre being 'Gospel Rap' – while at it. So, when it was time for me to choose my accommodation and I found out that all the postgraduate-only accommodation options are self-catered, that was no issue for me.
Sourcing traditional ingredients
There's one thing I worried about though, and that was the availability of ingredients with which to make my Nigerian delicacies. My folks were really worried about how I'd survive for one year without my Egusi and Oha soups, Moi-Moi, Akara, Abacha, Beans, Plantain, Jollof rice and the rest of the Nigerian delicacies. Although I came to Loughborough with some of the foodstuffs, there was only much I could carry, which would invariably finish after a while; what do I do afterwards was then the question.
I considered asking my folks to courier some of the them to me, but that was not sustainable. It was not until few days after I had arrived Loughborough that I discovered I wouldn't need to put anyone under the stress of couriering foodstuffs from Nigeria to me, as there is an African shop in Loughborough.
Shops and options in Loughborough
Discovering Samis Express – a grocery store located at 53 Sparrow Hill, Loughborough, LE11 1BU, that sells the best in fresh and frozen vegetables, frozen fish and poultry, drinks, snacks, confectionery, and ready foods from the roots of Africa and the Caribbean – was a delight and relief for me. It meant I could cook any of my Nigerian delicacies that I crave, and I would ultimately survive in Loughborough for the period of my study knowing that my belly is already taken care of, haha!
A hungry woman/man, they say, is an angry one; hence, I know enough to not joke with the well-being of my stomach, as that could affect my health and overall well-being. Personally, I prefer home-made meals over already-made ones that are sold in restaurants and grocery stores, and would rather cook my own meals than buy ready-to-eat ones made by someone unknown to me. Obviously, my preference is because I enjoy cooking my own food, but, more importantly, because I am finicky about the taste, and cooking my food myself is the only way I'd ensure that I am in control of how good the food tastes.
Just in case you are not like me who loves to cook her own meals, but are considering to live in a self-catered hall, you have nothing to worry about, as there are dining rooms where you could have your stomach well taken care of. Or, as I would imagine someone from Africa, who would love to have her/him some good African delicacies, 'Samis Express' and 'Spice Upp' are a life savers. You'll have your Afro-Caribbean ready-to-eat foods delivered to your doorstep once you've placed your order online.
Cooking socials
Moreover, I have, over the months, formed a strong bond with friends from Africa, mostly Nigerians, whom I met at Loughborough upon arrival. My friends and I, as a way of easing the pressures that come with our postgraduate programmes, cultivated a culture of hosting one another, during which the host cooks different Nigerian delicacies, and we discuss different issues arising over dinner.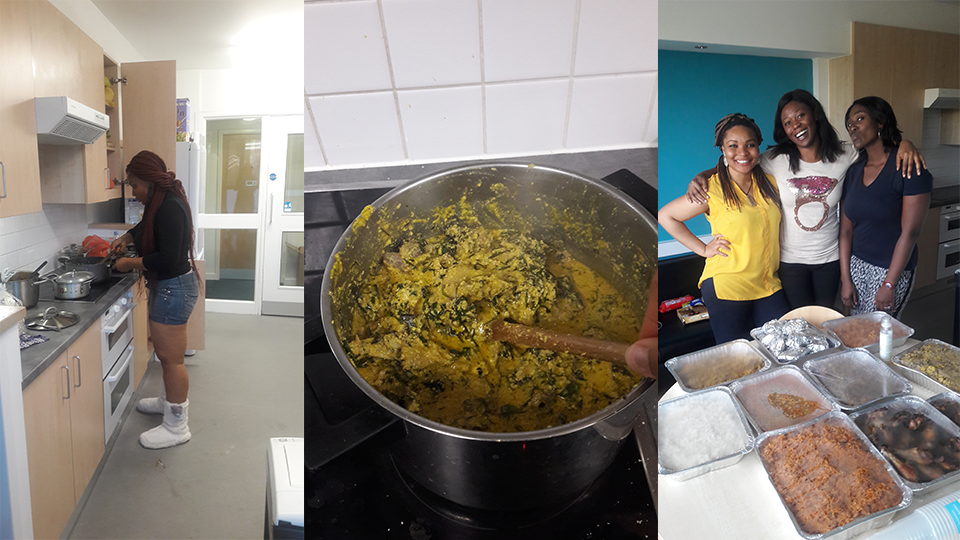 So, last month, in the light of our 'Ubuntu' culture, I invited my friends over to my flat for dinner and cooked different Nigerian delicacies, including Moi-Moi, Jollof rice, Plantain, Beans, Abacha, and Egusi soup. You can imagine the joy I felt cooking all these food and, more so, having my friends come over to enjoy them, haha!
Truth is, I cannot over-emphasize how much I love to cook and I am glad I can get most, if not all, of the foodstuffs I need to cook my Nigerian delicacies in Loughborough. Living in a self-catered hall is fun, after all.