A Walk in the Park: A Leicester Poet
Shruti Chauhan is a poet from Leicester. She has created a reputation for sensitive and heartfelt performance poetry, first as part of 'Three the Hard Way', a national tour with Lydia Towsey and Jean Binta Breeze, and more recently with Yoni-Verse Poetry Collective (https://www.yoniversepoetrycollective.com) a group of female spoken word poets of South-Asian heritage.  She's also been a 'Breakthrough Artist' at the Curve Theatre.
Shruti has lived within a couple of miles of Bradgate Park for her entire life, and it has meant different things to her at different times.  On a scorching day in July, we walked along the Lin and sat in the shade of a tree to discuss poetry, childhood and the sky.  Before we could get started, we were interrupted by a young deer of unbelievable cuteness – the inevitable photos followed.  Even at that age, a fawn can hold an audience without needing to worry about half-rhymes or flow.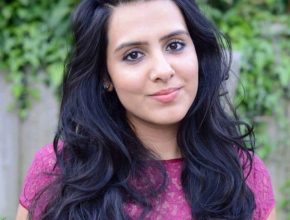 Shruti told me that her first memories of the Park involve picnics.  Several families together with many kids, blankets…. and food.  "We're Indian", says Shruti, "so we always bring too much food".  She remembers masala toasties, with potato and spinach: both her parents can produce amazing food, as can Shruti (I speak from experience of tasting brinjal bhaji and aloo ghobi in the family kitchen).  So, like many Indian families, the Chauhans and friends brought tastes that would have been unknown to earlier inhabitants of the Park: the visitors here reflect the masala of population that is Leicester.
We talk about Shruti's poetry.  "I see you as an urban poet", I say: "you don't do landscapes, but you talk about relationships, and I imagine them taking place in towns".  Shruti considers this and then agrees: "It's true I wouldn't write a poem about a tree.  But I would write about someone sitting under a tree, and the tree would be the backdrop; the poem wouldn't be the same without it".  And it occurs to me that a lot of people think of the Park in that way: it's the backdrop to their lives, relationships and experiences.
Nowadays, Shruti comes to the Park for different reasons: sometimes for some exercise and fresh air with a friend, but mostly for the sky.  She's working on a collection of poetry to be published by the acclaimed Burning Eye Books – and we spend sometime discussing a title – but is also working on her solo show "The Sky Diaries".  Her instagram is full of skies, and she has often written about the skies over her home, over Leicester and the surrounding areas – and that's where Bradgate Park comes in.  "I come to look at the sky. At Bradgate Park, we're so lucky; there's so much sky."  Whilst a lot of people focus on the deer, the landscape or the history, Shruti is looking at the upwards: at the changing moods, shapes and colours.  From shapes in clouds to rainbows and eclipses, it's all part of a big project.  "It's not just about sky" she says.  "It's about the person watching the sky.  Who are they, what are they thinking? How do they see the sky?"
In one poem about how her life has turned out she asks "is it because I spent my teens chasing sunsets instead of boys, spent them romancing the pinks and violets of the sky?"  It is of course, because she is a uniquely gifted poet, bringing Leicester and Bradgate – and their skies – to life in her poems.
You can catch one of Shruti's poems here: https://youtu.be/eQWY4SEPiqo
and find her on social media here:
@shrutinotes