DRN2023 Drawing in Relation: Affect & Agency
19th April 2023 11.00-13.00 (BST)
This is the second in a series of events organised by the Drawing Research Group at Loughborough University, exploring the theme drawing in relation.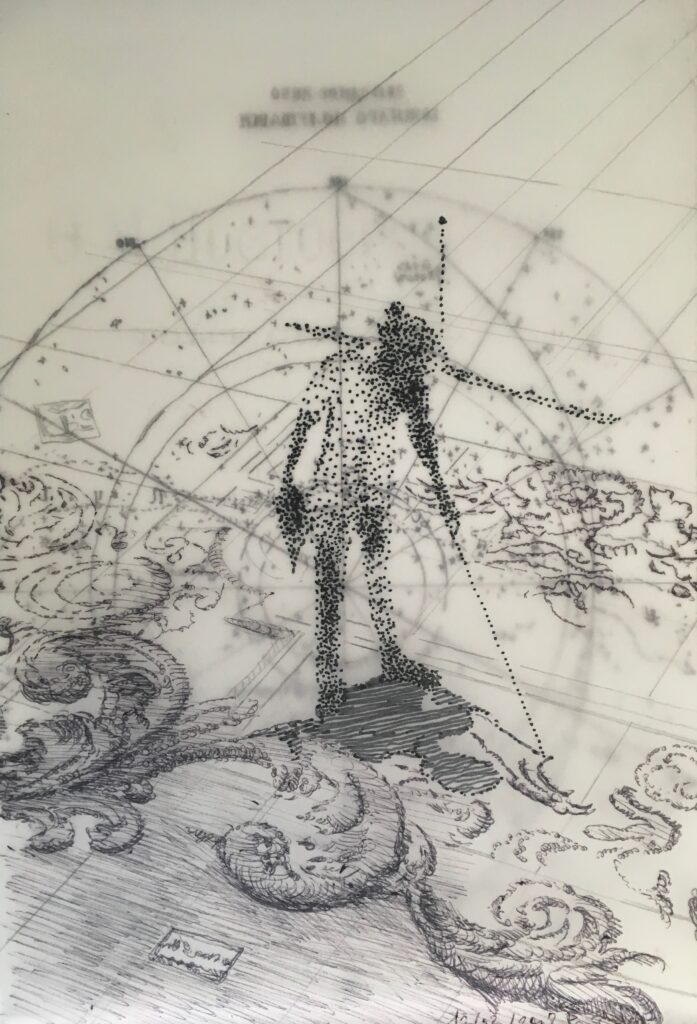 Tickets are available here: https://www.eventbrite.co.uk/e/drn2023-drawing-in-relation-affect-agency-tickets-605157060057
The second event in this year's DRN series of Drawing in Relation events at Loughborough University is concerned with entanglements of agency and affect. The artists present work that is informed by art theoretical narratives of embodiment and new materialist conceptions of post human and more than human intra-actions. They are interested in the way that phenomenologies of space, atmosphere and site affect the form and structure of expanded practices of drawing, how a new materialist lens creates opportunities for thinking about who or what draws in arts practice research as they trouble the nature of and agency and subjectivity through drawing intra-actions within a specific place.
Kiera O'Toole's drawings are created in-situ, often in response to a particular environment such as a beach or a cave. O'Toole refers to her drawings as 'felt maps' to describe the recording of the phenomenological emotional experience of a site's atmosphere through a gestural and embodied approach. O'Toole states that 'The drawings attempt to record something that is neither a thing nor a quasi-thing but something more felt than thought.'
Joanna Leah describes her drawing practice as kinetic relations informed by an artistic concept from Rosalind Krauss's Essay 'Horizontality' of 1997 as it allows her to think about the dynamic relationships between body, vision, space and ground. Leahs bodily movement through drawing questions the agency of a drawing surface, and the artists states that "between choreography and drawing, action and space, there is a kinetic relational import of body, as 'bodily disturbance' (Bois & Krauss, 1997: 27), in relation to the horizontal plane as place that can provoke new kinetic phenomena."
A collaboration between Camille Courier and Laura Winn explores the notion of symbiosis through Barad's concept of intra-action (Barad, 2007). Their examination of geological drawings by Marie Tharp aims to bring to light an example of a rare symbiotic relationship connecting drawing, the ocean floor and maps made through sonars and photographs. Their hybrid methodology blends practice in art-based research and organizational change processes, deeply linked to political issues. Courier and Winn describe how Tharp intra-acted among and with many materialities to invent an invisible undersea topography despite sexism and technological challenges.
The session will be chaired by Penny Davis
Biographies
Dr. Joanna Leah
As an artist and senior lecturer at Leeds School of Arts at Leeds Beckett University research explores choreographic and embodied practices producing drawings, writing, installation and performance. Central to her thinking is line-making; lines mediated by the body in a choreographic system of correspondence.
Kiera O'Toole
Kiera O'Toole, a practice-led PhD student at Loughborough University. Her research examines drawing's capacity to record and materialise a site's atmospheric emotional tone. O'Toole publishes including contributing book chapters; 2021; 'Project Anywhere Biennial IV', published by University of Melbourne and Parsons, School of Art, NY; 2020: 'Drawing from the Non-Place' published by Cambridge Scholars
https://www.kieraotooleartist.com/
Camille Courier de Mèré (co-author)
Studying drawing (MFA: 2014; PhD: 2022), she developed a practice of large-format installations, often created in situ. She focused on connections between drawing gestures's agency, micropolitics and visibility. Since 2015, she is involved in a university research-creation, and initiated digital drawing projects with non-optical motion capture. She studied certain low-tech, eco-responsible processes to perform drawing gestures and exhibit them as moving dot clouds.
Laura Winn (co-author)
After a BA at Oxford University and a Masters (La Sorbonne), she contributed to the emergence of an ecosystem of actors around social innovation social and solidarity economy. She then trained more extensively in futures and systemic approaches to our current challenges joining Forum for the Future in 2016 to launch the School of System Change.
https://www.forumforthefuture.org/laura-winn-ssc
Penny Davis (chair and arts practice-based PhD student at Loughborough University)
Born in Portsmouth, UK, Penny Davis is an artist, solo mother of three children and PhD candidate currently working in drawing and autoethnography to explore maternal embodiment. Graduating in sculpture from Chelsea College of Art (UAL) in 1999, and the Slade School of Art (UCL) in 2001, Davis was also a resident at Skowhegan (USA) in 2004 and The Edward Albee Foundation (USA) in 2005. She has exhibited both nationally and internationally and her work is held in public and private collections. Recent conference presentations include 'The Missing Mother Conference' at Bolton University (2021) and 'Learning from the Pandemic: Possibilities for Mothers and Families' (2022) in Canada and has a forthcoming article to be published in the summer 2023 edition of the Journal of Motherhood Initiative.Davis is an active member of the Drawing Research Network, regularly presenting and chairing the annual conference of drawing events.
http://www.facebook.com/pennydavisartist/
https://www.instagram.com/penelopeanndavis/?hl=en
Forthcoming events in the series include:
'Sound and Motion' 17th May 2023
'Spaces of Care' 7th June 2023
DRAWING RESEARCH NETWORK
hosted by TRACEY at Loughborough University