DRN2023 Drawing in Relation: Spaces of Care
7th June 2023 11.00-13.00 (BST)
The fourth and final event in the series exploring Drawing in Relation.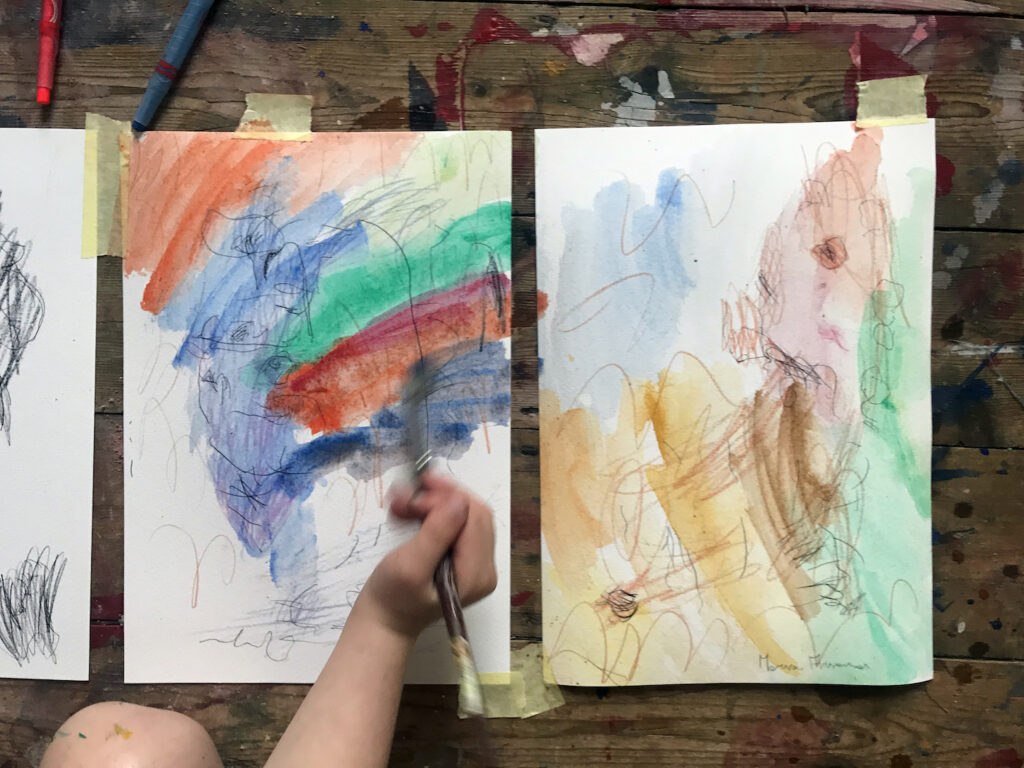 Tickets are available here: https://www.eventbrite.co.uk/e/drn2023-drawing-in-relation-spaces-of-care-tickets-640189523097
This panel brings together researchers investigating different aspects of care through contemporary drawing practice. 
As primary carers for young families, Penny Davis and Assunta Ruocco reflect on the entwinement of their roles as both artists and mothers. When kindergartens closed during the Covid pandemic, Ruocco's studio became a space for both art and care. Unable to work independently, the artist consequently initiated a collaborative project with her daughter Louise. With the aid of a scanner and digital printer, their drawings were subsequently produced through a series of interventions and exchanges that led to an ongoing mode of dialogic practice. In the light of this particular experience, and of the work of Gilbert Simondon, Ruocco will consider the studio as a milieu where relationships between drawing, technology and childcare can be explored.
Through what she terms a matricentric approach, Penny Davis' drawing practice develops in relation to her children, through observing, recording and visualising the silenced and invisible work that she does as a mother. Through a braided practice of drawing and autoethnography, her presentation will consider drawing as flesh work – this labour being defined as the repetitive actions of a body suspended in the continuous loop of care. Whilst Davis' drawing practice is evidence of this reproductive work of domestic, cognitive and emotional labour, flesh work still remains invisible in academic study.
Acts of cleaning are similarly of concern for Belinda Mitchell who will speak about the domestic work undertaken by the small group of volunteers and trustees who take care of the sixteenth-century house Wymering Manor. Working to remake the house for the future, the community are currently exercising what Mitchell refers to as a patience-of-placethrough the continual rearrangement of the house and its artefacts. Exploring alternative modes of knowing through caring, connecting and drawing, Mitchell asks what forms of actions and tools can be used to create vocabularies of care with which to construct the built environment? And how do language and materials perform to create everyday sites of affect – spaces of care?
Biographies:
Assunta Ruocco is an artist and researcher based in Nottingham, UK and a lecturer in Fine Art at University of Lincoln. She works with painting, installation, drawing, printmaking, photography, digital technologies, and the relationships between these media. Her practice-based PhD at Loughborough University School of the Arts explored how the things with which artists work can be seen as co-workers. 
Belinda Mitchell is a Senior Lecturer in Interior Architecture at the University of Portsmouth. Recent works include Drawing IN: Bodies in Motion (2022) Remote Practices, Architecture at a Distance, Lund Humphries; Osmosis (2021), Espacio Gallery, London; Ecologies of Drawing: IN Situ (2022) at Loughborough University.
Penny Davis is an artist, solo mother of three children and PhD candidate at Loughborough University. As a political maternal activist, her practice works to highlight inequities for single mothers. Recent presentations include the 'Let's Get Dirty' symposium at Loughborough University (2020), 'The Missing Mother Conference' at Bolton University (2021), and in the Domestic Academics project with Vanessa Marr (2021).
The panel will be chaired by doctoral research candidate Serena Smith.
DRAWING RESEARCH NETWORK
hosted by TRACEY at Loughborough University