Packing for university can feel like an overwhelming task. To make things a bit easier, we've put together a list of everything you might need. Please note, this list is simply a guide to things you might need, and many items could be bought after arrival.
Bedroom
Making your bedroom feel more like home with a few personal touches is a great way to settle in, but don't forget to leave some space for the new memories.
Duvet, sheets and mattress protector
Pillows (if you're in Unite or Student Beehive halls)
Home comforts and photographs
Coat hangers
Door stop
Laundry basket and clothes airer
Headphones
Extension lead
Chargers
Hair dryer / straighteners
Kitchen
It's worth buying distinctive cutlery and crockery to avoid it getting mixed up with others. What you'll need to pack will vary depending on whether you're in catered or non-catered halls.
Catered
Bowls, plates and cutlery
Mugs and glasses
Scissors
Tin opener
Bottle opener
Tea towel
Reusable water bottle
Catered (including the items above)
Pots, saucepan and frying pan
Oven tray
Colander
Chopping board
Sharp knife
Wooden spoon and spatula
Grater and peeler
Measuring jug
Tupperware
Oven glove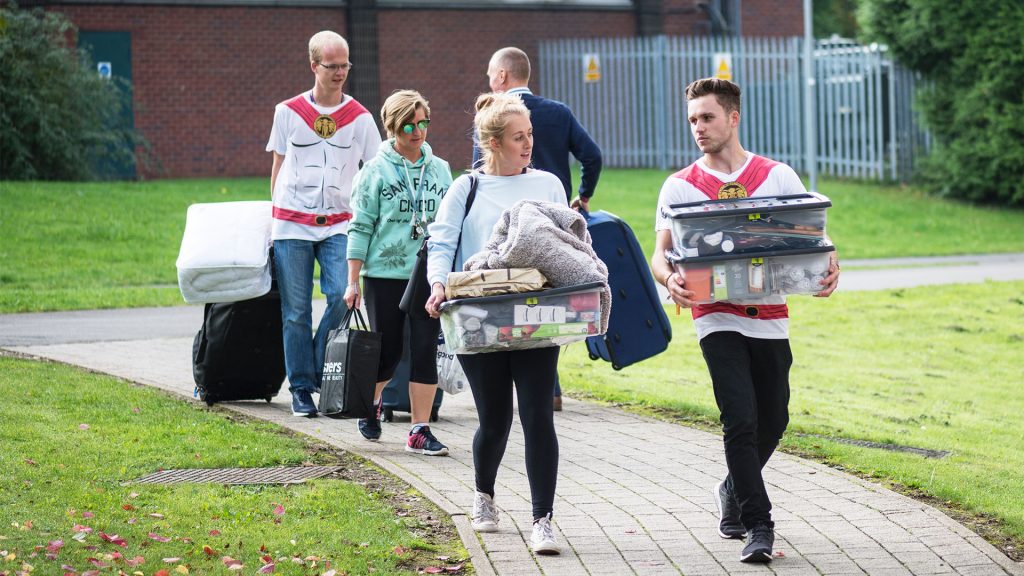 Clothing
It can be tempting to pack everything you own, but try to use this as an opportunity to start fresh and think about which clothes you really wear. You'll likely visit home over the course of the year too, so save wardrobe space by choosing seasonal clothing.
Day to day clothes i.e for lectures
Smart clothes i.e formal events
Underwear
Sportswear (leave some space for new stash!)
Shoes / footwear
Fancy dress
Rain coat
Pyjamas / comfy clothes
Dressing gown
Slippers / flip flops
Toiletries
Pro-tip: buy most of your toiletries on arrival, you'll need the extra space in your luggage / car!
Shower caddy
Hand towel
Large bath towels
Wash bag
Basic first aid kit
Tooth brush and tooth paste
Shampoo and conditioner
Body wash
Hand soap
Deoderant
Spare toilet paper
Studying
We recommend waiting until you know which modules you'll be taking, and what kind of studying you'll be doing, before buying everything. Grab the essentials, but don't go overboard – you may not use all of it if you do.
Notepad
Folder
Diary / planner
Pens and pencils
Highlighters
Paper clips
Post-it notes
Hole punch
Hard drive and USB sticks
Laptop
Miscellaneous
Medication
Bike and bike lock
Playing cards
Washing powder
Passport and other ID
National insurance