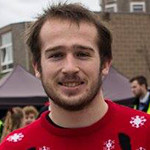 We talk to Craig, LSUTV's Station Manager, who shares all the details on this section of LSU Media. If you fancy being on the big screen, or behind the camera, then this section of LSU is well worth looking into!
What is LSUTV all about?
LSUTV is Loughborough students' TV station. We cover the sporting action across campus and beyond, capture events, create our own content and then put it up for you to watch on our website.
LSUTV is part of LSU Media which encompasses Label, LCR, Lens and us. You pay one membership fee and can use all the equipment and resources for each media section. You don't have to stick to one section either. I was part of the Label committee previously, but I am now the station manager of LSUTV.
At LSUTV we teach you how to use a range of different cameras, how to edit, how to put on a live show, how to present and pretty much any skill that you need to work in the TV industry.
What sort of events are put on by LSUTV?
We don't normally put on events, but we are the ones to film them. For example, a few events we have covered include: Freshers, Rag Fireworks, Fight Night, the Societies Winter Showcase, that time Dick & Dom came to the union, Exec Elections, the IMS Football cup final and many more. So it doesn't matter what you enjoy, there will always be something for you to cover.
We also have a weekly Sunday live show called Match Report. It was only started last year and has already won multiple national awards. This year is going to be bigger and better.
You don't need to have any experience to join us. When we covered Fight Night last year, most of the people helping had never done the job they were tasked to do that night, but it won Best Live from NaSTA (The National Student Television Association)!
Why, when and how did you join?
I joined a couple of weeks into my first year. It was after going to the Make Your Mark event, where the whole of LSU Media showcases what they do. A few weeks on from that, I got invited to go help at a live football event at the stadium. I ended up on graphics for the first half of the game. For the second half I was vision mixing – which is where you press buttons to choose which camera is sent out live.
Best or most memorable moments from your time in LSUTV?
One of the most memorable moments from my time with LSUTV has got to be about two and a half years ago when the BUCS Big Wednesday finals were held in Loughborough.
LSUTV teamed up with LA1:TV (Lancaster University's Student TV station), and broadcast from 4 different locations across campus. I was the only camera operator at the hockey pitch for the whole day. I was there by 6am and didn't get back to my halls until midnight. I filmed 4 finals and covered each medal ceremony, including the moment when Princess Anne handed out medals. It was an amazing experience, and I've been stuck doing LSUTV ever since. The highlights of that whole day are here.
Describe LSUTV in three words…
Cameras, Friends, Memories.
What would you say to someone considering joining?
There will always be a space for you. There are so many different roles and opportunities. You can get involved in sports coverage, dramas, live shows, music, news, documentaries, pretty much anything you would see on TV. You can do more than just watch. Your degree doesn't have to do anything with media. I currently study Civil Engineering, but I'm part of one of the best student TV stations in the country.
And if you don't like what we do, you can always try something with Label, LCR or Lens as it's involved in the same membership.
Anything else we should know?
We have many alumni who you might have seen on TV. They include Ore Oduba (BBC Sport/Strictly Come Dancing champion), Joe Tidy (Sky News), Ben Croucher (BBC Sport) and Hannah Wilkes (Sky Sports). And they are just the people you see on screen!
---
Interested in finding out more? Contact LSUTV via their social media channels: Facebook, Twitter.
LSU has loads to get involved in, find out more here.
Like us on Facebook
Follow us on Twitter
Find us on Instagram/Snapchat – lborouniversity