This week we're speaking to Bhangra Society. Described by many as an energetic folk dance, Bhangra originates from the Punjab region in South Asia. A surge in popularity now sees it performed throughout South Asian culture and in many other parts of the world, including Loughborough. If lively dancing, bright colours, beautiful fabrics, and lots of laughs with passionate people sounds like your kind of scene then Bhangra society is the one for you!
What is the Bhangra society about?
Bhangra is all about having fun and incorporating traditional dance moves into a high impact routine. The society, however, really pinpoints and focuses on this 'fun' side – it's not all about learning to dance; for us, it's also about the laughter, memories and the amazing friends we make along the way. We organise socials to nearby cities and also trips to see professional Bhangra competitions.
When did the Bhangra society start?
We had our first fun class at the start of November but because so many people turned up, within 4 weeks there were talks about us becoming a society. Everything became official by February 2015 – and Loughborough Bhangra Society was born!
What have been some of your memorable events from this last year?
Within our first 6 months as a society our membership massively increased, we competed at a national competition, and performed at annual charity event- Dil Se 2015.
Our most memorable event was when we were chosen as one of the top University teams to compete at Capital Bhangra, a national inter-university competition. This happened within 6 weeks of our first class so it was super exciting to think we would be performing on stage in front of 1200 people in only a few months!
What are your plans for the future of the Bhangra society?
Our main aim for this year is spread awareness of the society and encourage people to get involved in something they might not have actively signed up for on their own.
We are definitely looking forward to competing in more competitions and have plans to organise socials with Bhangra societies of neighbouring universities!
What would you say to someone thinking about joining the Bhangra society?
Bhangra is not all about being the 'best dancer' or the 'strongest performer'. In Punjabi culture, the dance is 100% all about feeling the beat of the music, getting up and enjoying yourself with friends or family.
Most of the current society members were pretty clueless about Bhangra when they came to their first class but they are now really passionate about it. We invite everyone of all abilities  to join our classes – whether you're looking to join for fitness or have 10 years of dance experience, no one ever feels left out. Our Bhangra classes are a great opportunity to try something new, meet new people and learn a lot about yourself!
Finally, what's one thing you want us to know about you, the Bhangra society?
We'll be at the LSU Societies Fresher's Fair on 4th October 2015. So come and say Hi because it would be amazing to see people interested in the society. Plus we have some really awesome things planned for the day!
You can follow Bhangra society on twitter (@LboroBhangraSoc) or check out their Facebook page.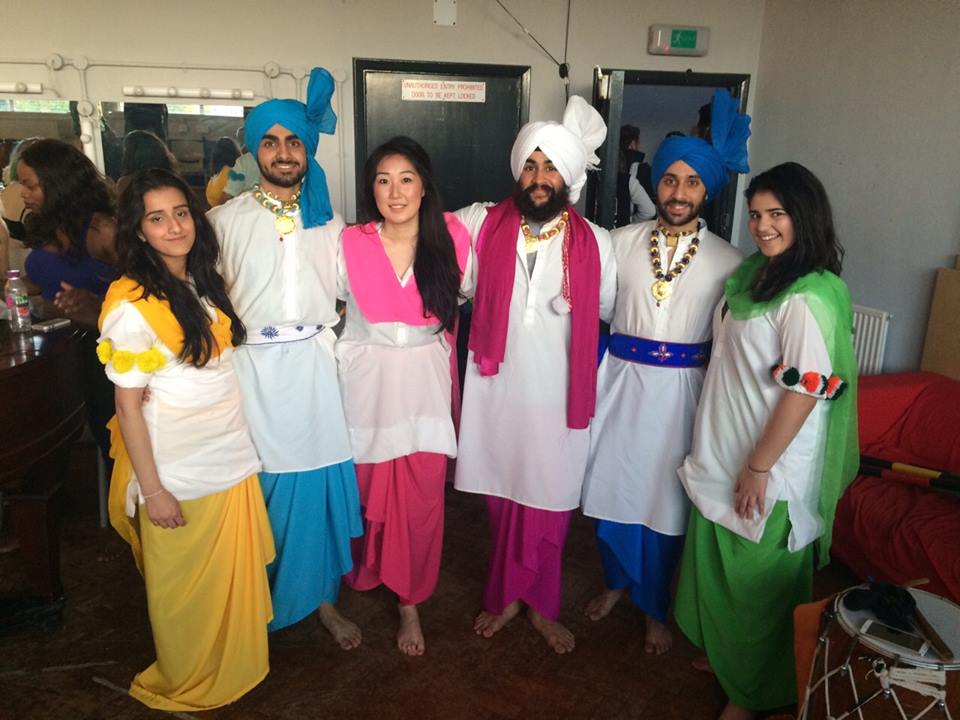 With over one hundred different societies at Loughborough, we have everything from Hindu, Hiking, and Surfing to Shakespeare, DJ , and Dodgeball; so you're sure to find a LSU society to suit you!
Any societies who'd like to get in touch with us and be featured on the blog should contact: digital@lboro.ac.uk