Once you've settled in, it's time to explore what the campus has to offer – including the library.  Take the long view – you're going to be spending a lot of time in here, so why not beat the rush and get to know the place you'll be getting the books and materials you'll need for your university career?
The great news is, you don't have to fill in any extra paperwork. All you'll need is your new student ID card which you'll get upon arrival. This will give you access to the library and other fantastic facilities available on campus – it quite literally is your key to everything on offer here. So make sure you look after it.
Finding and borrowing books is easy
Finding and borrowing books couldn't be easier with Library Catalogue Plus and the simple-to-use self-issue machines. Don't worry, you can always ask someone if you get stuck.
Computers, learning spaces and the best cobs on campus…
There's more to the library than just books and computers, the Library is also home to the busiest social learning space on campus, and the popular Library Café offers the perfect oasis to meet up with new friends.
It also serves the best breakfast cobs on campus, as the Library staff will testify!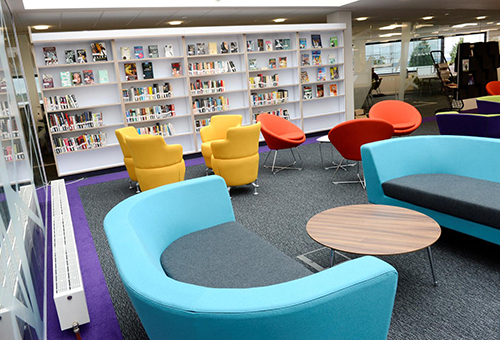 A spot of light reading
The library also boasts an impressive and expanding selection of leisure reading books and novels for when you fancy a little light reading. There is also a Student Book Club during term time, which gives you an opportunity to meet new friends.
Want to know more? Click here to visit the library website, watch this short video, or just pop along and have a chat with one of the friendly staff at one of the enquiry desks.
See you soon!
Thanks to Steven Lake in the Library's Academic Services Team for this post. Read more from Steven on the library blog.
Like us on Facebook

Follow us on Twitter

Find us on Instagram/Snapchat – lborouniversity