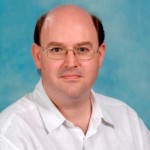 Middleware and Library Systems Manager
BSc CNAA
Tel: 01509 222349
Email: g.p.brewerton@lboro.ac.uk
Gary has over twenty years' experience in both higher education and library automation. He was part of thr team who developed the UK's first web-based library catalogue, the project manager for the LORLS open source reading list management system and involved in the implementation of a research data management service. Recently he oversaw the technical operation of an institutional mobile app.
Selected publications:
BREWERTON, Gary (2016) Organising your first conference, Ariadne, 76, ISSN: 1361-3200.
BREWERTON, Gary (2015) Research data management: A case study, Ariadne, 74, ISSN: 1361-3200.
BREWERTON, Gary (2014) Implications of Student and Lecturer Qualitative Views on Reading Lists: A Case Study at Loughborough University, UK, New Review of Academic Librarianship, 20(1), pp. 78-90, ISSN: 1361-4533.
A full list of publications is available.