Senior IT Specialist (Middleware and Library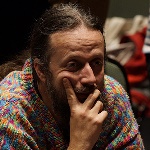 Systems)
BSc, PhD Loughborough
Email: j.p.knight@lboro.ac.uk
Jon works for several departments at Loughborough University as a systems developer and research associate. He has been involved with digital libraries and library systems for over 20 years. He is also the editor of Ariadne.
Selected publications:
COOPER, Jason and KNIGHT, Jon (2014) Evaluating Possible Uses of a Raspberry Pi in an Academic Library Environment, D-Lib, 20, ISSN 1082-9873.
KNIGHT, Jon, BREWERTON, Gary, and COOPER, Jason (2013) Automating Library Stock Ordering from Reading Lists, D-Lib, 19, ISSN: 1082-9873.
COOPER, Jason, KNIGHT, Jon and BREWERTON, Gary (2013) Providing Information about Reading Lists via a Dashboard Interface, Code4Lib, 19, ISSN: 1940-5758.
A full list of publications is available.