Gary Brewerton
This user hasn't shared any profile information
Posts by Gary Brewerton
It doesn't seem like five minutes ago since we were celebrating the 15th anniversary of the launch of LORLS and now here we are now at its 20th. Unfortunately the current lockdown prevents us from celebrating its birthday in the usual manner (i.e. with cake).
LORLS was initially conceived of in 1999 in response to an enquiry to the Library from the University's Learning & Teaching Committee. The system was written using the open source LAMP development stack and launched the following year. Since then it has been used by a dozen other institutions, survived six major revisions, three different library management systems and seen the rise and fall of numerous other reading list management systems.
So what does the future hold for LORLS, well the sad truth is that all of the staff involved in its development have either moved on to take on new responsibilities or left the institution. And finally after 20 years there are now commercial offerings that at least meet, if not exceed, the capabilities of our little in-house system. So whilst LORLS is not yet dead, it is more than likely it will be taking a very well deserved retirement at some point in the coming years.
I note with great interest that Dublin Business School has recently had an article accepted in the New Review of Academic Librarianship, regarding their faculties' perceptions of LORLS.
In the article Marie O'Neill and Lara Musto discuss a survey of faculty staff at DBS which reveals that their awareness of the system is greatly impacted by the amount of time they spend teaching. They also show that promoting appropriate resources to students and improving communication between faculty and library staff are seen as major advantages of having a RLMS. I particularly liked the following quote that came out of one of their focus groups:
"One of the challenges nowadays is recognising that students are reading more than books and articles. They are reading the review section of IMDb for example. Reading lists have to change and our perception of reading lists."
One of the other outputs of the article was a process implementation chart, which was created to inform other institutions how they might best implement LORLS. This chart is reproduced below with the kind permission of the authors.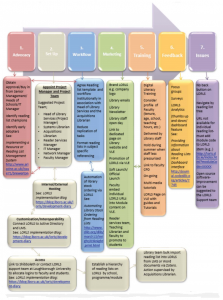 The article concludes with a strong desire from DBS faculty for greater integration with their Moodle VLE system. This is something that we are actively investigating and we have begun to pilot a Moodle plug-in at Loughborough, which we hope to include in a future release of the LORLS software.
Fifteen years ago a reading list system (initially unnamed) was launched at Loughborough University. The system allowed staff to input reading lists item-by-item using a HTML form and display these web-based lists to our students with links to the library catalogue to check stock availability.
Since that time the system has undergone six major revisions. These revisions have extended the functionality to allow "drag-and-drop" reordering of lists, display of stock availability and book covers, importing of citations from Word documents and so much more! Also the system gained a name, LORLS.
So today we're celebrating fifteen years of LORLS!
We've even had birthday greetings and cards from our friends at PTFS Europe and Talis.
Thanks guys!
With great pleasure (trumpet fanfare not included) I can now announce the release of LORLS version 7. Key features include:
Import of Harvard citations from docx documents
Academic dashboard displaying usage data and other key metrics (see image to right)
Collapsible sections on reading lists
Improved support for diacritics
Allow students to like/dislike items on a list
LORLS v7 is available for download from this website.
This is becoming a bumper year for RLMS's with the launch of Rebus:list earlier this summer and now Unilibri:
unilibri is launching a new reading list management system, ready for launch in Semester 2 of this academic year. Take a look at our website (www.unilibri.com)

unilibri takes a new approach to the provision of the RLMS. Provided as a software as a service hosted in the cloud; it focuses on ensuring academic and student engagement whilst providing the fundamental services every library and institution needs.

unilibri has an exciting roadmap planned that will ensure it is providing the best service to all the key stakeholders of reading lists. unilibri's aim is to improve students' educational experience whilst increasing library efficiencies and cost-effectiveness.
For the second year running were holding a free workshop at Loughborough to discuss reading list management. The announcement about the event can be seen below.
Meeting the reading list challenge 2012: A workshop
Keith Green Building, Loughborough University
Thursday 16th August 2012, 10:00am – 3:30pm
How do you get stakeholders interested in online reading lists? And how does
a reading list management system relate to other systems?
These issues, and many others, will be discussed at this forthcoming workshop.
The morning session will explore academic engagement with reading lists whilst
the afternoon will focus on how a reading lists management system (RLMS) could
interact with other systems. Both sessions will include presentations and group
discussions.
There will be a buffet lunch provided during which there will be a poster session.
All attendees are encouraged to submit a poster highlighting what they expect
from a RLMS, what their experiences of a RLMS are, or what interesting things
they've done with an RLMS?
This is a free event. If you would like to attend please email Gary Brewerton
(g.p.brewerton@lboro.ac.uk) to reserve a place stating your name, institution
and any specific dietary requirements.
Jason and I attended an open source seminar from PTFS Europe last week. Conveniently for us the seminar was being hosted by the Department of Information Science at Loughborough University so all we had to do was depart the office, go up a single flight of stairs and we were there.
The were presentations from PTFS about open source in general was well as specific case studies about implementing Koha at Halton and Staffordshire University. The afternoon included a session about other products which PTFS are hoping to support including VuFind, Cufts, Godot and reading lists!
The original publicity for the event indicated they were considering adopting List8D but this isn't the case as they're developing their own system, after all in their own words "developing a reading list system isn't exactly rocket science!" The system will be a hosted solution and so would be a direct competitor to Talis Aspire.
We look forward to seeing how their reading list system develops over the coming months.
In the early hours of yesterday morning LORLS v6 slipped its keepers (Jon and Jason) and escaped into the wild. LORLS v6 is described as flexible open source resource/reading list management system. Alongside LORLS v6 its three children (LUMP, CLUMP and BibGrab) also successfully made their breaks for freedom.
Members of the public are advised to check the following safety guidelines before approaching the beast.
Well, OK maybe they're not that momentous but…
A couple of months ago we (Jason and I) met up with Ian Corns of Talis Aspire fame and had a bit of a catch-up session. Much has changed at Talis: their Library Management System division has been sold off, what was Talis Aspire is now called Talis Aspire Campus Edition, they are launching talisaspire.com and Ian has a new job title (which is no laughing matter :-)).
We also bemoaned the lack of any reading list events happening this Summer. So in light of that we were particularly pleased when the Department of Information Science at Loughborough University (i.e. them upstairs) decided to host a workshop on "Meeting the reading list challenge" especially as Ian and myself will be giving a presentation on reading list systems at the event.
As we're now involved in helping to organise the event I thought advertising it here might be a good idea!
Meeting the reading list challenge: A workshop
Department of Information Science, Loughborough University
Thursday 14th July 2011, 10:30am – 3:00pm
Do you know what resources your academics are recommending to students? How easy do your students find it to locate these key resources?
These issues (and many others) will be discussed at this forthcoming workshop.
Your host for the day will be Dr Ann O'Brien from the Department of Information Science, Loughborough University. The morning session will consist of presentations on "What is a reading list?" and "A magical mystery tour of resource/reading list management systems" given by Gary Brewerton, Project Manager for LORLS (Loughborough online reading list system) and Ian Corns,Customer Liaison Manager for Talis Aspire.
A free buffet lunch will be provided after which there will be wide ranging discussions on topics such as: what makes a good list? How do you engage with academic staff? And, what roles does the library actually have with regard to reading lists? There will also be opportunities for you to ask questions of those present.
This is a free event. If you would like to attend please email Sue Manuel (s.manuel@lboro.ac.uk) to reserve a place stating your name, institution and any specific dietary requirements.
We look forward to hearing what others have to say about reading lists and associated systems on the day.
Twitter hash tag for event: #mtrlc
At approximately 11:40 this morning we launched LORLS v6 to students and academics at Loughborough. This was done using our standard importer which extracted data from our previous LORLS 5 installation. We then ran a number of local modification scripts (e.g. to remove years and alter the metadata layout).
This seems like an opportune moment to say a few thank yous to those who contributed to the development and implementation of this new version:
Jon and Jason, who in the best traditions of a pantomime horse developed the back and front ends
Ginny and Jenny, for producing promotional and training material
Theresa, Vicky, Karen, Lynne and Sue, for testing and critiquing the new system
Sue 2.0, for putting up with us during the database design war process
And to all the other library staff, academics and students who provided invaluable input and support for this new version.
And finally as it is Valentine's Day a little (and I do mean little) poetry:
Roses are red, violets are blue,
LORLS 6 is here, just for you!
Gary Brewerton's RSS Feed