BibGrab
For a long time we have been told that staff want an easy way to add an item to a reading list.  To make item entry easier the data entry forms for LORLS v6 are specific to the type of item being added.  This should help avoid confusion when people are asked for irrelevant metadata (e.g. asking for an ISBN for a web page).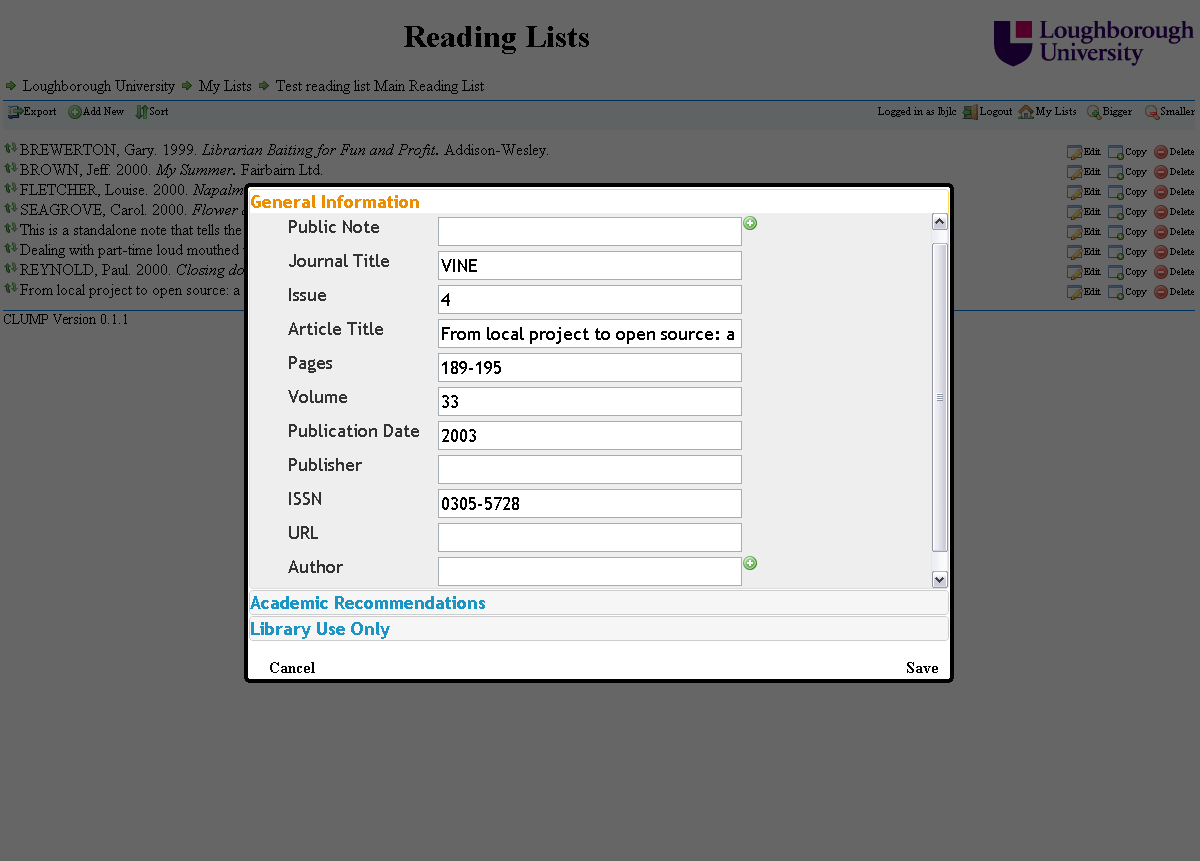 Recently I have been working on BibGrab our tool to allow staff to add items to their reading list from any web page that has an ISBN or ISSN on it.  BibGrab consists of two parts.  The first part is a piece of JavaScript that is add as bookmark to their browser, then when they select that bookmark in future the JavaScript is run with access to the current page.  The second part is a CGI script that sits along side CLUMP that processes the information and presents the options to the users.
The bookmark JavaScript code first decides what the user is wanting it to work with.  If the user has selected some text on the page then it works with that otherwise it will use the whole page, this helps if there are lot of ISBNs/ISSNs on the page and the user is only interested in one of them.
It then prepends to that the current pages URL and title, which lets BibGrab offer the option of adding the web page to a reading list as well as any ISBNs/ISSNs found.  This information is then used to populate a form that it appends to the current page.  The form's target is set to '_blank' to open a new window and the action of the form is set to the CGI script.  Finally the JavaScript submits the form.
The CGI script takes the input from the form and then searches out the web page details the JavaScript added and any possible ISBNs and ISSNs.  The ISBNs and ISSNs then have their checkdigit validated and any that fail are rejected.  The remaining details are then used to put together a web page, that uses JavaScript to lookup the details for each ISBN and ISSN and display these to the user.  The web page requires the user to be logged in, as it is using CLUMP's JavaScript functions for a lot of the work it can see if they have already logged into CLUMP that session and if they haven't it can then ask them to login.
Once logged in they can see all the items that BibGrab found.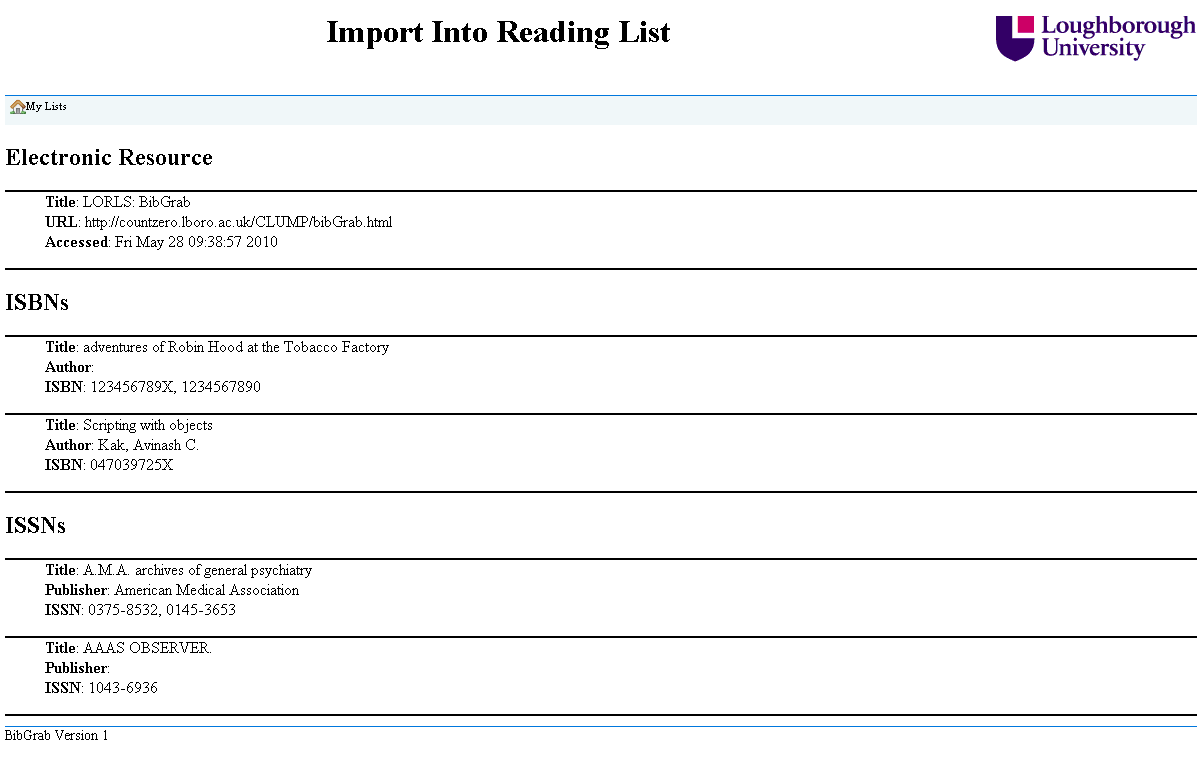 When they select an item they are then presented with all the details for that item and if it is a journal they are also presented with some boxes for adding in details to specify a specific article, issue or volume.  They are also presented with a list of their reading lists, of which they can select as many as they like and when they click add the item is added to all their selected reading lists.  The item is added to the end of each reading lists and is in a draft mode.  This makes it easier for people to add items to their reading lists when they find them without worrying how it will affect their list's layout.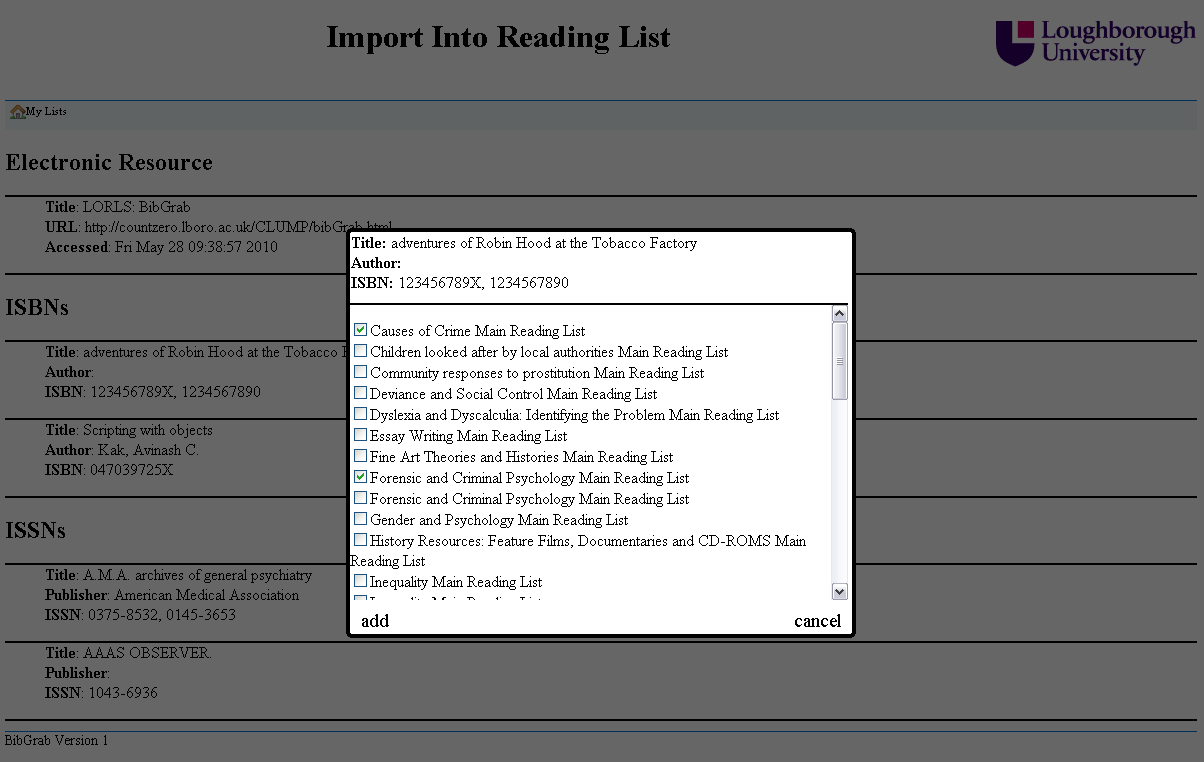 After the item has been added to their chosen reading lists it is grayed out as a visual indication that it has already been used.  They can still select it again and add it to even more reading lists if they want or they can select another item to add to their reading lists.