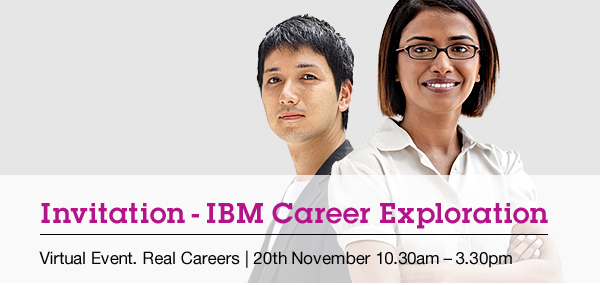 You are invited to participate in the IBM Career Exploration 'Make a Difference' virtual event, on Wednesday, November 20th at 10.30am – 3.30pm.
During the half day virtual experience, students will learn how to unleash their potential and build an exciting career at IBM, one of the world's most progressive, respected and admired companies. The event features two key note sessions and a variety of information booths where attendees will have the opportunity to:
Hear from and interact with leading experts from a wide range of fields in business, technology, and research
Explore career development programs and continuing education programs designed to accelerate opportunities for talented employees
Understand how to build and apply expertise and expand professional networks
Learn how to best position themselves in a highly competitive job market
At the event, attendees will be given the opportunity to apply for open positions and internships at IBM, and learn how they can build their digital eminence in social media.
Register for the virtual event now at
http://engage.vevent.com/rt/ibmcareer~exploration2013uk
For more information about the program, visit the IBM Career Exploration Website at
http://wasdev02.fishkill.ibm.com/employment/jobs/career_explorations.shtml