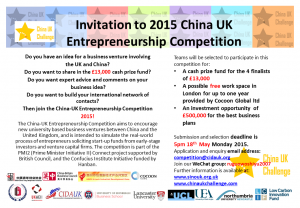 Do you have a creative idea for a business venture involving the UK and China?
Do you want a share of the £13,000 in cash prizes?
Do you wish to build your international network of contacts?
Do you expect to receive professional suggestions on your business plan?
Then, please join in the 8th China UK Entrepreneurship Challenge Competition!
The competition is open to all university teams both in the UK and China.
Teams will be selected to participate in the final competition for winning: £13,000 cash prizes.
An investment opportunity of £500,000 for the best business plan!
A possible free work space in London for up to one year provided by Cocoon Global Ltd!