The Autocar-Courland Next Generation Award is a national competition to identify,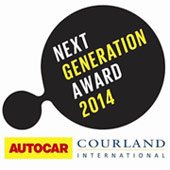 support and develop top automotive talent of the future. 2013 winner Jake Larsson recently headed up the M1 to Peugeot UK's headquarters in Coventry for the second stint of his five-month paid internship prize. He was soon heading back south again: across the Channel in fact, to Velizy and PSA's R&D department, home of the company's remarkable CAVE (Cave Automatic Virtual Environment) facility, where science fiction is science fact. "It was amazing," he said. "The innovation was mind-blowing. The engineers there are living five to ten years into the future."
Entrants from UK universities are invited to answer the brief below as set by Autocar's editor-­in-­chief Steve Cropley. This year's winner will receive £7,500 and one month's work experience at each of the leading automotive organisations supporting the award: McLaren Automotive, Jaguar Land Rover, Peugeot, Skoda and Toyota.
The Brief
'Describe, in no more than 500 words, an idea, innovation or change to corporate policy that would improve the UK automotive business. The idea could work in any area of the automotive business, from concept through to the sales showroom and the aftermarket. You will need to demonstrate how your idea could be put into action and the advantages it would bring.' Submissions are welcomed from all disciplines and special credit will be given for originality. Deadline for entries: 1st September 2014.