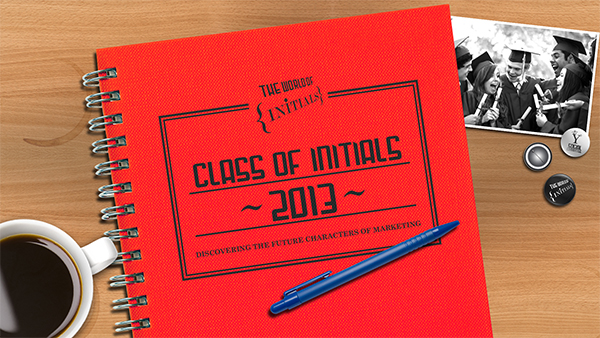 Once again INITIALS Marketing is giving five lucky graduates the chance to join The Class of INITIALS, after the successful launch of the initiative last year. The Class of INITIALS is a work experience scheme that offers selected candidates a four week hands-on placement within the agency as well as the potential opportunity of full-time employment for the most outstanding student.
The Class of INITIALS 2013 is the agency's quest to discover the future stars of marketing. Over the next few months the agency is seeking out the very best university graduates, from any specialist background, to introduce to agency life through the exciting World of INITIALS.
Key aspects of the programme will include:
An agency induction programme
The chance to work on live projects from a wide range of top-class clients including Sainsbury's, PepsiCo, Peugeot, SAB Miller and many more
Exposure to digital, experiential, shopper marketing and the creative process
The chance to learn from some of the best in the industry
There are two rounds to the application process. If you think you have what it takes to wow the INITIALS team, visit the INITIALS Facebook page, facebook.com/initialsmarketing, and follow the application instructions. All entry forms must be completed by 3rd May. 10 applicants will then be selected and notified by 15th May to take part in round two.
Round two is where the real fun starts. At the beginning of June the 10 successful applicants will be invited to INITIALS' London offices take part in the assessment day – the day will last all day (9am-4pm). Full details will be provided nearer the time. Five scholars will ultimately be selected for placements over July, August and September 2013.
Jamie Matthews, CEO, INITIALS Marketing, said: "We want to offer emerging young talent the opportunity to experience the life and pace of a multi-award winning marketing communications agency."
"It doesn't matter to us whether you've studied Shakespeare or Sports Science. It's the characters that make the difference. So what's critical is that graduates demonstrate their talents, prowess at generating ideas and ability to bring a fresh perspective to what we do. The most impressive candidate could be considered for a full-time position within the agency."
Last year's campaign marked the launch of Class of Initials. Candidates applied by filling in an online application form, hosted on a Facebook app. The 10 strongest candidates were invited in for an assessment day challenge, and five of those were invited to take up a four week placement at INITIALS over the Summer. The agency also offered a permanent role to one of its graduates, Eliza Johnston, who really impressed the team while on her placement.