Peer Support Directory – new online resource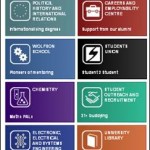 In looking to support a variety of peer support initiatives which have been taking place across campus in recent years, the Teaching Centre is in the process of creating a new online resource to support staff and students.
Called a Peer Support Directory, it promotes the idea that students are particularly well positioned to support other students, while themselves gaining invaluable experience which can contribute towards their employability.
A beta version of this resource is currently available at http://www.lboro.ac.uk/service/teachingcentre/info/Lee_dev/psd.html and will soon become available on the Teaching Centre's revamped website. It will work in conjunction with a Peer Support Community of Practice which recently met for the first time, as well as a dedicated intranet site.
Feedback is very welcome regarding these peer support initiatives, and should be addressed to Maurice FitzGerald (Quality Enhancement Officer) or Lee Barnett (E-learning Officer).