Loughborough University Institutional Repository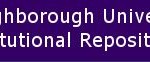 Research-informed teaching goes to the heart of the undergraduate and postgraduate curriculum. It is epitomised by the dissertations and/or projects which students themselves undertake towards the end of their studies, when staff deliver final year undergraduate modules within their field of research, and when students collaborate with staff in research and/or are exposed to their latest publications.
If you have not done so already, why not have a look on the Loughborough University Institutional Repository and add some of your own items, particularly if you are already using your published research in your teaching. Ad-lib (the University Library blog) recently published The Top Five Institutional Repository Downloads from December, and continues to encourage colleagues to add items to this database, an increasingly accessed and utilised resource which recently saw the 10,000th item added to Loughborough University's Institutional Repository!