HEA report: "Engagement for enhancement"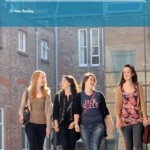 The Higher Education Academy (HEA) report on the first year of a UK student engagement pilot project has just been published.
Based upon questions which are utilsed in the National Survey of Student Engagement (NSSE) – see Tips for NSS(E) Survey Administration for a previous related T&L Blog posting – this kind of survey differs from the National Student Survey (NSS) because it takes place early in the life of a student's university studies rather than towards the end. Unlike the relatively passive NSS, which typically asks students to comment upon their experience, the NSSE is also very interested in students reflecting upon their own levels of engagement with their studies and perhaps changing their behaviour in the light of this process.
Written by the HEA's Alex Buckley, and with a foreward by Mantz Yorke, this project report – entitled Engagement for enhancement: report of a UK survey pilot – draws upon evidence gathered from students at institutions such as the University of Bath, King's College London, the University of Oxford, and the University of Warwick; in addition, there are case studies and useful points of learning from each of these participating institutions.
The NSSE is used widely around the world in countries such as Australia, New Zealand, and the United States of America; there is a growing sense that its relative utility may impact upon the future of the NSS which is itself being reviewed.
Further details regarding this report are available on the HEA website at Engagement for enhancement.