Box of Broadcasts service downtime / relaunch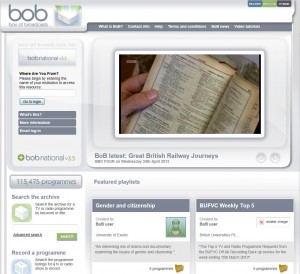 The Box of Broadcasts (BoB) service will be unavailable from 5pm on December 13th until December 23rd. This is to allow for preparation of the next major release (V3) which will be launched officially on January 6th. NB – the screenshot on the left shows the current version.
BoB is a fantastic service for teaching and learning as many academic colleagues are already aware, giving staff and students alike access to a vast archive of online recordings of TV and radio programmes. You can play students a complete programme (or a clip / playlist you have created) safe in the knowledge that there are no copyright issues. Plus it really is easy; if you can use the BBC iPlayer, you can use BoB.
The new version is even more compelling, with:
– Over 1 million archived programmes and growing daily;
– All BBC TV and radio content back to 2007;
– Searchable transcripts of programmes;
– 10 foreign language channels added;
– Improved clip / playlist editing;
– 1-click citation to reference programmes;
– Now viewable on iPad / iPhone.
We'll be putting on introductory sessions in the New Year.
You can access BoB at http://bobnational.net .